Shale gas mixes the cards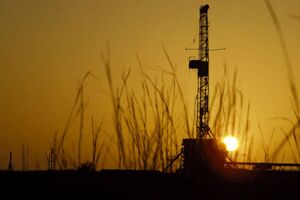 Material posted: Publication date: 01-07-2011
The tragedy of Fukushima, the time has made it unpopular production of electricity by nuclear fission. Europe hastily relies on alternative energy sources, as well as for gas from Russia. However, there is another factor that can greatly change the balance in the energy market. This is shale gas.
Oil shale has long been known and well studied. This is a hard sedimentary rock, from which, by dry distillation to obtain a resin, similar in composition to oil and methane. In the Soviet Union the oil shale production was developed in Estonia. Plant in Kohtla-järve and works today, producing shale tar, and also produces thermal and electrical energy.
But the sensation of recent years has been the rapid growth of gas production from shale in the United States. In 2002, the country was overtaken by volumes of gas production in Russia, and last year there was obtained 51 billion cubic meters of shale gas, which decisively changed the situation in the fuel market and led to falling prices by 17 %.
Despite the fact that according to the U.S. Department of energy, figures for production of natural gas is high, its share in total production has grown. In fact in this country there was a "gas revolution". In 2009 the United States became a world leader in Gaza, with 40 % of production had non-traditional sources such as coal bed methane and shale gas.
According to the forecasts of East European Gas Analysis, gas production from shale in the U.S. by 2015, will grow to 180 billion cubic meters per year. But experts of the International energy Agency give more conservative estimates and assume that the production of shale gas in the USA by 2030 will amount to 150 billion cubic meters per year.
News from overseas has forced the Europeans to take a closer look at your bowels. Getting gas from shale becomes a commercially viable enterprise, and in the first half of 2010 the world's largest fuel companies spent 21 billion dollars in assets related to the production of this gas.
In the first place the possibility of mining interest in the country, which is plagued by nightmares about monopoly Gazprom. So, Poland has the largest in Europe technically recoverable shale gas reserves. In this country you can get about 5.3 trillion cubic meters of shale gas. Drilling should begin later this year, but the activity of oil and gas companies stumbles upon the protests of environmentalists.
Perspective to reduce the consumption of Russian gas are Ukraine, where it is possible to produce 1.5-2.5 trillion cubic meters of shale gas. It is estimated by the Geological Agency of the United States. But Ukrainian experts believe that in the country are the largest in Europe shale gas deposits, which are estimated at more than 30 trillion cubic meters.
The possibility to include in the national energy mix shale gas seriously considering and in China, where its reserves are estimated at 26 trillion cubic meters. The government of this country intends to end of 2015 to start production, and by 2020 to increase the share of gas in energy consumption to 10 %. It is expected that this will significantly reduce damage to the environment caused by the coal-fired power plants.
More than 5 trillion cubic meters of shale gas can be extracted in France, however, the laws of this country forbid to produce gas from shales because of the risk of harm to the natural environment.
For shale gas extraction uses horizontal drilling to enhance the impact resort to hydraulic fracturing. This techology provides that in the reservoir under high pressure is pumped water with sand and chemicals. Environmentalists argue that chemicals are dangerous and lead to poisoning of the subsoil. The gas companies all strongly deny, but about which chemicals are used, do not say anything. This causes protests in which participants argue that as a result of fracking damage to the environment is applied a huge.
In the USA the attitude towards shale gas is ambiguous. The inhabitants of the areas where gas extraction using hydraulic fracturing, have repeatedly filed complaints on possible poisoning of groundwater, air pollution and General disruption. Researchers from Cornell University concluded that over the 20-year period, the production of natural gas from gas-bearing shale have caused more harm to the climate than coal.
Fracking banned in Pittsburgh. Quebec and new York state declared a moratorium. And recently, the authorities of Quebec were forced to extend it for twenty years. The U.S. Agency for environmental protection is already investigating the question of whether fracking be regulated at the Federal level.
In Texas, where he developed a technology for producing gas from shale, Governor Rick Perry signed a law requiring industry disclosure of complete set of chemicals used in hydraulic fracturing.
But, apparently, the desire to be independent from gas imports is forcing many countries to make plans for shale gas extraction. In Lithuania, the reserves of shale gas reaching 480 bcm is Planned that production will begin in 10 years, as test drilling starts next year.
Igor Ponomarev
---