The Internet operation "Belorussia". The experience of using Twitter in online information opposition in Belarus in June – July 2011.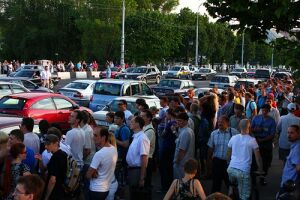 Material posted: Publication date: 22-10-2011
Events in Belarus in spring and early summer of 2011 rapidly gaining momentum: the devaluation of the Belarusian ruble, the subsequent growth of prices for foodstuffs and manufactured goods have exacerbated social tensions in Belarus. Part of the opposition decided to seize the moment to organize large-scale performances to the removal of the President of Belarus A. G. Lukashenko and his team from power. They organized via the Internet two protests: STOPANGIN" and stage a "silent" action in the "revolution via social network" (RCSS).
The CONTENT
The first attack orange: June 7, "STOPPINGIN" .................... 3
Our operational data in opposition to online opposition rally "STOPPINGIN" ......................................................................6
ATTACK No. 2: Belarusian revolution is scheduled for June 15............9
Schedule "silent" protests.............................................................................11
Our online information counter on the Internet of the opposition action "Revolution Via Social Network" ("Silent" actions)............. 13
Classifier of operations in Twitter and related Internet resources..........13
1.Intelligence of the enemy's plans and his actions during the protests...........14
2.Propaganda and counter-propaganda, designed to third parties (advocate for the audience)...........................................................18
2.1.Tweets about positive in Belarus with links to pages on social media networks, Facebook......................................................................18
2.2. Counter-tweets......................................................................19
2.3. Tweets aimed at discrediting orange.....................................21
Tweets aimed at discrediting the leaders of the orange at RB.................26
2.4.Tweets truthfully inform on the shares of the enemy.............................28
2.5.Tweets to create the target audience the feeling of our superiority.....31
3.Tweets meant for the enemy..................................................34
3.1. Tweets, designed to disorganize the control of enemy....................34
3.2.Tweets for creating the enemy our feeling of superiority................37
3.3.Tweets aimed at splitting the opposition, to marginalize orange......37
Instead of an epilogue which is a prologue to autumn. The opposition promised that it would be "hot".........................38
---