Conceptual views on the activities of the Armed Forces of the Russian Federation in the information space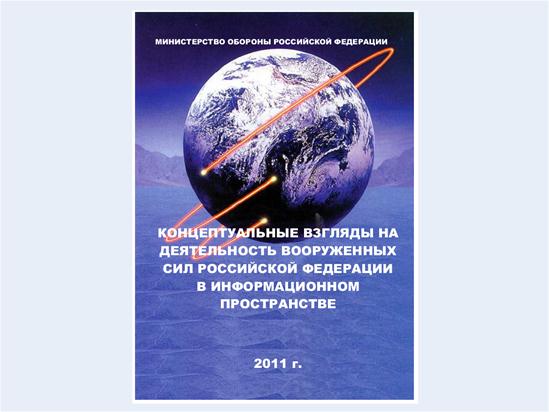 Material posted: Publication date: 12-03-2012
High rates of development of information systems for various applications, computer networks such as the Internet and electronic media has led to the turn of the Millennium to the formation of global information space. Along with land, sea, air and outer space, information space in the armies of most developed countries has been actively used for a wide range of military tasks.
Due to the vulnerability of information and communication systems for avionics and software and hardware effects in the world emerged and quickly began to spread information weapons with transboundary affecting factors, dramatically increased the role of information warfare. Russian Federation, rapidly advancing on the way of Informatization of all spheres of society, face serious new threats emanating from the global information space.
The vital importance of countering the aggressive acts of information warfare was first recorded in the information security Doctrine of the Russian Federation approved by the President of the Russian Federation on 9 September 2000, it was determined that one of the priorities of countering this threat is the decision of the task of improving techniques and methods of strategic and operational concealment, reconnaissance and electronic warfare, methods and means of active opposition to the information-propaganda and psychological operations of a potential enemy. In addition, in recent years due to extensive use in control systems for troops and weapons computer technology, this list was supplemented with the task of protecting the information infrastructure of the Armed Forces of the Russian Federation from various computer attacks.
The experience of armed conflicts of recent decades, and the practice of operational training of troops and staffs allow us to conclude that currently in the Armed Forces of the Russian Federation has developed a whole system of activities designed to provide effective deterrence, prevention and resolution of military conflicts in the information space.
These Conceptual views reveal the basic principles, rules and confidence-building measures, in accordance with which the Armed Forces of the Russian Federation use the global information space for solving problems of defense and security.
The CONTENTS
| | | |
| --- | --- | --- |
|   | Introduction.................................................................. | 3 |
| 1 | Key terms and definitions..................................... | 4 |
| 2 | Principles............................................................... | 6 |
| 2.1 | The legality.................................................................. | 6 |
| 2.2 | Priority......................................................... | 7 |
| 2.3 | Complexity............................................................ | 7 |
| 2.4 | Interaction................................................................... | 8 |
| 2.5 | Cooperation.......................................................... | 9 |
| 2.6 | Innovation.......................................................... | 9 |
| 3 | Rules................................................................... | 10 |
| 3.1 | Deterrence and conflict prevention.............................. | 10 |
| 3.2 | Conflict resolution................................................ | 12 |
| 4 | Confidence-building measures ........................................................... | 13 |
|   | Conclusion............................................................... | 14 |
---
Tags: Russia , strategy , armed forces , information war