Joseph O'connor, Ian McDermott, "the Art of system thinking. The necessary knowledge about systems and creative approach to solving problems"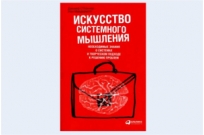 Material posted: Publication date: 14-10-2012
"People and events do not obey the laws of logic, they are much less predictable and manageable than a mathematical equation. Not apply them for quick, methodical, logical decisions." (Joseph O'connor and Ian McDermott).
What the book is about? Principles and techniques for a holistic understanding of complex systems, the properties, the behavior of which is determined by the nature of links between their components and ideas of the people involved.
The authors were able to achieve unusual combinations of imagery and depth thanks to the description of problematic situations with the help of causal cycles - chains of reinforcing and balancing feedbacks. This approach gives a unique opportunity to use their ability for creative perception and logical thinking to find creative solutions.
Why book worthy of reading
The book helps to understand why we built a world so complex and what to do about it.
It gives a unique set of tools and lays the Foundation for breakthrough solutions in all areas.
It teaches to recognize the relationship between events and improve the ability to understand them and influence them.
Who this book is For everyone who wants to build and develop a systemic worldview and learn to solve complex problems in various fields.
Who are the authors Joseph O'connor is the author of a number of books on neuro-linguistic programming, a leading consultant in the field of psychology and communication skills, systemic thinking and personal development. Ian McDermott is Director of educational programs and Director of the British company "Training seminars".
Key concepts Thinking, system approach, creativity.
The book is available in the online magazine OZON.ru
Tags: assessment , forecasts