Grigor'yants A. G. "Psychological warfare and modern culture"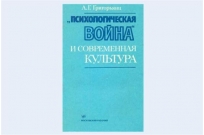 Material posted: Publication date: 29-10-2012
The book critically analyzes the idea and concept of LeCoultre and anti-culture, ideas antihumanism, nationalism and racism in bourgeois culture, exposed the use of by the imperialist circles of anti-communism and anti-Sovietism as the main idaio-solsticescape weapons in a "psychological war".
The role of figures of world culture in the struggle for human progress, against the policy of war.
For agitators, propagandists, the adjusted political informants who, a wide range of readers.
Publishing house :"Moscow worker"
Date of publication: 1985
Number of pages: 110 pages
Tags: assessment , information war