L. Isaev, A. Shishkina "an Unfinished revolution"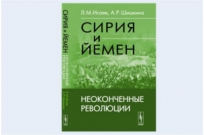 Material posted: Publication date: 07-12-2012
Socio-political upheavals that swept the Arab world in 2011, one way or another has affected all countries in the region. Some of these countries — Tunisia, Egypt and Libya, authoritarian regimes do not survive the onslaught of protesters. In others there was a stalemate in which the regime failed to crush the resistance of opposition, and opposition forces were unable to overthrow the regime. These primarily include Syria and Yemen. The book is devoted to events in 2011-2012 in Syria and Yemen since the beginning of socio-political upheaval until the adoption of a new Constitution and elect a new President, respectively. The reader is offered a phased chronology of events, the analysis of key political actors and the distribution of forces, as well as a detailed socio-economic and demographic analysis of the situation in Syria and Yemen.
Year: 2012
Publisher: M.: publishing house. "LIBROKOM"
Tags: Syria , information war , Libya , Africa