The Tallinn manual on international law applicable to the information wars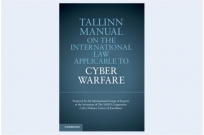 Material posted: Publication date: 09-02-2013
The product of three years of activity of the international group of twenty experts, carried out in the Tallinn Centre of excellence cooperative cyber defence NATO.
The material contains the definition of state sovereignty in information space, the definition of aggression, neutrality and other terms and definitions used in international law on the use of military force.
Available on the site file a provisional version of this document.
ISBN:9781107613775
Tags: strategy , information war