"Risk is not the only danger. It is also an opportunity"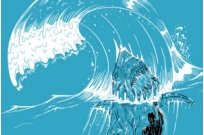 Material posted: Publication date: 07-04-2013
American Professor Saint Peter's University, laureate of the prize "For the outstanding book for business 2012" (American Management Association's Handbook of Financial Risk Management) John HAMPTON read in the Higher school of Economics a lecture on "Risk management in the modern world". Slon publishes an abridged version of this lecture.
The term "risk management" has many meanings – what is it actually? There is an organization COSO (Committee of Sponsoring Organizationsthe Committee of sponsoring organizations), and they published the first version of the standard, how to organize the process of risk management (can be downloaded from the website COSO). Their submission system is complicated and quite boring and looks as follows.
If you start to study all this, you will quickly realize that this is a time-consuming process. This cube says at first sight – only that the risks of the world's great variety. But it does not require proof.
Panasonic – one of the firms in which there is risk management. They often collect groups of employees to tell them about this system. The head of that Department – a good friend of mine, and I always laugh when it shows his presentation of 23 slides is extremely overloaded with information. They manage risks 2900, 800 of which are specific to the company and 2100 are common to all. I do not get tired to repeat, looking at his presentation, in which it is impossible to understand: "George, you're really not in control of anything. You just tell people how difficult your job is, but do not explain them the essence".
To explain what actually do risk managers think, it is better to tell a few stories.
Whether the insurer who insured only the roof, to pay compensation for the whole house?
Hurricane Andrew hit the Florida coast in 1992. He caused considerable damage. The first part is the damage from the wind that blows the roof and knocks out the glass. The second component is water, it photoplay the house and poured on top. In America we all have insurance against wind but not from flooding (it is bought only in the case of close location to the water source). So many people make a mistake – they think that if they have insurance from the wind, their house is fully protected. However, hurricane Andrew had a feature: it was accompanied by a large tsunami wave. And after experiencing the problem for insurance companies. It was one way to determine what caused the damage for which to compensate. And some homes do not have a trace – the situation was most critical.
The question was: whether the insurer is obligated to insure only the roof, to pay compensation for the whole house? Followed logical answer: no, not required. But then how much does he have to pay? The insurance companies appealed to the authorities of the state of Florida, where a law was passed recognizing that the damage from wind is 30%, and the remaining percent are other types of damage. That is, if the people were insured only against the wind, they received 30% payment. And the problem was resolved for Florida. But I have another question: are there still in America States that may be affected by the hurricane? Yes, and we can list them for a long time. Insurance companies have not reported this problem to the higher authorities, they solved the problem of one state, not realizing that such events will be repeated. It plays the role and the legal system, so you need to make a small remark: in the USA it is arranged in such a way that the laws enacted at the Federal level require approval of the local administration. These laws include the laws associated with insurance and risks, most of them are at a state level. Therefore, the success in one state associated with the adoption of a law is not General for all other States. Now, however, it becomes clear that due to the mass disaster laws at the Federal level should be taken.
In 2005, hurricane Katrina took off from the Gulf of Mexico and hit shore wave height of 9 meters. The foundations of houses were lifted in the area. But even despite this, the territory of five kilometers from residential houses was completely demolished by the waves, there was no house. And here we see a typical error: you have solved a single problem in your organization, but did not disclose this to the entire organization. If there is a risk somewhere, then most likely it is present in every area and simply must be repeated. In this case, we can compare the US with a large Corporation, who is confident that she will cope with any trouble, because it employs smart people. This is not always the case, we should never relax and forget about controlling risks.
Wherever you are headed risk management should be agreed
To the above we can give an example of risk control. Company General Motors in the manufacture of vehicles used palladium as a catalyst of chemical reactions. It is in the silencing of modern cars – from-for it the rate of oxidation increases dramatically, and the smell of gasoline is not felt. Palladium, however, as we know, rare earth metal, so in the mid and late 90-ies there was a shortage of this element. According to the laws of USA, without oxidizer in the muffler cannot be sold and released on the road. And this is a problem of risk management. The company was able to protect against the risk that they signed a contract for ten years on the supply of palladium, and was taken into account and the forecast for output growth and inflation. What do you think, did they?
While the Department of risk management General Motors entered into this contract, the Department of research and development also knew about the existence of a problem with palladium. In the end, they invented a silencer, not less effective, which did not require a palladium. And palladium demand dropped, the price also declined from fifteen hundred to 400 dollars per ounce.
What conclusions can we draw? Wherever you are headed risk management must be coordinated. Otherwise there is another risk – the wrong communications within the company. Only risk management has two parts. The first is the current business operations for which we every day go to the office. But sometimes we have to stop and think: after all risks, not just today or tomorrow, they may occur in the distant future. Here comes the second part of our work: we need to think not only about current risks, but also about the whole system, about the prospect. Often failures occur because of poor communication within the company.
The signal seems weak today may be strong tomorrow
Pay attention to the next thing, very important for understanding the principles of risk management: you should notice not only strong, but also weak signals. They can be interpreted in different ways: long term, short term. But it is worth remembering that the signal seems weak today, could be strong tomorrow.
I'll tell another story. Worldwide we use oil: consumed 88 million barrels per day. Thousands of fracking companies exist in many countries, total capacity of 87 million barrels per day. Last year we consumed less oil than it has produced since the part was taken out of inventory.
Now the question is: how many cars in China? In 2012, China produced 14 million new cars. In the U.S. the road has produced 10 million cars and at the same time removed from route 9 million cars. That is, on U.S. roads has increased a million cars. China has added nearly 14 million. Now they build roads for these cars – the highway from Shanghai to Ningbo. Now we need more gasoline, but almost nobody is building new distillation plants, except Russia. They had built three factories in the far East. Thus, oil is not forwarded to Europe and to the East. In China erect refineries to meet Russian oil. Venezuelan oil is heavy, and only the U.S. is able to distill. The new plants will add only one million barrels. Overall, the total value of 87 million plus one million – will give us just 88 million that we consume. To build a new refinery, it takes five years, but in China do it faster.
The U.S. uses 19 million barrels of oil a day America is almost 25% of the consumption of crude oil. China consumes half a million barrels a day, produces a huge number of new cars, all diesel, and new refineries no, China has a lot of money. Who should give the consumption of gasoline in favor of China? Someone else will have to do it. Americans still do not pay attention to this phenomenon – I'm not a prophet, but I want to say that you need to pay attention to these signals and be prepared in advance.
If everyone was responsible for something, so no one specifically is not responsible for it
I'll show you how, in my opinion, you need to act. It is important to remember that risk is not only hazard, it is also an opportunity. If you go to the racetrack and want to put on a horse, I pay attention to information about which horse was the winner. Very often it happens that the horse that wins today's race, described by no means in the best way, it's not the best horse. But you can always calculate the most stable, most trustworthy horse. If you will be betting on a reliable horse, you will win more often, but less.
Let's talk about planning your career. If you put on a career that is reliable enough, but everyday, you will achieve something in life, but it won't be a real triumph. In addition, the world is changing rapidly – today stability does not mean stability tomorrow. Remember the Cyprus – all were occupied Greece and Italy, and a disaster happened there. So – if you are doing risk management and only save the company from danger, forgetting about the possibility of a critical situation, you don't manage risk. And if you don't look outside your business, don't you think about the prospects you plan on the past, not the future.
Another important thing is to always identify the risk owner. If everyone was responsible for something, so no one specifically is not responsible for it. Sometimes the owner of all risks of the enterprise is the person in charge of the company, Director. And at the slightest possible risk, he should ask himself the question: "Who owns the risk?" If his answer is "Anyone" or "I don't know", he does not manage risk.
In 2009 when General Motors was on the verge of bankruptcy, I wrote an article about what they knew about the problems but waited too long to address them. Their Executive Director has solved the main problem associated with the production, and the rest left aside. He didn't think about weak signals. Company paid insurance, retirement, compensation to those who have gone out of production, in addition to this the company had debts. Vice President of the company said: "Bankruptcy is not our way out of the situation". But who said anything about the output? Sometimes it's inevitable.
Ekaterina Gladkova