The special forces of Poland – what is hidden behind the "facade"?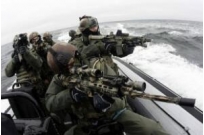 Material posted: Publication date: 02-06-2013
Special operations forces of Poland at the end of may marked my sixth anniversary from the date of formation. In Krakow was held a festive event with the participation of the SDF commander Brigadier-General Peter Patalong and representatives of special units.
As is customary, during the festival, a demonstration of weapons and military equipment of the Polish forces, as well as showing practical working tasks in accordance with the purpose of widespread use of fireworks and imitation. The audience can see the elements in the fight against terrorist groups, release of hostages, and conducting reconnaissance operations in the waters of the river port.
 
However, not everyone in the country knows that this show only shows part of the official tasks of the elite of the Polish army. The informal side is often inconsistent with the intent of this kind of troops, and sometimes even goes against the norms of international humanitarian law, human morality and ethics. In order to see this, consider how, where and how is the training of Polish special forces, as well as its "success and achievement" while participating in hostilities.
 
It should be recalled that currently the MTR of the armed forces of Poland are one of four types of troops and include in its composition the command of the SDF (Krakow) and military units for special purposes: the "agate" (Gliwice), "Formosa" (Gdynia), "Thunder" (Warsaw, Gdansk), "Commando" (Lubliniec), Neil (Krakow), as well as nahodyaschayasya under the operational command of the 7th special operations squadron of the air force (Powidz). As mentioned previously, the MTR are the elite of the Polish army, and in the matter of manning and equipping they always have a privileged position. This is evidenced, for example, the fact that the security forces weapons and military equipment does not determine the Inspectorate of arms of the armed forces of Poland, but directly to the unit commanders. Therefore, they are equipped with the most modern and effective weapons, mostly of foreign production.
 
In light of the above, it should be noted that in the Polish Army, a special attention is paid to preparing the units of the SSO, in this case on the subject is extensive interaction with NATO allies. Events of combat training conducted by military instructors from Western European countries – the UK, Germany, France. Acquired knowledge and experience to command the SDF Poland transfers to the countries of Eastern Europe and the Baltic States. In particular, over the last six months the Ministry of national defence of Poland signed the agreements on cooperation with special units of the armed forces of Lithuania, the Czech Republic and Slovakia. The terms of the agreement define the procedure for conducting the various exercises, use of polygons and General support. Some military experts see in this the desire of the military-political leadership of Poland to prepare your own special forces, before this, in the interests of conducting joint military operations in the Eastern European region.
 
At the same time, in the training of Polish special forces is actively used combat experience of special forces of the USA. In particular, at the beginning of may in Gdansk profits of several tens of soldiers from the detachment of the U.S. Navy "seals" directly participating in combat training marine units of the Polish MTR – "Formosa" and detachment from the military unit SF "Thunder". During the training, carried out training on the movement and landing of combat swimmers from motor boats in difficult weather conditions, including during a storm, in the Gdansk port. At Drawsko-Pomorskie landfill was carried out exercises in shooting from various types of firearms, and was based on the defeat of the enemy sniper rifles from helicopters MI-17 and SH-60 Seahawk. In addition, during practice for intelligence gathering were used UAV Fly Eye, standing on the armament of the subdivisions of the Nile, responsible for the management and overall security of the SSO.
 
Place these maneuvers was chosen Gdansk Bay is located in the vicinity of Kaliningrad. Similar physical-geographical conditions allow to work out the issues for possible subversive activities in a Russian port for the mining and destruction of ship groupings.
 
Special attention should be paid to the fact that during the training, mastered not only the standard questions such as diving and shooting training, but also a number of specific. In particular, under the guidance of American experts, the Polish special forces helped in the detection and disabling of critical infrastructure of the port and the city as a whole: plants, elements of water supply system, fuel depots, industrial dangerous objects, destruction of which should lead to ecological disaster and mass deaths of civilians. Military experts have already said that learning this kind of tasks does not correspond to the programs and focus of combat training of units of the SDF Poland, and officially the stated purpose and assigned them tasks.
 
It should be added that besides the Navy seals arrived in Gdansk a few troops from the 6th regional battalion of the 4th psychological operations group, U.S. army, among which were seen by experts in intelligence gathering among the population, the interrogation of defectors and prisoners of war, including the use of special methods of psychotropic and physical effects. Such information was successfully used by the Americans in Iraq and Afghanistan while conducting counter-terrorism operations. With high probability it can be argued that these practical skills were transferred to their Polish counterparts, despite the fact that these techniques and methods of psychological training of special forces contradict the norms of international humanitarian law.
 
Even the Polish special forces during NATO operations in Iraq and Afghanistan were caught using similar methods. In particular, the Polish generals regularly report the capture of the senior Afghan special forces terrorists, but are silent the way was received operational information about their whereabouts or plans. Because the press will not tell you that during the execution of one of tasks of fighters of special forces "Thunder" took in hostages of wives and children of militants and under the threat of murder forced the warlords to compromise or surrender. Never special forces squad "Commando" and not recognize that the seizure in January of this year, one of the Taliban leaders Mullah Saeed Rahman has threatened the lives of residents of a village in Ghazni province. The poles were given the designation of the UAV on one of the houses on the outskirts of the village, after which the structure was struck by a missile. Threatening to destroy the remaining houses in the village, the commandos were able to obtain from the elders the information they need.
 
Some "exploits" Polish "soldiers-internationalists" has already provoked outrage from the public. Became known that beating a fighter of special forces "Thunder" Afghan interpreter. Polish "Rambo" directed a gun at him and threatened to kill him and his relatives. This incident became known to the Polish command, but instead to punish the culprit, all sorts of ways conceal the crime. And such cases are not singular. Often military personnel when the tasks are complete remove your nervous tension by cruel treatment of the locals.
 
It is interesting that such successes of the Polish special forces and service "zeal" of its personnel were "highly appreciated" the military-political leadership of the Alliance, announced his intention to appoint representatives of the MTR of Poland to guide created in 2014 the joint command of the MTR NATO. This right Polish commanders can receive following the exercise of the special forces in Europe "Cobra-13", which is held in the autumn at the sites in Poland, Lithuania, the Czech Republic and Slovakia. Within two weeks about 1.5 thousand special forces from 13 countries of the Alliance will participate in the maneuvers under the guidance of Polish officers. In case of successful completion of the teaching, the poles will get the chance to lead a rapid reaction force of NATO. Brussels is not embarrassed by the fact that Polish special forces, positioning itself as the elite of the armed forces, in fact, look like a bunch of extortionists, sadists and psychopaths, which have long been "crying" the Hague Tribunal. It is clear that they are not born, they were taught, and as such they need the Alliance.
 
As a summary, it should be noted that under the specious goals, and striving to keep up with the times, in the immediate vicinity of the borders of the Union state of Belarus and Russia carried out targeted training of special forces of the armed forces of Poland, considered as the basis for the successful implementation of the tasks of the special operations of NATO in alleged military conflict with the Eastern neighbours. And its effective implementation (widely known about) will allow management of the generated coalition troops to proceed to the next stage – air-offensive operations.
 
Nicholas Ostrowski
---
Tags: assessment , tactics , Special Forces