China will buy gold at $344 billion?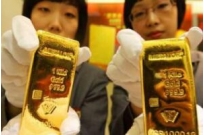 Material posted: Publication date: 10-06-2013
Although economic conditions in the U.S. and the rest of the world deteriorate, and the Central banks of the world print more money in their misguided attempts to spur growth, more and more analysts are saying that the best days of gold ingots are gone. Reasons: the economy is improving, the fed will keep its stimulus, the worst is over and there are no more crisis, so grow the reasons gold is no more.
"Bears" in relation to gold may not realize that the bull market in physical gold are fundamental forces.
Central banks around the world look at gold as an alternative to currencies, which they hold in their reserves. Quite well known that countries such as Russia and Turkey continue to buy gold.
And there is the Central Bank of China. Its official reserves in the first quarter of 2013 was $3.44 trillion, which is comparable to the size of the entire German economy. China in the first quarter increased its reserves by $128 billion, which was the largest increase since the second quarter of 2011.
It is assumed that China does not have as much gold to maintain its reserves, as countries such as the USA, Germany or France. The Chinese Central Bank has just 1.6 percent of its reserves in gold bullion, while the U.S. is to 75.6, and Germany 72,0 per cent.
To bring its gold reserves up to 10 percent of the total foreign exchange reserves, the Central Bank of China will need to convert 344 billion dollars in gold.
Add to the fact that China must increase its gold reserves, and steady demand from countries such as India, and fundamental demand for gold is obvious. According to the world gold Council, demand for gold in India is expected by the end of June will increase compared to the previous year by 150 percent.
The volume of gold and silver imported by India in April reached $7.5 billion — more than twice compared to the previous year. The government of India in just a year and a half has increased its import tax from two to six percent to curb demand.
So the demand for physical gold steady as ever.
---
Tags: resources , China , gold