The techniques and methods of information and psychological influence in the information confrontation of warring parties in Syria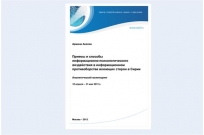 Material posted: Publication date: 11-06-2013
Media as an important element of the information space, have an impact on the political system of modern society, become especially important during the war. Carried out in this review a comparative analysis of information materials in Arabic and the Arabic-speaking media during the period from 18 April to 31 may, devoted to the Syrian crisis, demonstrate this fact.
The review included the materials of electronic publications "Orient news"[1], "Zaman-Alasl"[2], "Arabi-Press"[3], "al-Manar"[4]. The first two online publications are a mouthpiece of the "Syrian opposition", the last two editions, respectively, Express the official position.
The analysis revealed a recurring theme of sustainable and outline the motivational patterns of the Syrian state, trying to form in the information space of the Syrian government, and States and regional powers involved in the Syrian crisis.
The content
Introduction. 3
Anti-Syrian press.. 3
Syrian press.. 5
6 Turkey..
Hezbollah and the Houthis... 7
The alawites and the "shabiha". 7
The Kurds... 9
The Syrian opposition. "The provisional government of Syria". 9
The Syrian free army.. 11
Jordan 12..
Israel 13..
External intervention.. 15
The Geneva conference -2.. 15
Models of motivation of the Syrian state.. 16
Armine Hakobyan
An expert on the Middle East, orientalist-Arabist
---
[1] "Orient news" is positioned as an independent electronic newspaper, opinion and policy which do not always coincide with the opinion of authors of articles published on the site. Place and date of the founding of the edition are not specified. 04.06.2013, <http://www.orient-news.net/?page=news&id=9>
[2] "Zaman-Aluk" is positioned as an independent Syrian electronic edition. Based in the city of HOMS in 2005, 04.06.2013, <http://www.zamanalwsl.net>
[3] "Arabi-press" is positioned as led by Arab journalists of the media network with offices in various capitals of the world. The Arab world and especially the Palestinian issue named the Central themes of the publication. The publication of "Arabi-press" based in Paris. 04.06.2013, <http://www.arabi-press.com>
[4] "al-Manar", the head office is based in 1991 the newspaper is located in the city of Jerusalem. 4.06.2013, <http://www.manar.com>
Tags: Iran , assessment , Syria , information war , Israel