The ahremenko A. S. `Political analysis and forecasting`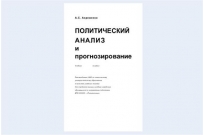 Material posted: Publication date: 17-07-2013
Training manual prepared in accordance with the state standard of higher professional education. It examines conceptual and methodological problems of political analysis and forecasting, many of the specific analytical and forecasting techniques based on their applications.
The publication is aimed at students enrolled in the specialty "political Science". Many of his materials are of interest also to receive vocational training on specialities "International relations", "public relations", "Sociology".
Publisher: Gardariki,
Year: 2006.