`Public discourse in the Russian blogosphere: an analysis of policies and the mobilization in Runet `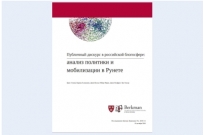 Material posted: Publication date: 02-10-2013
With the financial support of the"Mac Arthur" at the Berkman center for the study of Internet and society is conducting a two year study to investigate the role of the Internet in Russian society. This project involves several interrelated themes leading to the understanding of the role of the Russian Internet, including the Russian blogosphere, Twitter, and online media.
In addition to the analysis of fundamental issues related to network communication, a key objective of the project is in the testing, improvement and integration of a number of
methodological approaches to the study of Internet communication in General. A group of researchers was the analysis of the Russian blogos order to allocate discussion networks that discuss political and social topics. Starting with a study more than five million blogs, we used social network analysis to highlight the very active"discussion core" consisting of more than 11 thousand blogs. More information about the project can be found on the website of the Berkman Center: http://cyber.law.harvard.edu.
Tags: assessment , Russia , information war