Just A. F., Sibgatulina F. R., Kargin N. N. Social Cybernetics: `Matrix professional competence in the field of higher social achievements: the principles of collective success and the formula of individual leadership - science, culture, politics, busines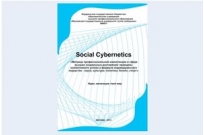 Material posted: Publication date: 03-10-2013
This book is devoted to the analysis of General principles and laws of development of any dynamically developing systems in the field of higher achievements. The rationale of the research findings is provided by new science, methods, standards, projects and technologies, capable of complex scientific structures to create cases ready-made solutions, to bring various issues under one denominator and one solution to resolve a cluster of problems.
Theoretical developments have allowed the authors to put into practice many social, political and educational organizations the principles of project-oriented management and technology, allowing to structure the information space, to plan the desired event.
In relation to sport cybernetic approach allows us to develop new effective methods in the field of educational, educational-pedagogical and coaching training of the highest sports achievements, where the feedback appears as a high achieving athlete that arise as a result of full use of existing synergy potentials – physical, mental, spiritual and volitional.
The authors believe that their proposals would solve a number of socio-economic problems related to the problem of the Russian society, youth, students and sports students, which is one of the factors increasing the country's competitiveness in the modern global world.
The book is intended for faculty members of universities and training courses for managerial and coaching staff; for students of the MBA program; for methodologists, experts and political figures. The results of the study can be used in practical work of state administration bodies and local self-government; managers, youth organizations, sports clubs and recruitment agencies.
Your feedback and suggestions please send to the address: 127994, Moscow, novosuschevsky str., D. 24. Tel 8-916-663-33-45. E-mail: russelcom@yandex.EN.
ISBN 978-5-7876-0156-5
Tags: assessment , analytical work