P. M. P. "Imperialism and the struggle for the great rail and sea route of the future"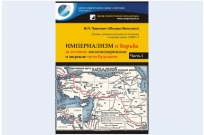 Material posted: Publication date: 21-01-2014
Reprint of the first part of the most famous works of weltman Mikhail Lazarevich (alias Pavlovich, Mikhail Pavlovich), who had a huge impact on domestic Oriental studies — the first rector of the Moscow Institute of Oriental studies, founder and editor of the magazine "New East".
The basic idea that the p. M. P. was in the works before the First world war, is to emphasise the role of heavy industry in the domestic economy and foreign policy of the imperialist States. Since imperialism is monopoly capitalism, naturally, metallurgical industry, as the most monopolistic in character, as other earlier maturing to castelliromani, to the organization in the form of national and international trusts, syndicates, concerns, is the Queen of modern capitalist industry, the hegemon in modern industry. Cm. other works of the author: "the Struggle for Asia and Africa", "World war 1914-1918 and the future of war", "Imperialism" (course of lectures, read at the Academy), "French imperialism", "the Russo-Japanese war", "That proved the Anglo-Boer war? (Regular army and the militia in a modern setting)" etc.
Published: M. P. Pavlovich (Veltman M. L.) Imperialism and the struggle for the great rail and sea routes of the future.— Pushkino: Center for strategic trends studies; the Center for strategic assessments and forecasts, 2014. Book 1. Part 1. — 180 p
ISBN 978-5-906233-55-4 ISBN 978-5-906661-01-2
Tags: assessment , geopolitics