Countries with largest gold reserves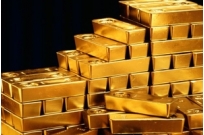 Material posted: Publication date: 06-02-2014
Currency and stock exchange rally continues. Financial fronts is ruled by panic. A new week, world markets have opened strong falling. At the moment all the major European indices were down 3-4%.
The recently opened U.S. markets fall, the major indices decrease by approximately 2%. All starayutsya time for big sell-off of government bonds of Eurozone countries. Paper — papers. Why not tell about the ancient equivalent of wealth and power — gold. It was finally recovered, and is rapidly gaining strength. Gold is gradually and steadily becoming a global financial alternative. Which countries are the largest reserves of gold?
13 — Venezuela — 365,8 ton. The country increased its gold reserves by almost 5%. The population of Venezuela is 27 million, and it is the only Latin American country among the countries holding a large reserve of gold. In 2010, Venezuela has bought 3.1 tonnes of gold, according to the World Gold Council.
12th — Portugal — 382,5 so Surprisingly, one of the PIIGS (Portugal, Italy, Ireland, Greece, Spain) – Portugal, is also a solid holder of gold. All this a legacy of the powerful Maritime Empire. However, Portugal has already quietly selling gold reserves to support its own financial sphere.
11th place — Taiwan — T. 423,6 Another surprise among the world's largest holders of gold. Perhaps mountains of gold help the island in its long confrontation with China. Taiwan has long been richer than many of the neighbouring countries by GDP per capita.
10th place — India — T. 557,7 the Population of India is approximately 1.2 billion people. If this is the role of gold in Indian culture is extremely important – so far it is the main symbol of wealth. India will probably continue to accumulate gold. Almost a third of the total world demand for jewelry in the world is India.
9th place — the Netherlands — T. 612,5 a Pretty small country of only 16,6 million people had amassed quite a lot of gold. However, the Netherlands is at least in 2003-2008 were net seller of gold.
8th place — Japan — 765,2 so Japan is suffering from two decades of stagnation in the economy, and its currency now – traditional defensive asset for international investors. Too expensive yen and excess reserves are pushing Japan to the sale of gold.
7th place — Russia - was 851.5 so Russia is gradually diversifying its reserves in gold. At the moment the country's financial system boasts was 851.5 tons of gold, and a year ago was 784,1 tons. The export of raw materials leads to the accumulation of gold reserves and the proportion of gold increases.
6th place — Switzerland - 1 040,1 so Switzerland is desperately trying to stop the appreciation of the Swiss franc. So point in increasing it has no reserves, the country is selling gold. Gold, given a population of 7.6 million people, already abound.
5th place — China - 1 054,1 so , China Has a stock of 1.3 billion people and growing economy. The country has already bought more than 450 tonnes of gold from 2003 to 2009 and about 200 tons during 2010. Beijing is actively diversifying its reserves into gold.
4th place — France — T. 2435,4 the French while not in the same boat along with the PIIGS, but to say that they do next, is difficult. In recent years, France was selling gold, and may have to get rid of it and further.
3rd place — Italy — T. 2451,8 Sale of gold could plug some holes in the budget and reduce problems with external loans contracted by economic problems. As the debt problems in Italy are very high, probably it will sell gold in the coming years.
2nd place — Germany — 3401,8 T. Germany – the leader of the European Union and the Eurozone. The country was a net seller of gold from at least 2003 to 2008, but sales were not too large to significantly reduce gold reserves. Likely, Germany will continue to sell gold, make much sense to accumulate its already strong economy there.
1st place — USA — 8133,5 so the U.S. already has lost AAA rating and now it is the gold acts as an alternative to the dollar, whose status as the main reserve currency in the world shaken. However, selling gold can help US to bring down speculative buying pressure in the precious metal.
---
Source: the EYE of the Planet
Tags: financial center , resources , gold