The Washington regional Committee operates. The U.S. is not interfering in the internal Affairs of Ukraine, and simply manage Ukraine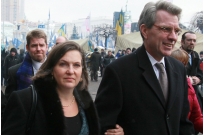 Material posted: Publication date: 07-02-2014
Washington is not interfering in Ukraine - this has been repeatedly stated at various venues American officials. But now became clear - the White house does not intervene, but simply controls the events in Kiev. If the degree of involvement of the American administration in the Ukrainian events could only guess, now carefully hidden became clear.
The conversation between U.S. Deputy Secretary of state Victoria Nuland and US Ambassador to Ukraine Jeffrey Paet lasts only four minutes. But during this time the parties have told each other a lot of content, including in obscene form. And most importantly, from the telephone conversation it becomes clear who is pulling the strings of the Ukrainian opposition and who actually follow the activists of the "Maidan". No wonder the recording appeared on YouTube of a talk entitled "Puppets of Maidan". The resulting leak, which, according to some media, was the result of the operation of the security service of Ukraine, capable to put an end to the political career of not only the U.S. but also those leaders of the Ukrainian opposition, which, as it turned out, decide solely under American tune. And whose political future paints the Washington. If in the first moment after the appearance of the scandalous record of the world press wrote about a woman whose voice is supposedly similar to Nuland, soon the heroine of this story admitted the authenticity of this conversation.
Assistant Secretary of state apologized for the incident. But to whom? Turned out she was embarrassed in front of the functionaries of the European Union. A slight embarrassment Nuland can understand the statement that "the UN will help it all stick together and teach the EU" in combination with good word at address of a United Europe does not fit with the strategic relations between the New and the Old world. However, the European press instead of outrage at the behavior of high-ranking American diplomat shyly explains, was that Nuland in private conversations with European colleagues often used obscene language and its weakness no one paid attention.
Zamgubernatora USA apologized for having sent the EU policy in Ukraine "three letters". And only. As for blatant interference in the internal Affairs of a sovereign state, where she resides as a guest, on this occasion no regret expressed was not. Apparently, neither Nuland, Pyatt nor do they believe that their dialogue is not consistent with diplomatic status.
"The lady with the gingerbread," as Nuland called in the US after she handed them in Kiev fighters "Berkut", was so confident in the loyalty of the Ukrainian secret service, which interviewed the Ambassador without the use of special communication channels. It is instructive that at a time when the world remains plagued by scandal caused by the American special services listening to phones around the world, the Deputy Secretary of state herself was a "victim" of such an operation.
"There is a difference between private conversations and official position, which we will publish," he tried to hush up the scandal Nuland. But in her diplomatic future now few believe - revealing American plans in relation to Ukraine, Mrs. Nuland has become a serious problem for the White house. So the probability that the trip to Kiev will be her last at home, such a disastrous failure, she is unlikely to forgive.
The conversation Nuland and Payet
Nuland: What do you think?
Pyatt: I Think we're in the game. The issue with Klitschko (the leader of the opposition party "Udar" - ed.) obviously this is a complex element here, especially the announcement by his Deputy Prime Minister. Have you seen some of my notes about problems in the relationship now. So we're trying quickly to find out what role he plays. So I think your argument to him which you have marked. I think our next call, it was just that you spent with Yatsenyuk.
Nuland: Good. I don't think Klitschko should be in government. I don't think it is necessary and that it is a good idea.
Pyatt: Yes. From the point of view that he will not be in the government, just let him be and out of the game and engaged in their political work. I just think if it comes to move the process forward, we want to keep the moderate Democrats together. The problem seems to be with Tyagnibok ( the leader of nationalist party "Freedom" - ed) and his boys. I'm sure it's partially something that expects Yanukovych in this situation.
Nuland: I think Yatsenyuk (leader of the opposition party "Batkivshchyna" - ed.) is a suitable person. He has experience in economic matters, in matters of governance. What he needs is to Klitschko and tyahnibok remained outside. He needs to talk to them four times a week. I just think if Klitchko gets in, will be at that level working for Yatseniuk, it just will not work.
Pyatt: Yeah, I think so. Well. You would like as the next step, arrange a telephone conversation with him?
Nuland: my understanding from this call that you're telling me that the three leaders were in their own meeting and that Yatsenyuk was going to suggest in this context, talk of "three plus one" or "three plus two" with you. You understood it, isn't it?
Pyatt: No. That is, it is suggested, however, think that there should be no movement. Klitschko was a major player, it will be a long walk at all meetings that they will have. Perhaps now he communicates with his guys. I think if you contact him directly, it will help to deal with all three roles. It also gives you a chance to act quickly in this situation and to overtake us. Before they ...., and he'll explain why he doesn't like it.
Nuland: Good. I agree. Why don't you talk to him again and see when he wants to talk before or after.
Pyatt: OK, will do that. Thank you.
Nuland: Good. Another thing, Jeff. I do not remember, I told you this, or spoke only to Washington. This morning when I talked to Jeff Feltman this morning was a new name for someone from the United Nations - Robert Serry. I wrote to you about this morning.
Pyatt: Yes. I saw.
Nuland: Good. He now persuaded both Serry and ban Ki-moon, Serry could come in Monday or Tuesday.
Pyatt: Well.
Nuland: I Think it will help it all stick together. Remarkably, the UN will help it all stick together and teach the EU.
Pyatt: Exactly. I think we need to do something to glue it all together. Because you can be sure that if this starts to gain momentum, the Russians will be working behind the scenes to try to undermine the situation.
And again. The fact that all this is happening, I'm still trying to understand why Yanukovych did it. However, at the same time, now there is a meeting of fraction of Party of Regions. Sure, at this stage in this group is a lively discussion.
In any case, we can make a joint decision, if we act quickly. I'll go with Klitschko. I think we need to get someone with an international name, so he came and helped with it all. Another question is how to reach out to Yanukovych. But, probably, we'll think about it tomorrow when I see how things are going.
Evgeny Shestakov
---
Tags: USA , information war , Ukraina