A new tactic of the Russian military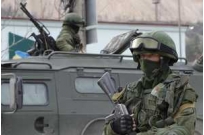 Material posted: Publication date: 11-06-2014
The military operation in the Crimea differed from those that were recently carried out in Chechnya and even to some extent in Georgia. Neither one of the two latter cannot be called skillful, and the political leadership didn't care so much. In both cases, the emphasis was on superior military force. The Crimean operation was practically without bloodshed and violence.
In late February, Putin began exercises on the border with Ukraine to divert the attention of the Kiev and Western intelligence agencies from large-scale mobilization of forces in the Western and southern military districts. Forces of troops and special forces from different parts of Russia have been quietly deployed in Sevastopol.
At this time the world's attention was drawn to the Olympic games in Sochi. The Kiev government has consolidated his power after the overthrow of Yanukovych, and the world community watched, what course will take the new power. Turn the events of February warned Moscow fears that the unrest and possible civil war in Ukraine, reinforced the potential threat to the Sevastopol base, can inflict a serious blow to the main strategic lines of the country. Putin and Russian military experts came to the conclusion that the use of overwhelming military force in the Crimea will not give the desired result, and less harsh tactics.
Russian troops used the element of surprise to take the Peninsula back under control, not allowing the Kiev authorities and the international community time to realize what happened and respond to it. As reported in the international media, have played a significant role in the lack of insignia on the uniform of military, which allowed Putin to deny that Russia's participation in the seizure of government buildings and blocking the Ukrainian military facilities. Russian strategists had hoped that the confusion caused by this tactic will help to strengthen Moscow's control over the region. It all happened so instantly that Kiev did not even have time to order their military in Crimea to resist the actions of Russia.
Western analysts will surely point out the possibility of a well-prepared Russian forces to act with such precision. Russian strategists have succeeded in the planning of combined operations of the GRU, spetsnaz, VDV and naval infantry. She was well prepared and well executed, giving new food for thought by Western experts.
This situation showed how Russia is able to change the traditional military tactics in accordance with the specific situation.
---
Source: http://mixednews.ru/archives/59809
Tags: assessment , Russia , armed forces