I. D. Klabukov, M. D. Alekhin, S. V. Musiyenko 'total technology national security and development'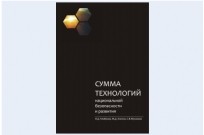 Material posted: Publication date: 27-07-2014
Presented in the report, the approach sets itself the ambitious task of designing the appearance of technologies, platforms and systems, which are capable of in the near future to demonstrate the impact and open access to technologies of future generations.
The starting point for planning technological development, is a basic set of human technologies, robotics and network models. Foreign developments in this area, no different conceptually new ideas, demonstrate a deep level of study of the existing physical and information capabilities. The main result of this technological strategy is the possibility of implementing a limited basis technology in the form of easy to understand results.
Critics review of research programs of foreign countries shows that there are three critical areas – planning, a clear vision and outcome; technology will achieve high performance; and courage to bring the program to the end or stop midway in the face of overwhelming evidence. The importance of these humanitarian breakthrough technology encourages us to pay attention not only on the technical part, stopping at the explanation of the development and uses as yet non-existent technical solutions.
The use of the strategic approach in the form of strategies that influenced the direction of the transformation of the defense sector of the U.S. in the last 20 years, the traditionally used foreign policy of China, you may select multiple strategies for rapid achievement of benefits. The implementation of these stratagems in the form of technological solutions can provide some of sensitive to balance areas, the results of which will be a significant advantage.
Consideration of advanced technologies for national security and development is inevitable, as an appeal to traditionally important areas of their primary application.
---
Source: http://www.slideshare.net/defensenetwork/ss-13448297
Tags: Russia , innovation , DARPA