China strengthens position in Latin America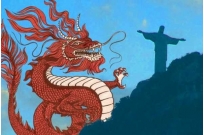 Material posted: Publication date: 09-08-2014
During his visit to Latin America Chinese President XI Jinping publicly announced new trade and investment agreements, which, in his opinion, will contribute to the increase of trade turnover of China with the continent.
A number of Latin American presidents took this as great news in an environment of slowing economic growth in their countries.
However, recent data on bilateral trade paint a somewhat different picture, from which we can conclude that the main purpose of the Chinese leader were political, not economic agreement.
According to the latest statistics, China, though it pushed the U.S. to second place in trade with some South American countries, bilateral trade between China and Latin America is starting to slow down after decades of unprecedented growth. According to the IMF, China's share of Latin American in global exports increased from 2.4% in 2002 to 11.7% in 2012. But growth then slowed, and in 2013, the share of Latin American exports to China dropped to 11.6%. Now most economists believe that the pace of further growth will be significantly lower than in recent years.
This can be partly explained by the fact that the growth rate of the Chinese economy are not 10% per year as in the past decade. It is expected that this year it will grow by 7.5%. A similar rate is predicted for the coming years, which means that China will import less minerals and other raw materials. Many economists doubt that the volume of bilateral trade will rise sharply again: while China has become a key country for Latin America, the continent has not yet become a key to China.
As I have observed during my trips to China, business, political and scientific circles of this country know very little about Latin America. Evan Ellis (Evan Ellis), the author of several books on the relationship between China and Latin America, told me that working as a teacher last month at a major business school in China, he found that 36 of his students nine believed that Machu Picchu was at the forefront of the independence of Bolivia, and seven said that Pancho Villa, the current President of Mexico.
But more importantly, China has shown much more interest in Africa and other dynamically developing regions of the world than in Latin America. Many Latin American diplomats often complain that often takes years to get a meeting with senior Chinese officials.
Guajardo Jorge (Jorge Guajardo), the Ambassador of Mexico in China from 2007 to 2013, told me a very typical story: after many Latin American ambassadors failed to secure a meeting with Chinese trade Minister, they decided to send him a joint letter asking to organize a meeting with all Latin American ambassadors. "We have received a response that the Chinese side has informed us that this is impossible due to time constraints. The meeting never took place," he said.
During his recent visit, Chinese President XI Jinping has signed with the countries of the BRICS agreement to create a development Bank for the countries with dynamically developing economy. He also proposed to pave the TRANS-Amazonica railway line, which would connect Peru and Brazil, and announced dozens of other trade and investment projects.
Less attention has been given to another event, which, however, can have a big impact in the future, namely the meeting of XI Jinping in Brazil with several Latin American presidents to prepare the first meeting of heads of China and the community of Latin American and Caribbean States (Celac), which will be held later this year in Beijing.
In my personal belief, the main news concerning the visit of XI Jinping was not in his economic statements (which can be implemented or not, given the slowdown of China's economic growth), and political arrangements. For the first time China passes from the bilateral format of relations with Latin American countries to multilateral, as he is already doing in Africa. Unlike his first trip to Latin America 13 months ago, this time XI Jinping visited the country, have not the best relations with the U.S.: Cuba, Venezuela and Argentina.
It is possible that the Chinese leader, concerned about the negotiations between Washington and Japan and the countries of South-East Asia about the creation of a Pacific economic bloc, sends a message to the US, the essence of which boils down to this: "If you get in my area of interests, I fit in your". Or, maybe it is about the intention of China to provide long-term sources of raw materials in Latin America. Whatever the reasons, China is consolidating its positions in Latin America.
---
Tags: USA , geopolitics , China