Pecherov S. L. 'Anglo-Saxon model of governance in the military sphere: history and modernity'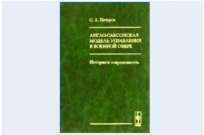 Material posted: Publication date: 30-10-2014
In the book of a prominent Russian expert on political-military and strategic Affairs, the laureate of the prize of the Academy of military Sciences. A. V. Suvorov, doctor of military Sciences S. L. Bachurova consider the questions of the armed forces of the United States, with emphasis on the use of the concept of "integration". Also presented analysis of the application of this concept in the UK, Germany, Canada, Japan and some other countries.
Examines the historical roots of the concept of "integration".
The work is done within the scientific-educational project of the faculty of world politics of Moscow state University. M. V. Lomonosov Moscow state University and Institute of international security problems Russian Academy of Sciences "Strategic management in the sphere of national security, (project Manager - member of RAS A. A. Kokoshin).
The book is intended for specialists in the field of international security, military construction, teachers of both civil and military schools, undergraduate and graduate students.
Moscow: Kom Kniga, 2005. - 232 p.
ISBN 5-484-00356-3
Tags: assessment , analytical work