Siegel E. "Calculate the future. Who will click, buy, lie or die"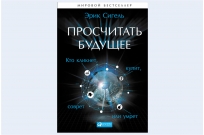 Material posted: Publication date: 30-12-2014
Predictive Analytics - the new weapon in the Arsenal of the world's leading companies and public authorities. Thanks to the development of information technology has opened up new opportunities to use big data to predict the behavior of ordinary people.
This helps to better manage finances, to accurately predict sales of goods, anticipating the wants of customers and target audience of new products, to upgrade technology, improve health and education and even fighting crime. Eric Siegel gives many examples of the effective use of this technique and shows how to practice to begin using big data capabilities to gain competitive advantage. The book became an international bestseller and received many rave reviews from leading analysts and forecasters, will be interesting not only leaders and managers but also anyone who wants to learn how to usefully analyze large amounts of data.
---
Source: http://primuzee.ru/news/275