Martirosyan A. B. "on June 22. Detailed anatomy of betrayal"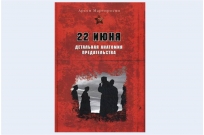 Material posted: Publication date: 30-12-2014
Readers are invited fundamental reconnaissance and historical investigation of the true causes of the bloody tragedy of June 22, 1941, prepared by the famous historian, the author of over two dozen books on the history of the USSR 30-50-s GT. last century, a member of the Union of writers of Russia Arsen Martirosyan.
For the first time in Russian historiography the study shows that the tragedy of June 22, occurred as a result of historically programmed for the intersection of two long followed parallel courses of conspiracies: conspiracy of the West and its Anglo-Saxon core against Russia, which became the USSR, which resulted in the drive of Hitler to power in Germany and stir up this criminal to the Soviet Union, and the anti-Stalinist conspiracy part of the Soviet generals order the anti-state coup, the overthrow of Soviet power and the elimination of Stalin and his associates on the background of the military defeat of the red army in the initial stage of the war.
The project consists of two books: "on June 22. Blitzkrieg betrayal. From the beginnings to the eve" and "on June 22. Detailed anatomy of betrayal". The study is distinguished by the use of a huge number of different sources, careful reasoning, and proof (typically, documentary) of each position or output.
In this book, in detail investigated the phenomenon of betrayal arising from the actions of some representatives of the senior military leadership of the USSR, first of all "the Kiev mafia" — clan generals, immigrants from the Kiev special military district, at the head of which stood Zhukov and Timoshenko. The author has carefully analyzed this phenomenon until the action command of districts, armies, corps, divisions, and in some cases, regiments and even battalions.
The book is published in author's edition.
Tags: assessment , war , armed forces