Walecki Oleg `the Russian diary of the Serbian volunteer: 1993-1999 G. G.`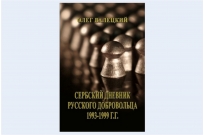 Material posted: Valetskiy OlegPublication date: 09-01-2015
In Canada released an expanded and enlarged edition by Oleg Beleckogo "the white Wolves (Serbian diary of a Russian volunteer)".
In this work the author began in 1996 and saw it initially as diary entries, in which only wanted me to describe past events.
To conceive a book he began on his return in June 1995 from Yugoslavia to Russia. Then wanted to write a short article in which the author briefly described the actions of the group in the area of Serbian Sarajevo from 1993 to 1995, sharing the military experience of both own troops and Russian volunteers.
The reason for this desire was that in Russia in the so-called "Russo-Serbian" circles someone very persistently spread rumors about Russian volunteers as usual the gang, echoing the then Russian as the official line, held in the former SFRY, and many Western media.
In 2006, the author was able to release the publishing house "Grifon", thanks to the support of the late chief editor of the publisher Robert Ohanyan this work. The book is published in the publishing house Altaspera Publishing & Literary Agency Inc. in Canada represents a greatly expanded and corrected version of my notes
To order the book please follow the link:
http://www.lulu.com/shop/oleg-valeckiy/serbskiy-dnevnik-russkogo-dobrovolca-1993-1999-gg/paperback/product-21970263.html
Tags: assessment , war , Yugoslavia