Russia has set a record in buying gold since the collapse of the USSR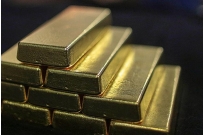 Material posted: Publication date: 30-01-2015
The Central Bank of Russia has set the 2014 record for purchasing gold since the collapse of the USSR. For 11 months he purchased 152 tonnes of gold worth $6.1 billion Is almost 1/3 of all the gold that bought the Central banks of different countries last year.
The share of Russia in 2014 had up to 1/3 of the volume of buying gold buying Central banks of various countries. On purchase of the Russian Federation spent more than ever since the collapse of the USSR. This is stated in the study by Thomson Reuters GFMS, writing in The Finacial Times.
Only the Central banks of various countries have bought around the world in 2014 461 ton of gold. That's 13% more than in 2013. Thus the CBR gained in the first 11 months of 2014, 152 tons of gold worth $6.1 billion growth in the volume of purchases amounted to 123%, results in the publication of estimation of GFMS.
This increase in purchases of gold, analysts associated with the purchase of domestic metal production. Thus, these volumes can not be easily sold overseas due to sanctions, the newspaper notes. In the near future Russia can slow the pace of purchases of gold and to enter the market sales to liquidate its reserves to support the currency, according to the forecast of the publication. The buying of gold by the Central Bank of the Russian Federation can be explained by the desire to move away from dependence on the dollar and support the ruble weakened.
Also by volumes of mining of gold Russia became by the end of 2014 to the second place in the world. Last year, the country produced 272 tons of gold, reported Interfax with reference to the research of GFMS. First place went to China with the index 465,7 tons, the third place went to Australia with mark 269,7 tons.
Global gold production in 2014 increased to 3,109 thousand tons. The increase compared to the previous year was 2%.
At the end of December 2014 Russian gold and currency reserves of the Bank of Russia fell below $400 billion For the week from 12 to 19 December volumes fell by $15.7 billion and $398,9 billion, This level of reserves conformed to the state at the end of August 2009.
As of 16 January 2015 the volume of reserves of the Central Bank of the Russian Federation amounted to $379,4 billion.
---
Source: http://top.rbc.ru/finances/30/01/2015/54caf6669a7947b081dfb815?utm_source=gismeteo&utm_medium=news&utm_campaign=gism_test_2
Tags: Russia , resources , gold