For Putin, this would be the best way out of zugzwang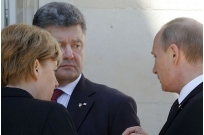 Material posted: Publication date: 26-02-2015
If the first Minsk agreements were carried out allegedly under the auspices of Ambassador Zurabov, the "Minsk-2" presented as a personal achievement and "Peremoha" of President Putin. Therefore, the current Minsk agreement will be executed by the militia at least until the moment when the fourth mobilization in Ukraine will allow Kiev to resume hostilities in the Donbass. About April in the ranks of the APU will be not less than 200 thousand soldiers and officers. In addition, significantly increasing the number of nationalist forces under the leadership of Yarosh. Recently, 17 battalions of the Ukrainian armed forces came under his banners.
And this is the main trend, the mainstream nationalist fervor in Ukraine. In the spring of this year against the militias on the battlefield are not only untrained and not motivated recruits, but also several thousand nationalists, and speaking out loud – Nazis – under the guidance of the young commanders, who hate not only "separatists", but incompetent and thieving Ukrainian generals, and the current chocolate of the President of Ukraine. They will, most likely, the American weapons at least anti-tank systems "Javelin", they are experienced commanders who at any cost will try to take revenge on the militia of Donbass for the shameful defeat.
Ukrainian Deputy Foreign Minister Vadym prystaiko said Ukraine is preparing for "full-scale war." According to him, Kiev "no longer afraid to engage in conflict with nuclear power".
That Kiev is preparing for a military conflict, Prystaiko said on 21 February in an interview with canadian radio station CBC. Prystaiko emphasized that Kiev "does not want to scare anyone", but "preparing for full-scale war." Pristayko noted that the Ukrainian authorities closed the borders with Russia. In his words, "the stakes are now very high." Prystaiko said that Russian President Vladimir Putin "must be stopped, in the name of the Russian people, and not only in Ukraine and Europe". According to the Deputy foreign Minister of Ukraine, "everyone is afraid to come into conflict with nuclear power", but "Ukraine, which has lost so many people and territories, no longer afraid of it."
Meanwhile, the winter offensive of the militia could not be limited to the capture of debaltseve. The militia were ready, and the evidence ready to take Mariupol, Peski, Avdeevka and go to Kharkov and Odessa. Not at the level of empty dreams, and at the level of concrete operational plans, supported by appropriate solutions in logistics.
However, did not happen. Partly due to the increased losses of the militia. The reason is not only in the stubborn resistance to separate sites from the APU. The commanders of the militia became less active. They very clearly and responsibly carry out the orders of command. The tragedy Bednov-Batman had instructed the head of the initiative. Even desperate Dremov learned a lesson. And if by the end of the autumn offensive of militias with the support of Russian vacationers has been made operational success relative to small losses, which immediately led to panic and the collapse of the Ukrainian army, now fighting the loss of the militia were very high, although the Ukrainian losses not less than twice. But human resources is incomparable, and as of April against militias would stand the hundred-thousandth grouping of the APU, we have to pull out of Russia volunteers and vacationers, because of their own "voluntary" mobilization in DPR and LPR failed. So far, DRN-LC is an ersatz state with external control, vague ideology and smuggling economy. In this situation, neither of which voluntary mobilization cannot be and speeches. And on forced mobilization did not go, because the whole power of the militia in his high motivation and the voluntariness.

Veterans of the British forces recognized the detachment of "Sparta" Motorola is the world's best infantry. In the second place he put the Israeli "IDF". Here Motorola and moved to close the Debaltsevsky cauldron. This indicates a certain lack of professional resources at the command of the VSN. There is no longer a tricky Butler, who activity their DRG has made small losses of civilians of Gorlovka, paralyzing the actions of the Ukrainians. No luminary and hybrid war Strelkova, which is now studied in all military academies of the world. It was during the Korean war, when the Soviet command decided to arrange the rotation of flight personnel and returned to the USSR experienced aces Ivan Kozhedub, won the aerial duels with the Americans by sending them to replacement newcomers. Nothing good is not led. So now in the Donbass.
If not for the blatant weakness of the Ukrainian army, the loss of the militia could be catastrophic, and the victory could not have happened at all.

To advance on a broad front in terms of numerical superiority of the enemy, and even in those portions of the theatre, where the offensive of the militia was to be expected, it's not a masterpiece of operational thinking, and Igor Strelkov has already expressed his critical opinion. In the present victorious offensive VSN no element of surprise, indispensable conditions of victory a little blood. By four battalion tactical groups went on the attack on all fronts from Mariupol to the Crimea in the echeloned defense of the enemy. What kind of surprise! The truth and the Brusilov offensive in WWI was the same. There was victory achieved, but the price was disproportionate – the color of dead Russian officers, almost at the root. Deleterious effects on the fate of the Empire. Best officers fell on the fields of war and are unable to stop the collapse of a great power.

A number of experts already expressed that the Kremlin openly are banking on the fact that the bloody fighting in Donbas will reduce the number of passionaries, ready to sacrifice their lives in the name of building a New Russia, free from total corruption and hyperstealth.

If there is such a calculation, he is mistaken. Fiercer than the battles in the Donbass, the more Russia is involved in a full-scale war with Ukraine, the less chance for survival in Russian kleptocratic system, built in 23 years of existence of the Russian Federation. Bet on the consolidation of the Russian nation in the face of an external enemy can be successful only if equal participation of all social strata in the struggle against the external enemy. And in a situation where for the average Russian is much more dangerous internal enemy in the face of corrupt officials and demonic supermarkets - killers of old women, Russian Maidan, the coming of whom is so afraid of the top authorities of Russia, can happen completely on the other side, and in a very different fashion. Not gonna say what, because distant from extremism. Bad stability is better than a good revolution. Even Pythagoras warned against differences of opinion in the family, and troubles in the city.

And here Russia and DPR and LPR are facing broken once again the enemy(and Ukraine is now our enemy), which once again gathers new strength to continue the battle with an external aggressor. This battle could be deadly for both sides. Only Ukrainians understand it, and the top bosses of the Russian Federation no. They have a planning horizon beyond two months does not extend. And this is true not only for political but also for military leadership. How can you expect anything else from the Minister of defence, signed slaughter the slogan "Nobody better than us"? Deserve whether, finally, the long-suffering Russian army military personnel at the head of the defense Ministry. Financial genius-furniture maker, Tuvan rescue, winner of the order of Malta. Themselves-I own they are ordinary people, ordinary, not villains, and not geniuses.

The fact of the matter is that now at the head of the Russian army should be a man, combining in one person the genius and villainy.

For the enemy is evil. For the Russian army is a genius.

As Igor Strelkov.

"As Shooters," doesn't mean that the Shooters, but not mean and Not "Shooters".

And by the way, for Vladimir Putin, this would be the best way out of zugzwang. It's time to bet on decent people, and not in dark figures from the Yeltsin distant or dumb performers, "Tarawih" Repin paintings from Ministerial corridors.

Zugzwang is a dead end. And not only on the fronts. But in the economy. And military-technical cooperation. Idiotic humiliation of the Russian authorities in the history of the us with unnecessary "Mistral" surpasses the boundaries of common sense and dignity.

If and further go, no "Antimaydan" 300 rubles each does not help.

So. Only residents of the Russian palaces(and the top bosses often live in palaces), this reality is not available yet.

Only Glory Surkov was sad coming at a time when his partner in peace negotiations oligarch Poroshenko accused him in the shooting of peaceful Kiev Maidan. Well, stay in welcoming Hague none of the Russian chiefs are not insured. This is in case of defeat. A bony hand "Basmanny" justice in Western performance extends to each of them. This gives hope that much of the most infamous versions of "drain" of national interests, the Russians insured.

Or not?

Vladimir Prokhvatilov
---
Tags: assessment , war , Ukraina