Army Kiev regime in the summer campaign of 2015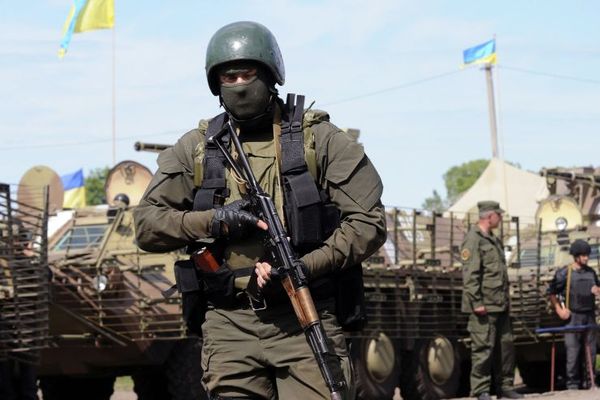 Material posted: Publication date: 31-08-2015
Summer

campaign in

full swing.

It's been

almost

three months

of continuous

small and medium

collision

,

which

provides insights into the

strategic challenges

faced by

the parties

,

and tactical

methods

of achieving them

.

But first,

let's look at

how

changed

the combat capabilities of

the parties.
The painful losses suffered by Kiev in the winter 2015, have not passed for nothing. But at all it became for junta the basic problem in the second summer campaign.
The main opening for the public of the country, command of junta and the customer wars (USA) was that the army is already incapable to conduct not only active offensive actions, but also with firmness to defend. Became obvious that in the foreseeable future it is impossible to correct a situation. More likely, on the contrary, internal problems of Ukraine will render even more destructive influence on moral spirit of soldiers of junta.
The soldier, trying to run from front to a military commissariat, has been caught and, incomplete structure by the most necessary, thrown under constant firings without the working technics. Such soldier will not be at war. For this reason the information with "peredka" that units of junta after a dense artillery strike appear in 200-500 metres from "strong points" (often under cover of medical institutions or peace quarters), and only unwillingness of army VSN to come constantly comes while leaves a front line invariable. Battle under Marinkoj on June, 3rd - a bright example of "firmness" of units of junta on a first line.
The mobilisation potential of Ukraine while has given out only 1/10 unit of list structure. The others for whatever reasons have not been involved in one of SIX waves of mobilisation.
Mobilisation of technical parks for one and a half year has shown full ruin and unavailability of the country to long war.
Restoration of repair factories for the present is not completed
Though here there are also relative successes. For example, manufacture of trunks of instruments is gradually restored.
Technics repair is carried out poor (to THIRD of capitally repaired technics is not efficient to what official reports from front and uchebok) and in insufficient volume testify. Having only two short intensive boestolknovenija (July-August of 2014, January-February of 2015), the army of Kiev has had such technical losses which cannot indemnify till now enterprise VPK completely.
The numerical structure of principal views of arms on tanks ready to battle has not increased by the operation beginning (even has a little decreased), on BBM is increased slightly, but basically at the expense of import of old NATO wheel technics or domestic armoured cars which are unsuitable to army battle. The artillery has received a considerable increment, especially heavy towed.
Reforms VSU and their present condition
Throughout civil war the junta army has undergone some reforms. First "reform" was compelled and consisted in formation of several tens batallions of territorial defence. The reasons of their formation were the following:
Absence of possibility at VSU to absorb all mobilised;
Formation and ware maintenance of new units has laid down on shoulders of their territories created (partially on shkurnym to motives these expenses on took political forces).
Absence of technics for acquisition of high-grade efficient units.
The problem and has not been decided till the end of existence of territorial units that has poured out in the big losses of staff and its instability during defensive operations of August 2014th February 2015.
The Kiev mode hastily prepared reserves for developed war and, it is necessary to recognise, these reserves in the autumn of 2014 became saving for the army of the Kiev mode routed in summer campaign.
The second stage of reform has begun autumn of 2014 and consisted in rearrangement of the rests of army in more or less efficient units led to uniformity. For this purpose were doukomplektovany old regular units, and the remained batallions and new recruits have gone on formation of new units. So in Ukraine have appeared and for a long time the forgotten motor-infantry units.
Mobile units
The losses suffered by aeromobile units, during the previous campaigns became the reason of what their arms and structure have undergone considerable changes. A junta management, understanding that aeromobile these units can be now only under the name, has tried to keep at least their mobility, simultaneously having raised their shock possibilities. Finally these reforms have led to creation in structure VSU of several easy brigades (the name aeromobile for which has been kept), received heavy arms.
On staff these brigades include three batallions of the reduced structure (in comparison with motor-infantry) - 300-320 foreheads, a tank company (on 10 tanks T-80), THREE artillery divisions (SAU 2С1, Д-30, БМ-21). And maintenance units.
That is, easy brigades have undergone to total reorganisation. Possibility desantirovanija has disappeared. The regular structure of artillery group is tripled. The company of tanks is entered.
In total in structure VSU for today there are FIVE aeromobile brigades:
25th separate aeromobile brigade - pgt. Guards, the Dnepropetrovsk region;
79th separate aeromobile brigade - Nikolaev, Bolgrad;
80th separate aeromobile brigade - Lvov, Chernovtsy;
81st separate aeromobile brigade - Konstantinovka, Donetsk region;
95th separate aeromobile brigade - Zhitomir.
In comparison with a beginning of war in structure VSU there was one new brigade - 81st, created on the basis of 25th and 95th brigades and territorial batallions.
As a part of 79th and 80th brigades is on the fourth separate aeromobile batallion (88 and 87 accordingly).
Existence 90 separate batallions under one data takes place to be, on another it was a part of other subdivisions.
In structure of easy brigades the new armoured cars received from the countries of the NATO or made in Ukraine are mainly transferred: "Saksony", "Spartany" are transferred aeromobile brigades along with MLTB. An armour unit the armored troop-carrier-80, an armored troop-carrier-70 still make, BMD-1 БМД-, 2, an armored troop-carrier-D. Delivery of tanks T-80 in structure of mobile brigades occurs since July (the first party 8 pieces has left in 95th brigade). Every month the party from 7-8 cars is transferred. The second party has been transferred on August, 22nd in Chuguev.
1st brigade of marines. It is generated in Nikolaev. It is thrown in a zone of battles in the summer of 2015.
Structure: three motor-infantry landing batallions of the facilitated structure - 300-320 foreheads (an armored troop-carrier-80, an armored troop-carrier-70, BM "Hammer"). A tank company (10 tanks T-64), THREE artillery divisions (SAU 2С1, Д-30, БМ-21 "Hailstones").
As a matter of fact, it is one more mobile brigade, but a part of Naval Forces.
Total SIX mobile brigades of uniform structure with possibility to develop the seventh (together with 28th educational aeromobile batallion). In total in their structure it is planned to have 21 easy batallion and six tank companies. Total to 12 000 persons LS.
After a full complete set into structure of mobile forces will enter: 50 tanks T-80, 10 tanks T-64. On artillery the complete set while is up to the end not clear: 4 or 6 gun batteries (under my information in mobile brigades of 6 gun batteries). In them: SAU 2С1 - 108 pieces; Д-30 - 108 pieces; RSZO БМ-21 108 pieces To 700 BBM various types. Level of equipment on staff for today: tanks of 50 %, BBM an order of 80-90 %, artillery of 80-90 %.
Aeromobile units VSU are considered as army elite. In new tactics it takes away an important role that is why them try to make up with technics first of all.
Tank units
As well as before war, they are presented by two brigades:
1st separate tank brigade 8 AK, pgt. Goncharovsky, the Chernigov region;
17th separate tank brigade 6 AK, Krivoi Rog, the Dnepropetrovsk region;
Actually tank brigades were mentioned in any way by reform. Their structure remained invariable, short of the combat material nomenclature. Well, and 17th brigade doukomplektovali to 3-batalonnogo structure.
Total six tank batallions and two motor-infantry batallions, eight divisions of artillery. On staff of 190 tanks, to 100 BBM and on 36 pieces SAU 2С1, SAU 2С3, RSZO БМ-21. And nearby 4 500 persons of staff. Shortage, only 20-30 % of regular number of technics turns out.
Along with mobile units tank brigades basically are used as a mobile reserve and consequently sustain rather low losses.
The mechanised brigades
The Kiev mode entered military operations, having EIGHT mechanised brigades. For today their number has grown to TEN. To personnel 14 (former 51st), 24,28,30,72,92,93,128 in the end of 2014 two have decided to generate more: 53 and 54 brigades. From the moment of the beginning of operations the structure of brigades has undergone some changes.

The tank batallion which had 40 tanks, have transformed to a standard 31 tank batallion. However, shortage and constant losses usually give 20-25 tanks on a brigade.
The artillery group of brigades on staff remained former: 18 RSZO "Hailstones", 18 SAU 2С3 "Acacia", 18 SAU 2С1 "Carnation" and 18 anti-tank instruments (but in each unit on artillery mad shortage, on what there are reasons about which it will be written in following units). A complete set of mechanised units VSU, as a rule, low because they constantly are on a front line and sustain the basic losses. Level of equipment on the technician of 60-70 % for these units it is good. For new 53 and 54 brigades the data about quantity of armour is absent, but apparently, in these brigades the big shortage.
Total on staff: 30 mechanised batallions, 10 tank batallions, 40 divisions of artillery. Number LS to 30 000. To 1500 BBM, 300 tanks, 540 artillery pieces, 180 RSZO. If to take into consideration shortage brigades include 1000 BBM, 200 tanks, 300 instruments (200 SAU), 120 RSZO. And most likely and it is less.
Motor-infantry brigades
In total it is planned to create FOUR such brigades. While at the front were showed ONE (57th). 59th has taken positions on the Crimean direction. Everyone incorporates on three motor-infantry batallions (the former batallions of territorial defence).
Units do not incorporate tanks and practically have no BBM. Only an infantry on cars and a towed artillery (art group of the cut down structure, most likely one-divisional). Actually, it is the reserve units, waiting to the technician. If suddenly it will be possible to get necessary quantity of technics, they quickly turn to the usual mechanised. But it is improbable.
Actually six motor-infantry batallions are ready to battle with weak arms.
Artillery brigades
Also have undergone to essential reorganisation. VSU began war having TWO artillery brigades of heavy howitzers: 26th self-propelled and 55th towed artillery.
During battles TWO more brigades stvolnoj artilleries have been developed: 40th and 44th.
44th has been generated in the summer of 2014 on "funds" of 11th artillery brigade disbanded in 2013, 40th has been generated by division of 55th. Thus, to the beginning of summer campaign both brigades could give 4 howitzer divisions on front, others two is planned to make combat-ready by the end of summer campaign (most likely are already ready).
43rd brigade about which write, how about formed while itself in any way has not shown much.
In 26th brigade (heavy SAU) actually at the front there are 1-2 batteries SAU 2С19 "Msta-with", one battery (incomplete structure) SAU 2С5 "the Hyacinth-with", two batteries of heavy howitzers 2С7 "Peony" (there is data that they enter into 44th brigade). In total at the front till 25-30 heavy SAU.
Each of three howitzer brigades totals on THREE howitzer divisions of towed instruments 2А65 "Msta-B" or 2А36 "Hyacinth" and on one anti-tank division. Total nine divisions of heavy towed howitzers: 162 instruments and three divisions PTO - 54 instruments. Number LS to 3 000 persons.
Separate units of a rocket artillery
Before war consisted of THREE separate regiments:
15th - three divisions on 18 cars (1 - БМ-21 "Hailstones", 2 - БМ-27 "Hurricane", 3 - БМ-30 "Tornado");
27th - three divisions on 18 cars (1 - БМ-21 "Hailstones", 2,3 - БМ-27 "Hurricane");
107th - three divisions on 18 cars (1 - БМ-21 "Hailstones", 2 - БМ-27 "Hurricane", 3 - БМ-30 "Tornado").
БМ-21 "Hailstones" - 54 pieces
БМ-27 "Hurricane" - 72 pieces
БМ-30 "Tornado" - 36 pieces
After the beginning of operations the fourth division (БМ-27 "Hurricane" - 18 cars) in Sumy has been generated and the regiment has been transformed to 4 divisional brigade of a rocket artillery. Number LS of all regiments/brigades jet atrillerii to 4000 persons.
The junta rocket artillery has two problems: shortage of RSZO БМ-21 "Hailstones" (therefore batteries contain, as a rule, in incomplete structure) and ammunition (therefore RSZO by junta army it is applied the further, the less often. Especially big calibres). If losses proceed, is fast БМ-21 will be transferred infantry units, and all separate shelves RSZO will incorporate only "heavy" cars. Otherwise them it is banal will not suffice on all.
Besides the listed units, each sector has on one separate prospecting batallion.
Total in VSU is (and it is planned to formation):
Number of the field army ready to active operations (without rear services and maintenance units) - to 55 000 persons.
Tanks: 16 tank batallions and 6 separate tank mouths. Total number of tanks in them on staff of 556 tanks. Available is available to 450 units from which 300-350 pieces are efficient only.
Infantry: 21 "the easy" mechanised batallion, 35 mechanised batallions (2 batallions in tank brigades and 3 batallions in separate artillery brigades), 6 motor-infantry batallions. On staff they should have nearby 2 500 BBM. In presence 1500-1700 BBM. Efficient BBM no more than 1200. From them a considerable quantity of easy wheel technics.
Artillery. Heavy artillery: 9 divisions towed and to 5 batteries SAU. In total to 200 instruments. From them simultaneously efficient are to 150 pieces. Army artillery: 38 divisions of howitzers (from them 26 divisions SAU), 18 divisions PTO, 28 divisions RSZO. Total (on staff): to 700 instruments (to 500 SAU), more than 300 PTO, nearby 500 RSZO. But in artillery the big shortage (especially in RSZO) that is why in a reality is to: 500 instruments (350 SAU), 250 PTO, to 300 RSZO. Degree of their fighting capability much more above, than at the armour technics (to 80-90 %).
Totally VSU can expose combat-ready (if all units are at the front that while never was) to 600 howitzers, 200 PTO and to 250 RSZO.
National guards
Some words about units NG. Though these units most raspiareny in mass-media, but by battle possibilities and number they strongly concede to units VSU. Actually, and at the front them try not to hold (and now in general have cleaned). Actually, at the front and about it have been noticed:
1st (operative) brigade NG (were formed mainly of active workers of the Maidan);
Batallion of a special purpose it. Kulchitsky (the rests of 1 and 2 reserve batallions NG generated from hundreds of the Maidan);
Regiment "Azov" as a part of three batallions and a tank company;
Batallion of a special purpose "Donbass".
Actually, it is separate army of the Ministry of Internal Affairs with the command and the problems. 1st brigade and a regiment "Azov" are armed at level of mobile brigades VSU and practically are those and on number (hardly less). Batallions of "special" appointment incorporate to 300 persons and as a matter of fact are easy motor-infantry batallions. Also on posts draw duty summary companies NG (from structure of internal troops). Simultaneously them can be to 3-4 batallions. On battle value they are comparable to batallions teroborony.
Totally "army" of the Ministry of Internal Affairs in zone ATO (without patrolmen, and the Ministry of Emergency Measures) in battle subdivisions totals inspectors to 6 mechanised batallions, 6 motor-infantry batallions, to 2 tank companies (incomplete structure), to 6 divisions of artillery.
Number: 5 000 persons LS, to 20 tanks, to 200 BBM, to 100 instruments.
Frontier troops on Donbass
Battle subdivisions of tactical value it is not created. Employees PVU draw duty on posts and in a front zone. Their main task, struggle against contraband and hit suppression on the territory controlled by junta, "undesirable" persons. Therefore separate calculation of their battle possibilities is not meaningful, in spite of the fact that quantity LS in a zone of battles considerably: to several thousand.
In following materials of a series we will consider "some technical aspects" junta armies, structure and army VSN possibilities, and in the ending we will conduct the analysis of summer campaign (to today naturally).
---
Source: <http://politrussia.com/world/armiya-kievskogo-rezhima-428/>
Tags: war , strategy , armed forces , AME , Ukraina