Drozdov legendary father "Vympel" and the patriarch exploration celebrates its 90th anniversary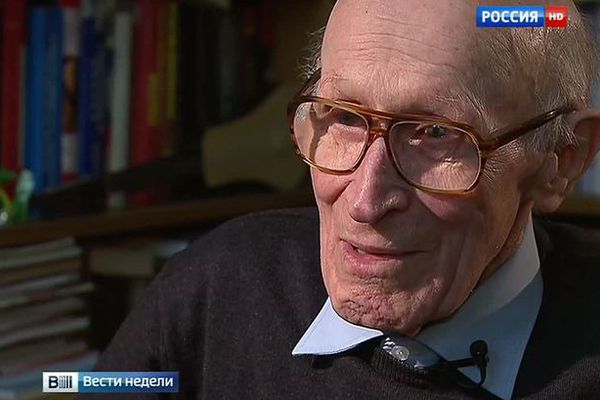 Material posted: Publication date: 21-09-2015
September 19

to 90

years

said

the man who

was truly

a legend

-

resident

in Germany, China

and the United States

, the head of

the group

"C"

-

control

of illegal

foreign intelligence

of the KGB

, the founder of

the group

"Vympel"

Yuriy

Drozdov

.
And in 90 it - on work. Habitually - in a system. Yury Ivanovich Drozdov not simply scout - a legend. The most part of its biography - in spetsarhivah under a signature stamp "strictly confidential" also becomes known till now, as he speaks, years through hundred.
"Time on pension my business - to keep mum or speak when me asks", - has told Ouzels.
But to us it something tells: as dreamt to become military men, to go in the footsteps of the father as has got on war and has reached Berlin.
"There has got acquainted with the spouse who has left an inscription on a wall of Rejhstaga:" I here was ", - remembers Ouzels.
And it went and listened to German speech as though knew that years through 10 this language becomes for it to workers.
Words of oath of allegiance to Fuhrer Drozdovu should be said when, it having presented by the former nazi a baron a background Hoenshtajnom, it has enlisted the employee of German investigation from among Hitler's admirers.
In 1957 - the most serious testing. In the USA our resident agent Mark, it - Rudolf Abel is arrested. It sentence to 30 years of prison. Also there is a unique chance to exchange it on pilot Powers managing brought down plane-spy. All negotiations go to Germany. Yury Drozdov co-ordinates them under the pretext of cousin Abel, having thought up itself a name of Jurgen Drivs.
"Simple official Drivs has appeared very simply. On one of streets of the western Berlin on a label on collars there was this name, it seemed to me that it approaches", - Yury Drozdov has told.
How many forces and cost sleepless nights these negotiations, knew only itself Drivs-ouzels. How many time they were on the verge of a failure! But all has turned out.
That unique operation till now assort in textbooks on investigation. And Yury Ivanovicha after that send in the most difficult points. To China where there is a cultural revolution, then to the USA in the heat of cold war. But Ouzels here again manages to be one step away ahead of the opponent.
"He/she is the great diplomat, the present soldier, the scout, he is a patriarch. We cannot name its sacred, but for us it sacred and unique", - the head of Association of group of a special purpose "Pennant" Valery Popov has noted.
In the summer 1979 Yury Drozdova throws to Afghanistan under a name of captain Lebedev. Though by that moment it already the chief of all management "With" - illegal investigation of KGB. Such value the centre gives operations on storm of a palace of Amina. Under its offer in service of presidential guards implement a Muslim batallion. And despite small number - guards was ten times more - it convinces to go on storm.
"Military men have looked at me with astonishment, have thought, well, and the impudent person. Have forced to worry enough a little bit guards of Amina and have begun. Battle lasted 43 minutes", - remembers Ouzels.
After that at Drozdova the idea to create KGB special troops is born. It goes to Antropov and proves necessity of subdivision "Pennant".
"When it managed to convince a management of necessity of creation and such the decision it was accepted, it was happy, rejoiced that has achieved necessary the decision in interests of the country, in interests of Fatherland", - Ivan Evdotev, the veteran of external investigation, the honourable employee of a state security has underlined.
All history of the Russian special troops which has proved to be in operations in Vietnam, in Angola, in Cuba, in Lebanon and Nicaragua begins with "Pennant". Such subdivisions then was much, but the principle and the highest preparation have been pledged by Drozdovym. The veteran of investigation though has retired, but all as is claimed, continues to work - invariably in interests of Fatherland. Already the third ten years heads analytical centre "Намакон".
"We need to know very well with whom we deal. It does not say that we should be at war that we should rustle, be rude, harm, do how it is done today by representatives of the American special services. It is necessary to protect integrity of the subdivisions and it is necessary not to forget that the world not odnopoljaren", - is assured Ouzels.
And in birthday accepts congratulations from every corner of the globe - so many his friends. But the most expensive wishes, certainly, from grandsons and great-grandsons.
---
Source: <http://www.vesti.ru/doc.html?id=2666343>
Tags: Russia , armed forces , Special Forces