According to a neighbor's why you need to create a financial center in Kazakhstan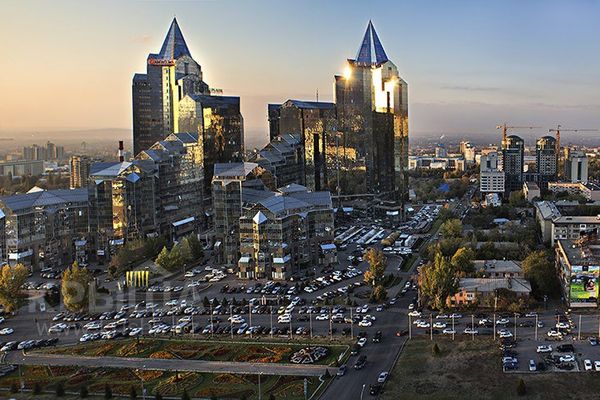 Material posted: Publication date: 12-11-2015
The project

to transform

Moscow into an international

financial center

has failed.

Save

the idea

would

merge with

its nearest neighbors

.
Dreams of the financial centres
During an epoch of economic globalisation influence and power of the Western world in what are not shown so clearly, as in control over the financial markets. More than 80 % of world trade are made in dollars or euro whereas, for example, in yuans than 4 % of transactions are nominated less. First two currencies make, accordingly, 63,8 and 20,5 % in cumulative reserves of central banks. In structure of global stock market to the USA and the EU countries 72 % of the general capitalisation of the companies are necessary. Impresses also distribution of the international financial centres not less: following the results of 2014 (rating GFCI) 47 from 84 were in the North America or the Western Europe.
Certainly, we remember that the plan of transformation of Moscow in the international financial centre was born still more recently when the country was on lifting, and the prices for oil, apparently, is just about reached 200$/barr. In 2011 president Dmitry Medvedev said that «in Russia the centre where all kinds of financial tools» will be presented should be created, declaring even that «creation of the financial centre remains an unconditional priority in development of our state». Project realisation has begun with creation of a megaregulator on the basis of Bank of Russia, repartition of the earths situated near Moscow, plans of the big building and loud promises of the future successes. Now the theme is almost closed: Moscow in 2008-2014 has fallen in the list of the large financial centres on 21st position (to 78th place) and concedes now Warsaw (38), Prague (63) and to Budapest (74).
Growth points
The idea of creation of the international financial centres in developing states (and Russia as participant BRIKS concerns them) looks very sensible and thorough - especially in those from them that act as "input points» on the serious markets. These factors fast growth of the financial centres in the most politically steady and least orthodox states of Persian gulf, in my opinion, speaks. The United Arab Emirates and Qatar can brag of 16th and 22nd places among financial platforms. It appreciably promotes attraction in these countries of investors and qualified personnel.
Dubai since the middle 1980 was the pioneer of economic reforms in a gulf, has created the financial centre in 2004, today in it work more than 2 thousand international companies in the field of the finance and insurance. In 2005 the private International financial stock exchange of Dubai, since 2008 known as NASDAQ Dubai (only last year on it has passed about 30 new listings more than on $16 mlrd) has been created completely.
It is possible not to go so far and to look at Czechs or Poles. Under conversations that Russia needs to enter full convertibility of rouble, the Czech colleagues since 2000 have placed in the national currencies of the eurobond on €19 mlrd while Russia at all has not entered the international credit market with loans in roubles. At the Warsaw stock exchange listingovany 475 companies with capitalisation on the end of 2014 in €322,5 mlrd, and about 55 % from them not Polish, but foreign (basically from other countries of the Central Europe); on the Moscow Interbank Stock Exchange actions of 322 emitters bargain with a total estimation nearby €390 mlrd, and all of them Russian. Our companies aspire on stock exchanges of London, New York and even Hong Kong. Why so occurs?
First of all, I think, because of our aspiration to invent the rules, instead of to learn at those who has left further. For normal functioning modern MFTS the minimum taxation, a preferential mode of stay in territory of the country of workers and the investors, independent judicial instance for a resolution of disputes are necessary the organisation of operations on international (it is desirable British) to the right. What probability of what the Russian authorities will go on such steps if anything similar it has not been undertaken and in "not much more confrontational" years? I would not overestimate it.
True friends
Moscow could to suggest unite efforts with partners, and first of all with participants of Custom union and EAES. It can seem mad idea - one country in the former USSR does not have serious stock market, and financial systems are not too stable.
However last years in Kazakhstan, whose authorities in much bigger degree, than Russian, are focused on cooperation with the international investors and even on some "apprenticeship" (in the government program many problems are put in an achievement context in the international ratings of this or that position), conversations on creation of the international financial centre do not become silent. Thus the Kazakh colleagues are initially focused on partnership with skilled external investors - with earlier mentioned financial centre of Dubai, for example. They are ready to make the financial centre, as a matter of fact, ex-territorial and to start at it a scale free economic zone; to give to investors and workers of a zone visa-free entrance to the country and clearing for ten years from the profits taxes and incomes. Declare desire to create judicial instance on resolution of disputes which will operate on the basis of the British right and which decision will be obligatory including for the Supreme court of the country. The status of the created international financial centre as it is supposed, will be fixed in the special constitutional law. The decree about centre formation has been signed by president Noursultan Nazarbayev on May, 19th, 2015, and, according to the head of National bank of Kazakhstan Kajrata Kelimbetova, «realisation of such difficult project will be an uneasy problem and a lot of time and forces will demand, but will raise appeal of region to investors, will create a niche in financial sector, a point of growth new kompetentsy in the country». As a matter of fact, it is a question of internalization of elements of the international financial law in the country which is a part uniform with Russia of economic space. Possibly, financial centre will take place on 174 hectares of territory of exhibition EXPO-2017 preparations to which go now in Astana.
To Russia followed support the initiative of the Kazakh colleagues as if development EAES goes the planned course, this financial centre will appear including Russian. I understand aspiration of our authorities to the maximum centralisation of all and all - the property, capitals, powers, but is convinced that integration should assume return process - decentralisation and specialisation. And in such context in favour of Kazakhstan as potential financial centre of the Euroasian scale speaks very many: and its positioning as leading country of the Central Asia, and close cooperation both with Russia, and with China, and affinity to projects of a new Silk way, and time-honoured relations of the country with the Islamic world, and - in the future - perception Islamic financial an expert, and, at last, the steady relations of Astana not saddened by political misunderstanding about the USA and EU. Notorious "turn" of Russia on the East if to be in earnest about it, can quite assume dispersal of financial activity to Russia and expansion of its horizons.
Today it is necessary to recognise that at Russia badly it turns out to be built in in global investment and financial communications. The free economic zones which have become by most powerful dvizhitelem of economy from China to the United Arab Emirates, from Malaysia to Mexico, at us practically have not got accustomed. To create the serious international financial centre to us yet it was not possible and, possibly, the next decades it will not be possible. In such conditions followed try to use in the greatest possible measure the potential opened by the Euroasian integration, - and, perhaps, the Kazakh readiness for experiment and the Russian financial potential can give powerful sinergetichesky effect which scales we even do not guess today.
Vladislav Inozemtsev
---
Source: http://www.rbc.ru/opinions/finances/27/10/2015/562f37369a79471a151510cb
Tags: assessment , financial center , Russia , Central Asia