Present future: why to banks and governments technology of a bitcoin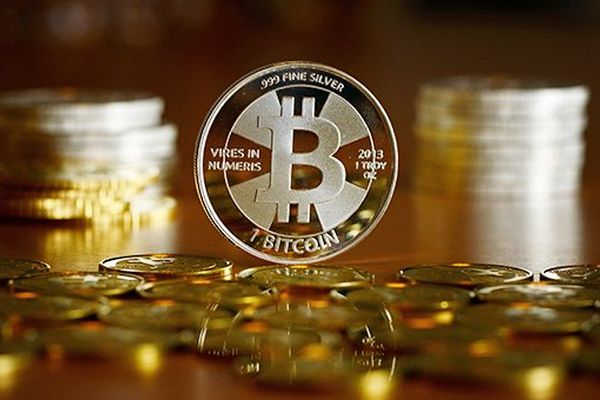 Material posted: Publication date: 20-01-2016
Blokcheyn, "a chain of blocks" — technology about which the world I learned a bitcoin thanks to an electronic payment system. But today блокчейн study the largest corporations and even the states. As for what purpose they want to find in it?
Having filled the questionnaire, you receive on e-mail the letter with the reference which activates a video chat. On the screen problems light up: to sound the SMS-MESSAGE which has come on phone after the session beginning, to be presented and read the statement with the request to be connected to a payment system. Then you ask to show the passport or the rights, and a session comes to an end. Video is automatically fixed in blokchejne - the decentralised database which architecture excludes modification of already written down information. So procedure of identification of businessmen which want to connect the enterprises to payment system Pay-me will look.
The idea of identification of clients through video interview fixing in blokchejne belongs to the founder of startup Block Notary to Igor Barinov. blokchejn protects the information more reliably, than any technology which was used before, precisely fixes time of record and its authenticity, Barinov explains. With it, at least partly, agree Microsoft, Citigroup, NASDAQ, Goldman Sachs, Morgan Stanley and tens the companies which are putting up money in development of perspective technology.
In the beginning of year Igor Barinov has won hakaton at small Texas bitkoin-conference. It and its command have made the project allowing by means of chambers on roads to define number of the car and to send the obtained data in blokchejn. The appendix fixed time of entrance of the car for paid road and its number in the register, stored in computer base, then made "the clever" contract between the chamber and an electronic purse of the driver, suggesting to pay a trip.
For a victory in hakatone Barinov has won a prize in kriptovaljute which has spent for training in Blockchain University - courses for blokchejn-engineers. Appendix Block Notary, some kind of the virtual notary became its final project: it allows to load in blokchejn a photo or other media file and to receive acknowledgement of the property rights and loading time.
«As a matter of fact it is the registrar of a new era. If to draw analogies the notary is out-of-date, not so effective analogue blokchejna. It road, is badly scaled, demands a premise, and, the main thing, never it is impossible to exclude the human factor», - Barinov speaks.
The idea of "the digital notary» has appeared enough universal, and Barinov has already found the first partner for its realisation. The prototype of the joint project with service mobile ekvajringa Pay-me will be started in the beginning of 2016. «I have understood that it is possible to take potokovoe video and to build in it business process», - Barinov speaks. Imagine business in which any important action is not forgotten.
Technology of trust
The majority of usual people did not hear about blokchejne, but hardly did not meet though time a product mention for the sake of which she has been created, - bitkoina. About the means of payment let out in 2009 which authorship attribute to programmer Satosi Nakamoto, the set of articles is written.
On popularity of currency some factors have played at once. First, the mysterious person of the founder which name was not known many years. Secondly, idea of the anonymous means of payment protected and from issue pressure of Central Banks, and from attention of financial regulators. The ideal anarchist currency as though combined the best properties of gold ingots and crushed 20-dollar denominations. Thirdly, prompt, on many usages, growth of quotations bitkojna. Well and at last, a loop of scandals: one of the loudest criminal cases of last years has been connected with online shop Silk Road where it was possible for bitkoiny to buy the weapon and drugs. As it often happens in such cases, romantic popularity of currency has slightly covered its main advantage: the press device, that is issue technology.
What is bitkoin

The first and the most known kriptovaljuta - bitkoin - has appeared in the end of 2008 when the developer disappearing under a pseudonym of Satosi Nakamoto, has told about payment system creation, in which transaction would be carried out directly between participants. But system creation completely irreversible transactions when any external manager - the bank, tax, judicial and other state structures - could not cancel, block or challenge transaction was an overall objective of developers.

Process of creation new bitkoinov has received the name "majning": each participant participating in maintenance of system, can receive 25 bitkoinov for creation of new "block" with the list of the confirmed transactions. The Nakamoto which have extracted 50 bitkoinov became the first majnerom. The volume bitkoinov which can appear in circulation, is not boundless, each 10 minutes in the world there is a maximum 25 bitkoinov, and their "extraction" will be finished, by estimations, by 2140 when 21 million bitkoinov will be emitted". In some countries bitkoin even became the resolved means of payment: they can pay off in Internet shops and cafe, and at bitkoin-stock exchanges kriptovaljutu it is possible to change for usual money.
blokchejn - the distributed database which contains the information on all transactions spent by participants of system. The information is stored in a kind of "a chain of blocks», in each of which the certain number of transactions is written down. In a case bitkoina transactions are money transfers between purses of users.
Key property of system - distribution. There is no uniform place where all records of a registry holder or bank are stored. The register is stored simultaneously at all participants of system and automatically updated to last version at each brought change. Each owner of the account has access to the information on any of 95 million the transactions ever occurring in blokchejne, since the first transfer made in 2009. Users represent itself as the collective notary who confirms the validity of the information in a database.
Participants of system obtain reward that bring the contribution to database maintenance. The computer which unites transactions in storage units, "blocks" (in transfer with English blockchain - a chain of blocks), obtains reward in 25 bitkoinov, at a present course about $9 thousand It stimulates it participants of the market to support system work. After "block" was generated and the information was updated for all participants, to change record it is already impossible.
«All technologies which Nakamoto used for creation blokchejna, to programmers and mathematicians were known for a long time, - Marina Gurjev has told RBC the deputy chief of department of innovative activity of NIU VSHE. - break consists that it all has united it in one working system which possesses a number of very attractive properties: detsentralizovannost, publicity, necessity of a consensus of participants for creation of new blocks and the compensation doing participation economic». As the director of laboratory Gurjev recently spent blokchejn-hakaton, and technology has learnt and has fallen in love during study in Singapore where it is possible to see even bitkoin-cash dispenses.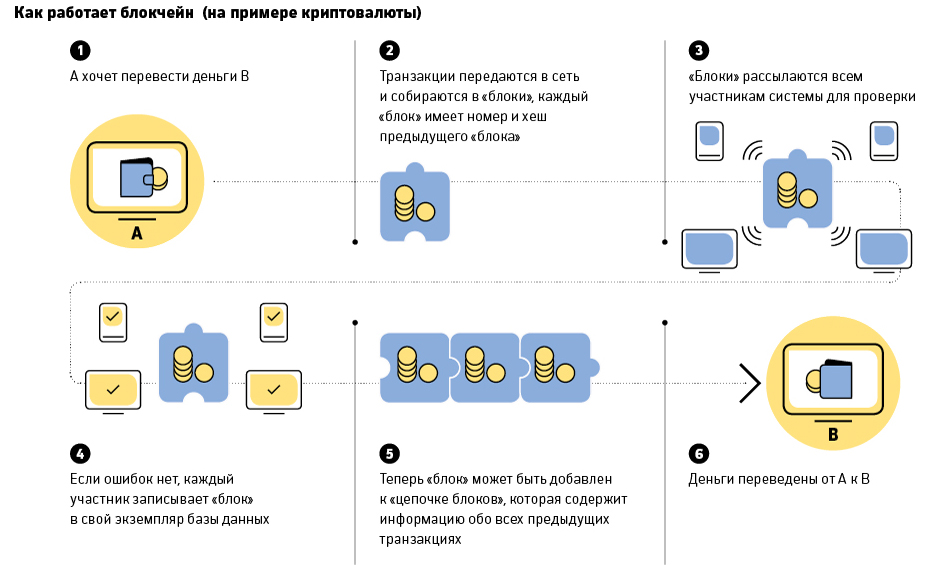 «Blokchejn allows to build relations with people and the organisations to which you do not trust, but to remain assured that is protected from any deceit, - it continues. - protection against swindle provide mathematical algorithm and all users of system».
«Blokchejn can live in any systems where there is a trust element», - analyst Goldman Sachs Robert Borudzherdi writes. In 2014 the quantity of the decentralised blokchejn-systems has grown three times, in 2015 about interest to technology have exorcised global financial, industrial, state structures. According to Goldman Sachs, the volume of venture financing of blokchejn-startups for 11 months 2015 has made $482 million that on 30 % more than for all 2014, and five times more than in 2013. Investors have understood that the technology on which basis works bitkoin where it is more interesting most kriptovaljuty and gives much more possibilities, than simple user payments.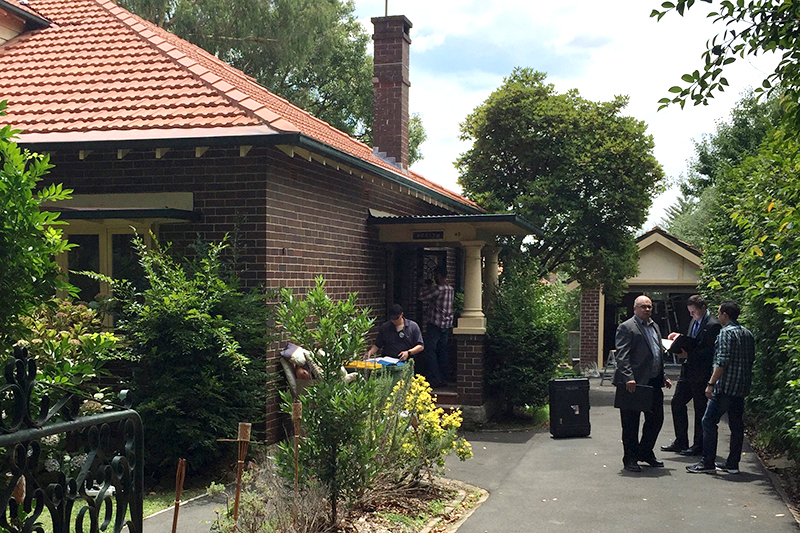 Magazine Wired in December has informed that the founder bitkoinov - not mysterious and imperceptible Japanese Satosi Nakamoto, and 44-year-old Australian Krejg Right. Right after it the police has come home to Right with a search. A photo: REUTERS 2015
blokchejn 2.0
In March, 2014 there was a new version blokchejna which has allowed to write down in base not only history of payments, but also the metadata. This innovation became a turning point, Igor Barinov considers.
Before the technology was the hostage of one product - bitkoina, possessing besides not the best reputation at world Central Banks, and now has received freedom. blokchejnu it has allowed to leave a grey zone, and to the startups offering it to use, - to achieve cooperation with large corporations.
The list of problems which can be solved with the help of "digital notarial system», is almost infinite. More recently the Brazilian startup Bitnation has suggested the European governments to use technology to cope with flow of refugees from the Near East without documents. The company suggests to issue to migrants virtual citizenship with registration of their data in blokchejne, some kind of nansenovsky the passport which will admit the governments of other countries.
The first agreement - with Estonia known for digital experiments - has come into force on December, 1st, 2015. Service will allow refugees not only to receive identification, but also to register marriages, birth certificates and other documents. Foundress Bitnation Susan Templhof does not want to stop on the reached: she considers that the project could make less significant «out-of-date system of frontiers», and hopes that in future Bitnation will recognise as sovereign unit, and the open register - as sovereign jurisdiction.
The governments and corporations even more often understand that blokchejn - ideal means for optimisation of own registers. The politicians, aspiring to make more transparent and reliable a private property institution in Honduras, have asked the American blokchejn-startup Factom to develop on the basis of new technology a ground cadastre. Interest to idea was shown also by the government of Greece which is in absolutely desperate situation: the ground cadastre of the country adequately reflects only 7 % of its territory.
The Spanish bank Santander (10 place on actives in the world) asserts that can use blokchejn in two tens working processes in bank. Technology application, by estimates of analysts Santander, can reduce by 2022 costs of the financial organisations on $15-20 mlrd, first of all at the expense of economy on transboundary payments, trade in securities and komplaense.
Other world financial giants - Goldman Sachs, JP Morgan and Credit Suisse and six more multinational banks - plan to develop the general standards for technology blokchejna and to find of possibility for application in sector of financial services. To realise the sights at technology they gather within the limits of startup R3CEV, having entered into its capital.
Growth of number of transactions can provide not only the states and corporations, but also set of the small companies. For example, the American startup Everledger is going to write down in the open register the data about unique distinctive signs of brilliants. In a case if the stone will be stolen, record will provide the conclusive proof of the property.
The market still is in embryo though grows, by leaps and bounds, Barinov speaks. «In January of 2015 for a day it was carried out about 100 transactions using blokchejn for preservation of the metadata, now it is a question already of one thousand. The market shows good growth, but still it is not enough of it», - he adds.
If or when?
In Russia the technology future depends not only on new business models, but also from favour of the authorities. Within several years officials of all levels forbade bitkony as could, and it did not promote technology development. But in September at the Kazan forum of innovative financial technologies Finnopolis the head of Bank of Russia Elvira Nabiullina has urged to distinguish for the first time kriptovaljuty and kriptotehnologii and has added that the regulator creates working group for studying blokchejna.
Simultaneously interest to blokchejnu was declared by representatives of the Savings Bank (refused to discuss a detail), the National settlement deposit taker, the Moscow stock exchange. The announcement of payment system QIWI, intended to create own currency - bitrubl became the most appreciable on this background. However, even about contours of a new invention while to speak early because anybody in the market does not understand when and in what limits of the power recognise technology and will establish borders of its application.
«Dialogue with a regulator only has begun», - the director for development kriptotehnology QIWI Alexey Arhipov marks. But if the company manages to translate calculations in blokchejn, bitrubl automatically becomes the largest distributed settlement means and at QIWI there can be a new large business direction.
Other large companies while only study technology possibilities. «We search more than three months for application blokchejnu at the Moscow stock exchange, - its operating director for strategy Anton Govor admits. - meanwhile we did not manage to think up, how to use technology, that it was economically effective instead of to make a fashionable prototype».
Barinov regularly advises the large Russian companies to which it is interesting blokchejn, «including the State Banks», he speaks. As he said, most of all who has a filial network in the CIS countries are interested in technology: «If someone tries to take out a detail from factory, it is possible to put the chamber. The chamber will break, but it is at least clear that someone has made it. blokchejn it is even better: the chamber is watched by the person, and here the person is not present, it is impossible to remove a film». Any system raising trust of participants, should be in demand in Russia.
«The question not in, whether blokchejn will take root into Russia, and in when it will occur. Well not to miss the moment», - Marina Gurjev speaks.
Siranush Sharojan
---
Source: <http://www.rbc.ru/ins/finances/22/12/2015/5672d0e19a79476dabf5f683>
Tags: financial center , finances