Will offer Putin an anti-crisis plan at least on 737 billion rubles.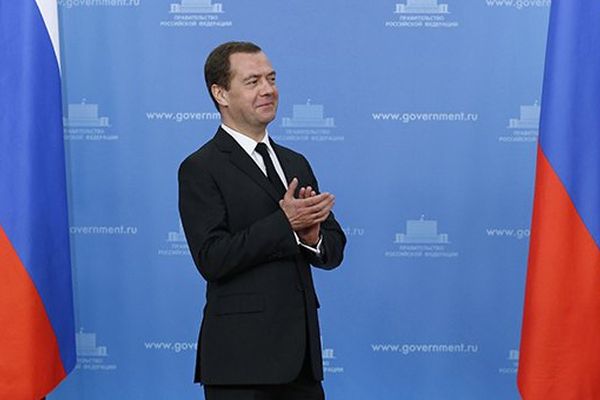 Material posted: Publication date: 27-01-2016
The anti-crisis plan of the government provides not less than 737 billion rubles of expenses on "restructuring of economy", support of such branches as the automotive industry, and ensuring social stability, found out RBC.
To extinguish crisis money
For RBC details of the anti-crisis plan prepared in the government became known: the ministries estimated the needs for anti-recessionary financing at least at 1,7 trillion rub from which at least 737 billion rubles are included in the plan sent to the prime minister Dmitry Medvedev. These offers will be discussed on Wednesday, January 27, at meetings at the president Vladimir Putin, told RBC two sources in the government.
The offers aimed at "providing stable social and economic development" in 2016 prepared Minpromtorg, the Ministry of Agriculture, the Ministry of Energy, Ministry of Transport, Ministry of Labor and Ministry of Health and generalized the Ministry of Economic Development. On January 26 the document was sent to the White house, knows RBC source in the government. Proposed measures are broken into four parts — measures for restructuring of economy and improvement of investment climate, support of regions, support of branches of economy and ensuring social stability (all — 96 points). Thus at the majority of points of the plan the cost and sources of financing aren't specified yet (for example, support of Vnesheconombank which is potentially estimated at hundreds of billions rubles), and 737 billion rubles — are only a cost of those measures for which the amount of financing is registered.
Follows from the plan that two main sources of financing of anti-recessionary actions — actually means of the federal budget and anti-recessionary fund are provided. In the existing federal budget adopted in December, the anti-recessionary fund isn't present (at that time the government didn't expect that such measures will be necessary). For 2016 the government started preparation of an anti-crisis plan after meeting at the president on January 13 — after a new collapse of oil quotations (to $30 for barrel and below). The plan of support of economy has to be coordinated to the budgetary sequester which parameters the government doesn't undertake to count yet. Commenting on last meeting at Vladimir Putin, sources of RBC didn't exclude that the anti-crisis plan in fact can be created generally from that part of the federal budget which remains after the sequester.
The representative of the Ministry of Economic Development refused to comment on an anti-crisis plan. But on Monday the Minister of Economic Development Alexey Ulyukaev told journalists that the plan of support first of all will include four key branches — automotive industry, transport mechanical engineering, housing construction and light industry. "About support figures I can't tell yet that they are completely coordinated" — Ulyukaev spoke on January 25.
The Ministry of Finance didn't submit the offers, it is told in materials to meeting on January 27. In many respects therefore, explained RBC sources in the government that else there is no understanding as negative macroeconomic parameters will influence the inevitable sequester of the budget.
That entered and didn't include in an anti-crisis plan

737 billion rubles are made by the total amount of the measures included in an anti-crisis plan without measures on which financing isn't specified.

310 billion rubles make the volume of allocations for granting the budgetary credits to regions.

Measures for the anti-recessionary program of support of automotive industry are estimated at 137,7 billion rubles.

35 billion rubles are made by support of agriculture.

For 8,6% the Deputy Prime Minister Olga Golodets in 2016 suggested to index up pensions (the offer wasn't included in the plan).

159,4 billion rubles would be required to be allocated from the budget for such doindeksation of pensions since August 1, 2016.
Who wins
The greatest expenses on the project of an anti-crisis plan fall on the budgetary credits to regions — 310 billion rubles. Such sum was included in the law on the federal budget, only now it it is offered to retrain in an anti-recessionary measure. Other considerable anti-recessionary expense — support of automotive industry. It is offered to stimulate, in particular, demand for automotive vehicles in domestic market and to keep workplaces at the enterprises of branch. A total cost of support which already went selection to the Ministry of Economic Development — 137,7 billion rubles. From the federal budget it is offered to finance expenses on the sum of 88,6 billion rubles, and from anti-recessionary fund — on 49,1 billion rubles.
Besides, in the project there is point on "carrying out actions for support of Vnesheconombank". Also reorganization of this institute of development is provided: it is about "development of new model of functioning". Earlier sources in the government told RBC that measures of rescue of VEB can not get to an anti-crisis plan. The concrete sum in the project of an anti-crisis plan isn't specified, but the Reuters agency last week reported that this year the authorities can be limited to allocation to VEB from 100 billion to 200 billion rubles (the general needs of VEB are estimated at 1,2-1,5 trillion rub).
Thus support of VEB in this plan was given nearly by the only measure assuming the budgetary expenses on "support of stability of functioning of a banking system". One more measure of support of the banking sector — recapitalization of Deposit Insurance Agency (DIA), but it it is decided to carry out only at the expense of the means provided to agency in 2014 and not spent. It is about 25 billion rubles which were supposed to be returned to the budget earlier.
Candidates for an elimination
Cost not gone "censorship" to the Ministry of Economic Development of points of the plan is estimated not less than at 972,2 billion rubles. Thus in the list of the rejected offers there was a doindeksation of pensions for 8,6% on which the Deputy Prime Minister Olga Golodets insisted. If such doindeksation was put in an anti-crisis plan, 285,6 billion rubles would be required (if to carry out a doindeksation since April 1) or 159,4 billion rubles (since August 1).
Besides, the social unit of the government suggested to enter monthly monetary payment from means of a maternity capital of 5 thousand rubles from June, 2016 to May, 2017. It would demand allocation of 141 billion rubles for two years. Such offers as restriction of level of payment of top managers of state companies proceeding from market level, restriction of salaries of heads of state institutions and state unitary enterprises, and also introduction of an ascending scale of the personal income tax on the ultrahigh income also didn't get to the project (together with release from the personal income tax of salaries within the minimum wage). But these offers will be all the same reported on Vladimir Putin.
But the project of an anti-crisis plan included point on preparation in 2016 of offers (by October) about possible terms and rates of increase of a retirement age. The social block of the government traditionally objects to it. "No decisions on offers of a social unit are present so far" — Olga Golodets's press secretary Alexey Levchenko told RBC.
Pyotr Netreba with the assistance of Ivan Tkachyov
---
Source: http://www.rbc.ru/economics/26/01/2016/56a7a4ab9a7947264e4daec3
Tags: financial center , crisis