"We here any more not strangers"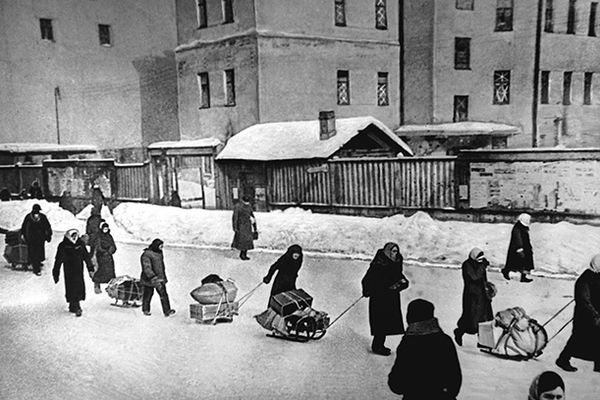 Material posted: Publication date: 01-02-2016
As Siberia met women and children evacuated from besieged Leningrad.
In days of the Great Patriotic War Krasnoyarsk Krai accepted more than 11 thousand adults and children evacuated from besieged Leningrad. The first echelon arrived on September 28, 1942 and brought 1 thousand 458 kids who are brought together from ясель, kindergartens and orphanages of the besieged city. Many of them which remained without parents were adopted by Siberians.
In memory of the Leningrad children who were lost from the diseases acquired in 900 days of blockade in the center of Krasnoyarsk the monument "Children of war" is established. "The Russian planet" publishes memories of the evacuated children of life on the Siberian earth.
The car of the frozen bodies
The way to the grain city of Krasnoyarsk located in the back turned for the evacuated people from besieged Leningrad into test which not all appeared in power.
— We with mother and the brother were taken out in 1942 on "Road of Life" — the blockade survivor Albina Dolgoprudova who got to Krasnoyarsk in 10 years tells the correspondent of RP. — To Siberia the echelon went more than a month. Went so long because sometimes bombed, and sometimes exhausted structure to the deadlock to pass trains which went on the front. All of us huddled in the teplushkakh, on plank beds. At stops compassionate women came from the local to our structure and brought us food — potato in the chugunkakh, krynka with milk, pies. And all the same many didn't transfer the road — were too exhausted and weak. Every day the person on duty passed on the car and asked: "Are live?" Not all answered. Was to bury the dead once, under them allocated the separate car where put corpses in private. At junctions people came and unloaded these cars. I at Victor Astafyev in one of stories read then that he decided to leave on the front after unloaded such car in Krasnoyarsk. He wrote that seen it simply destroyed, crushed.
The families arriving to Krasnoyarsk settled where could. The city was overflowed by the workers evacuated together with plants, in one room huddled on 15 people. But for blockade survivors the place was found all the same.
Dolgoprudov' family settled in a log hut five-wall in the suburban settlement of Beryozovka.
— The hostess the aunt Fira separated to us a curtain a corner in the big room, behind it we also lived two years — the more the merrier — Albina Dolgoprudova continues. — The aunt Fira treated us very kindly, sincerely. I could take away a piece from the children to give. However, at first I couldn't distinguish us with the brother in any way — we looked approximately equally, as two skeletons with circles round eyes.
The evacuated arrived to Siberia in easy clothes — took out them, as a rule, even in the fall, and baggage with themselves allowed to take a minimum. They weren't ready to hard frosts and terribly froze in boots and stockings. And Krasnoyarsk citizens collected to them warm clothes many a little. One gave valenoks, the second — a sheepskin coat, the third — a shawl. The Leningrad residents who are wrapped up in all these gifts looked as French during flight from the burned-down Moscow. But they should muffle in everything — the weakened organism didn't hold heat, hands and feet on frosty air grew numb at once. The old clothes of the hostess were taken away home — steamed in baths to exhaust louses, washed, and only after it returned to owners.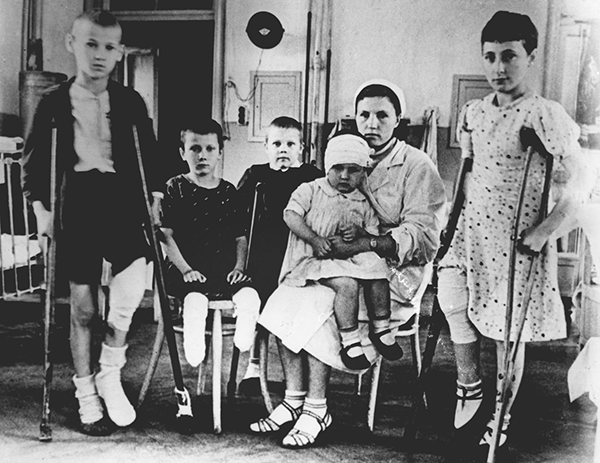 Photo: Boris Kudoyarov / TASS
Baths blackly and toadstools
Blockade survivors to whom there was no housing in the regional center, carried on regions of edge. They were accepted by residents of Minusinsk, Idrinsky, Krasnoturansky, Novoselovsky, Karatuzsky, Guerrilla and Kansk areas.
In villages and villages to them helped to settle on a new place, to find work, to get economy. After all at arrived there was with itself literally nothing — neither money, nor ware, sleeping accessories. Without the aid of countrymen they wouldn't worry the Siberian winter. Shared with blockade survivors not only things and products, but also experience of life in the village. Though sometimes a common language was difficult to be found: essentially different cultural baggage led to misunderstanding and funny cases.
— Local were surprised how we can not know things which seem to them the simplest — the blockade survivor Zoya Troshkova who got to Krasnoyarsk Krai in 9 years shares memories with the correspondent of RP. — For example, we aren't able to heat an oven or the furnace in it pies. Laughed over us, but helped to accustom. All these oven forks, latches and chugunka simply demented mother, unaided she wouldn't consult in any way. Rural a lot of things surprised in our life. I remember when we were seated by all family at the table, behind a window gathered the whole crowd from local children. In any case: and adults sometimes came. Stuck to windows and looked how we eat. And we couldn't understand in any way that it seems to them such amusing. Then somehow one boy explained: "You eat, as dogs". We terribly were surprised and asked why they so think. He answered: "But because everyone eats from the bowl". In the Siberian villages it was so not accepted, all families, even very big, ate from one.
However, too a lot of things surprised blockade survivors in simple life of the Siberian villages.
— The bath blackly threw me in shock — the blockade survivor Eleonora Freeman who got to Krasnoyarsk Krai in 7 years speaks to the correspondent of RP. — As it is possible to wash when all smoke and a soot remain right there, inside! Moreover water from gang which flows directly on an earth floor. You stand on an ankle in dirt, you are soiled, and it is considered that you wash! Still very much surprised us that floors in log huts don't sweep here and don't wash, and scrape. It is now difficult to believe, but the good Siberian hostess every day until white, to gloss scraped out a knife floors from the strugannykh of boards.
Surprised natives of the northern capital and that in the winter most of Siberians drank not water, but broth from pine needles — it helped to escape from a scurvy, but on taste was very bitter and unpleasant. Tubs with it stood in each log hut.
— It appeared that it indeed is very useful, we on such broth got stronger at once. In general, there is a lot of all such was that should at rural have learned — Zoya Troshkova remembers. — But in the summer we too weren't in debt: taught all to collect and to fry champignons. Here they were considered toadstools and when mother for the first time decided to cut mushrooms on frying, on it fingers shown: "Look, the woman doctor of children was going to feed with toadstools!" But then were convinced that anything terrible didn't happen, and too started gathering champignons which was very much everywhere — with food hardly was. Even usual to a bunch, it is a weed such, all children dug out of the earth and ate. Thick stalks bunches when you clean them a knife, had very sweet basis. Still we dug out and cooked roots a saranok — the Siberian lilies. Tore a nettle, an orach. And the beet sliced and baked in an oven was the best delicacy. We couldn't wait until mother allows to take everyone on a slice.
"Saw off on the front all village"
For the adults evacuated from Leningrad work tried to find the easy — understood that people should get stronger, hard physical work by beyond its powers. Attached accountants, mail carriers. And children were sent in the summer to pick berries, mushrooms, a ramson, birch kidneys, to prepare bath brooms, mouths of cows. Tried to pay not in workdays, but products — flour, potato, milk. For the people who were half-starved in Leningrad it was the most valuable currency.
— I remember how to me for the first time poured a hollow ladle of cream. I drank to the bottom — and became tipsy. Me at once started driving in a dream, and I fell asleep directly on the same bench where sat — Eleonora Freeman remembers. — I don't know from what there was such reaction — either for want of habit, or because that couldn't stop, I drank very much. We with the sister still for many years weren't able to limit ourselves in food. All on a table ate to the last crumb moreover and bread clean all bowls wiped. Hardly kept not to lick. Often it was very a shame with such behavior, especially, when we were invited on a visit.
In villages in war all starved, families and had nothing to eat. But if it was possible to get something, to get, rural hostesses tried to treat surely us, "sufferers" as they then called us. Put all supplies on a table. The word of honor, I very much wanted to eat slowly, but couldn't! Several times it happened that hostesses couldn't keep from tears when looked how we snatch on food.
Having got on feet and having got stronger, the young men evacuated from besieged Leningrad went to the front.
— The brother at the end of 1943 was 17 years old, to him the agenda came — Zoya Troshkova tells. — Struck me that when it left, he was seen off by all village. On streets all threw out, both children, and adults. Women howled in a voice. It was touching, though, of course, and a scarecrow. I nestled on mother and asked: "Why the brother is seen off, how to death? Why cry, if it still the live?" Still I remember its answer: "It because we here any more not strangers. So here it is accepted to see off the when they leave a home". Then I understood that Siberia indeed became our new house.
Polina Vinogradova
---
Source: http://rusplt.ru/society/myi-zdes-bolshe-ne-chujie-21043.html