Bloomberg: Russia left the base after Iranian accusations of "window dressing"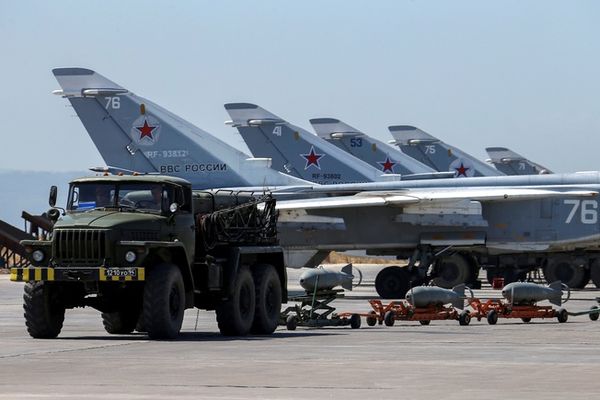 Material posted: Publication date: 23-08-2016
The Russian planes left the air base in Hamadan, which they used to implement the strikes on extremists in Syria. Earlier the fact that Russia has disapprovals on this basis, has caused outrage in the Iranian Parliament, and the country's defense Minister accused Moscow of "window dressing," writes Bloomberg.

Russia has ceased to use the airbase in Iran for strikes against extremists in Syria shortly after the Iranian defense Minister accused her of "showing off, "writes Bloomberg.

According to the Iranian Minister, Russia had behaved "recklessly" and tried to present itself as a superpower, when disclosed information about what uses Iranian base in Hamadan for their flights. "They also want to show its efficiency in the Syrian theater of military operations, to be able to negotiate with the Americans to guarantee their leverage over Syria's political future", – leads edition of the words of the official, said in state television.
As stated by the official representative of the Russian defense Ministry, Russian aircraft, which carried out flights from Iran's territory, returned home. In the future, the use of a base in Hamadan will be carried out only in the presence of mutual agreements on the fight against terrorists and at the corresponding situation in Syria.

In the Iranian Parliament there were allegations that Russia's presence was contrary to the Constitution of the country, but officials responded that the aircraft used the base only to refuel and there is not based. Now and official representative of the Ministry of foreign Affairs of Iran acknowledged that the Iranian base was necessary in Russia to achieve certain goals and now it's over.

Sudden collapsing of the Russian presence in Iran imposes a shadow on the prospects of further cooperation between the two countries, the largest supporters of Bashar al-Assad – in the military sphere, says Bloomberg.
---
Source: https://russian.rt.com/inotv/2016-08-23/Bloomberg-Rossiya-pokinula-iranskuyu-bazu
Tags: Iran , Russia , armed forces