The fundamental problems of anti-crisis development of the Russian financial market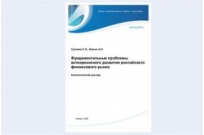 Material posted: -Publication date: 25-10-2009
The book addresses the fundamental causes of the current crisis, the events surrounding the April (2009) for the G20 summit in London, the possible approaches to the prediction of the crisis in the financial system and the economy, presents the author's expert opinion on key government and party anti-crisis documents set out a vision of the possible strategic directions of development of the Russian financial market.
The final section analyzes the feasibility and prerequisites of creation in Russia of the regional financial centre presented proposals for the creation of new anti-crisis financial market to enhance efficiency and sustainability of their operations.
The book is intended for a wide circle of readers interested in the fundamental problems of development of financial markets. It can be useful for strategic planning and justification of the priorities of creating a Russian financial centre.
The basic material is written in simple and accessible language with the minimum use of mathematical arguments. Additional information submitted in the application, which can be read as separate sections.
Among the authors – former President of one of the leading Russian stock exchanges, financial analysts and strategic planners.
Key words and phrases: analysis, anti-crisis development, the exchange, exchange holding state, hierarchy, concept, crisis, sees, prognosis, program, summit, strategy, strategic planning, scenario, type, financial market, financial centre, stock market, fundamental problems.
---
Author: Grinaev S. N., Fomin A. N.
Tags: assessment , financial center , Russia , Exchange