Armenia develops system of strategic deterrence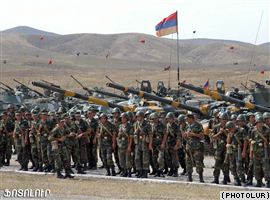 Material posted: Publication date: 26-10-2010
The increase of Azerbaijan's military budget of Armenia is in the "asymmetrical steps", which are comparatively less expensive, but effective. On 25 October in an interview with "Radio liberty" said the first Deputy defense Minister of Armenia Davit Tonoyan.
About two weeks ago, Finance Minister Samir Sharifov saidthat Azerbaijan's spending on defence next year will increase by about 90 percent and will be about $ 3.1 billion. Meanwhile, according to preliminary data, Armenia's military budget in 2011 will amount to about 385,5 million dollars, which is about 8 times less than Azerbaijan's military budget.

"In General, asymmetry in military art implies inflicting unacceptable damage on the enemy with small forces, little ability, - said Davit Tonoyan, explaining the phrase "asymmetrical steps". - We develop a system of strategic deterrence and thus compelled Baku to the world."

"Armenia is doing what he did, since 1994. Essentially, for 16 years our armed forces are busy fending off war. I think all States are concerned about the security of the region must recognize the contribution of our armed forces in maintaining peace. We have a clear idea of the security of Armenia and the region, a realistic assessment of existing threats and a clear direction for neutralizing these threats. We consistently implemented this vector," said Tonoyan.

"The increase in military spending [of Azerbaijan] are not means of increasing the combat readiness of the armed forces, expressed the opinion the first Deputy defense Minister of Armenia David Tonoyan. - To expect a victory only thanks to the increase in military spending and acquisition of weapons, at least, naive. The outcome of the war owing to the much more important factors. A striking example is the lessons of the Karabakh war".

Tonoyan added that military spending in several European countries comparable to Armenia in terms of population and territory, also several times higher than the Armenian economy, but this does not mean that the military potential of these States above.

At the request of "Radio liberty" Deputy defense Minister also commented on the possibility of resumption of hostilities on the Armenian-Azerbaijani line of contact.

Answering the question of whether such a sharp increase in the military budget of Azerbaijan is that Azerbaijan is preparing for war, Tonoyan said: "for several years we have witnessed the preparation for a military solution to the Karabakh conflict. I think that this is a signal not only for Armenia but also for the international community interested in the stability and security of the region. The real concern of Armenia and the international community should call rather adventurous idea of war than weapons, because in any case the war, regardless of its outcome, will have disastrous consequences for the entire region."

"In any case, if [Azerbaijan] is not preparing for war, I have no idea why he is so arming. In our case, if programs are being implemented to arms, that we are more ready to enforce peace, to preserve the balance," said Tonoyan.
Sargis Harutyunyan
---
Source: http://rus.azatutyun.am/content/article/2200517.html