I as the doctor speak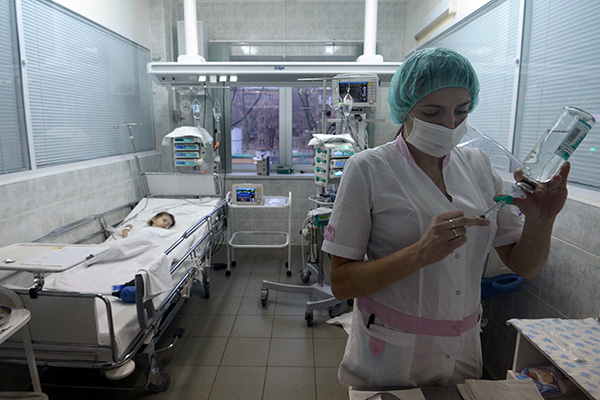 Material posted: Publication date: 03-11-2016
The Ministry of health cheerfully report: life expectancy in the country is growing. Recently, however, doctors are increasingly talking about the fact that our medicine becomes fake. In clinics can see patients, send them to research, dispensational and prevent, however, the diagnosis is often not true. Laboratory tests done properly, and the prescribed treatment is very different from the methods used in most developed countries. Many will say that the case in chronic underfinancing of the sector in the next year, for example, budget spending on health care will be reduced by a third. Experts agree that without money it is difficult to work, but the same imitation of treatment occurs in private hospitals, where patients leave a considerable amount. Why is this happening, to understand".ru".
"Beg head of an x-ray"
In the communities of cancer patients well know online magazine Anna M. She leads him by the nickname G. I. Jane. In 2012 a young woman was diagnosed with breast cancer. What happened next could serve as the basis for a satirical play about the Russian health care, not whether the story is sad.
In the long pull, without a queue (and to the top record in the months ahead) Anna arranged for the surgery to the doctor from the big hospital in Moscow. It as best I could (was in a hurry so spent a day three or four operations), cut out the tumor on the right breast. In Israel, the doctors then were surprised by the rough scars on his chest. In the final epicrisis from the hospital confused, which breast was operated on. At discharge, Anna, no one did. Arms were given printed out as a blueprint standard conclusion.
Complaints of the patient that the wound is drawn, waved his hand: "what do you want!". Histological analysis, which is mandatory in such cases is carried out in the hospital showed that everything is in order. Just in case Anna suffered biomaterials in the Moscow oncologic research Institute named after A. P. Herzen and on Kashirku, cancer center. N. N. Blokhin. There is a histologist has got sensible or microscope shook off the dust study results were disappointing.
After the "incident" with the Russian medicine relatives and friends insisted on alternative survey in Israel."In tel Aviv surgeon groped me, something muttered under her breath, she took the thin needle and poked gently in the surgical area, — says Anna. And here on my eyes the seam began to spread, and from it flowed... somewhere half a Cup of pus". The next day the wound was removed with a cotton swab forgotten during the operation in "cool" a Russian hospital.
Israeli oncologist picked up the chemotherapy, which in Russia is not practiced, but in Europe and the US have a routine. Began to look for a doctor in Moscow who would agree to follow international recommendations. Recommended but the medical oncologist immediately put the patient on the spot: "You are in Russia, and we will treat you as treated here. And so, as recommended in your Israel, we will not do. Otherwise, when you go metastasis, to treat you will have nothing".
The family Council it was decided to continue treatment in Israel. Now Anna all good.
One could say that the story of a Soldier Jane — too long. So, now things have changed. Experts of the public Fund "Health" claim that has become much worse. According to the monitoring of human rights defenders, in 2015 compared with 2014, by 5.5 percent increased mortality at home. And not dying old men. The mortality rate of people of working age increased by 4.5 percent. However, the health Ministry read out other data. Officials say life expectancy increased by 0.8 percent. And the difference with community members to explain the methodology of collecting statistics.
However, the messages about the ridiculous death of patients appear more often. That is terrible — people are dying from the banal peritonitis or pneumonia. The unfortunate were not able to make the correct diagnosis. And not because of unusual symptoms. Just doctors was not any proper knowledge or time, or desire to help.
In October, the resuscitation of the First city clinical hospital of Smolensk from acute peritonitis has died 11-the summer girl. Three days before the death of her parents was on reception at the surgeon. The technician made a visual inspection. And had not written any of the areas of research, sent the child home, saying that she had "rotavirus, probably because now they all sick." Appendicitis he confidently ruled out.
In Ekaterinburg from pulmonary embolism died of a pregnant woman. The clinic suggested that she has bronchitis and prescribed cough medicine. But the feel was getting worse every day. She was taken by ambulance to the hospital, but there she was to drink cough syrup and do inhalation. "The doctor is very dismissive attitude — says the mother of the deceased. — Did not specify the diagnosis. And she had palpitations, she was choking, couldn't speak. We went to a doctor, told her the situation. She asked why is still not x-rayed. Beg says, head to do on Monday x-rays. And on Saturday it already was".
In Perm in September from bilateral pneumonia in intensive care died 24-the summer guy. Three days before death in a serious condition he was brought by ambulance to the emergency Department of the clinical hospital №4. However, in the waiting room "developed", saying that the reason for hospitalization.
You good or free? Why treatment in Russian hospitals becomes dangerous for patients, "the Tape.ru" have told the doctors themselves.
Alexey Zhivov, Professor of urology MSMSU them. A. I. Evdokimov, a member of the European (EAU) and American (AUA) urology Association.
"You okay to treat or for free?". This phrase from a joke. But the expression is very capacious. It eloquently describes our medicine. We have in the country now are often faced with an imitation of health. A patient comes to me with a bunch of tests. Complain where it hurts. Open the folder with the results of his tests and see that they are unskilled. Just not fit for inclusion in the decision-making process.
To begin histological preparation you need to prepare it in a certain way to cut, right to put on the glass. It has everything to do with technology. But in most histological laboratories do not. When the drugs from Russia looks West pathologist, he wonders: "You give me scraps of fabric, it's impossible to read, the material is poorly made".
"Fake" activity is found not only in public hospitals, but also in many private. There are those specialists that everywhere. They're not from the sky fall into commercial enterprises. Often combine work in public clinics and in private. And the way they have the same. They are so used. The level of education and training in a clinical environment, the attitude — all about the same. We would rather buy the equipment than to teach the person. Training is not the main task. Equipment — iron. And who is it going to work?
In Western Europe, America every five years all doctors are professors, academicians, Nobel prize winners — have in their field to pass the exam. Questions are regularly revised, are approved by professional associations. Passed — received permission to practice. Not — free. In Poland and in Georgia were the same as we have spaces. As they entered? Given a few years to doctors to prepare. And then began to introduce European examination system. They even come up with its nothing had. In Russia, the training represents some lectures and seminars. After setting the exams, some don't even come. Evaluation they put a gun.
Almost for every disease there are international treatment recommendations. For every disease their is a team of 15-20 experts. What prevents us just take those protocols and we have to use? Or someone thinks the Swedes, the Germans, the Americans consist of some other proteins, carbohydrates, eyes, ears and legs? Now about international standards we know and using them is not more than 30 percent of doctors.
Standards and protocols General guidelines. You are given main direction. And what treatment methods listed in the standard select — already decided by the doctor. However, your approach to treatment may differ from recommendations by 5-10 percent, not more. But if one doctor tells you to go North while the other points to the South is worthless. Or in the written recommendations that need surgery according to modern methods, and you're doing things that 25 years is considered to be ineffective. Do because I do not know another way. Unless standards are to blame?
Why in Russia many opponents of introduction of world standards? The most important reason — the risk of a social explosion. Imagine that tomorrow someone will say: "Friends, doctors, of you 70 percent are insufficiently educated. So most of we translate to physician assistants". And what will happen? People take to the streets with placards: "I worked 10 years doctor I recognized by the state, and now they tell me I'm illiterate?" The government simply avoids social tension. Therefore, no one dares to undertake serious reforms. Officials like to argue? Now slowly everything is cooked. Some do not know why I go to work. Other it is not clear from what and how we are treated. And it can take years.
"Cockroach without legs can't hear"
Ilya Fomintsev, Executive Director of the Foundation for cancer prevention
Methods of evidence-based medicine for health care is not a priority. All medicine is based on the experience of some micro-communities. Here in this hospital decided to do so. And why — nobody knows. It just happened. Such obscurantism affects all branches of medicine. In Oncology, this is particularly noticeable. The situation is critical. The disease is fearsome, and a second chance may not be. And in the ENT diseases are not much better. There's just not immediately die. But you will see what otolaryngologists treat patients that for weed, the field discharged for irrigation. The basic problem that all starts in health care, — training of students and their selection. The principle of professional medical education are now completely obsolete.
Doctors students are taught to keep a low profile, not to take the initiative. Told you so, do not think, correctly or not, and perform. In the end, at Russian conferences oncologists with degrees, make a staggeringly moronic reports. Suppose someone had the surgery in Oncology. But maybe it was not needed, the lifespan has increased, but quality of life was significantly worsened. The surgeon proves the effectiveness of the intervention of some strange methods. There's an old joke on this subject. Petya decided to engage in scientific experiments. Caught a cockroach, pulled off his two legs, he let go, whistled, cockroach ran. Tore off two more, whistled, cockroach ran again. Tore off the last two whistled, cockroach moves. Peter writes: "the Results showed that the cockroach without legs can't hear". In our research the forums about this logic. I'm not exaggerating. But to criticize such a statement as no one. On the contrary: "well Done, you have such operation done."
"You stay here"
Paul brand, a doctor-neurologist, candidate of medical science
There is no recipe that would allow time to correct all the flaws of national health care. Move to international standards? Impossible. Purely for financial reasons. This will require significant increases healthcare costs. After all, every hospital in the country should be allowed the same study patients. That is, each hospital must be computer tomography, magnetic resonance imaging, positron emission tomography, and others. You know, what we now have robots in medical institutions? 26 pieces all over the country. And we have 89 regions. In the US, these machines — the 2200.
To reform medical education? Not a solution. Where and what will work these wonderful doctors? My colleagues and I see that is the trouble. But problem — not ours. Economic trouble. We need political will. Let's say we close tomorrow the yield on the domestic market of drugs. This means, almost completely destroying the Russian farm, which is entirely ineffective. Imagine what that means? The introduction of the standards of evidence-based medicine will lead to economic collapse.
So talk about the fact that it would be good for our medicine, is fantastic. Of course, if you eliminate corruption in the country, to completely change the concept of education, vbuhali tens of billions in health care and effectively spend — all real. In 20 years you can get a decent system. But I, and my colleagues, and Skvortsova (Skvortsova, Minister of healthcare of the Russian Federation — approx. "Of the tape.ru"), and even Dmitry Anatolyevich (Medvedev, Prime Minister of the Russian Federation — approx. "Of the tape.ru") all understand that this is fiction in the current environment. We have lagged behind developed countries for decades. To quickly catch up will not work. And today the political situation there.
What patients would you recommend? What was it like? "You stay here, you all the best, good mood and health." Well to remember that self — education is one of the important factors of survival.
Natalia Granina
Tags: Russia , national idea