"The positions people can be in pants and sneakers"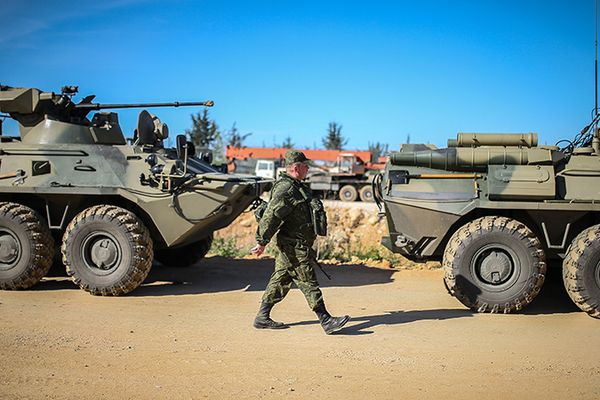 Material posted: Publication date: 16-03-2017
Russian special forces in Syria — the peculiarities of the local army.
Since the beginning of operations in Syria, in addition to videoconferencing Russia, there are fighters of the Russian special forces. That Syria is not only destroyed cities and burned villages, looks like the Syrian army and opposition groups, and why the Eastern war such a protracted, reviewers of "Izvestia" Alexey Ranma and Dmitry Litovkin told the special forces officer.
Whether the climate and terrain Syria is a country of contrasts? Probably not all the parts affected by the war?
— Syria's Mediterranean coast — a classic Mediterranean landscape, as in Italy or Greece. Terraced agriculture, interesting houses, greens, olives. But just 2-3 hours drive — and the desert.
Evident that all are very good roads, even if we go from village to village on a mountain road. It is a merit of the government. Syria is a very good place for tourism development. There are historical sites, including the Bible. For example mountain, where Cain killed Abel, in fact, hangs over Damascus. In Latakia was found the ancient settlement and material evidence one of the oldest written records. Around the shore are the citadel of the crusaders.
In the North there is a large agricultural valley. It is on the territory is small European States. About 120 km in length. If you watch some of the heights that enclose the valley from the sea, it is visible. Smooth-smooth fertile plain with channels. And closer to the Iraq — indeed desert. There, you can move only on roads. And the whole war in those places is along the road — "desert version".
— And how are those who are not fighting?
— Of course, Syria is not a rich country. But in the cities there are expensive hotels, shops. The street life is peaceful, people are free to go, running public transport. But passing literally hundreds of miles — and the front line. Destruction, destroyed the settlements, there are fights.
In government-controlled cities have all the infrastructure, open schools and universities, people engaged in their normal daily activities. Of course, there are certain problems with social security. It is evident that the inhabitants of the country a small income. But the Assad government has special social projects that the people did not starve. For example, flour costs more than bread. The bread is sold either very cheaply, or simply distributed in the villages.
— Syria is a secular country? And as the locals are Russian military?
Syria is a predominantly secular country. In large cities, women dress like Europeans, but go in head scarves. But there are localities where it is very serious to follow Islamic traditions. Women over there coverd from head to toe.
When our commander in chief made the decision to launch the operation in Syria and went to the first bombing, people are just out on the street, shouting, welcoming the Russian troops, and was very happy that Russia came to their aid. Met us very well.
— What is the Syrian army?
Before we came, it was not an army in our usual sense. The positions people can be in pants and sneakers. Syrian officers is explained by the fact that the training of the fighter took very little time. Often two months of coaching — and forward to the front. Of course, now our advisors are working with the Syrian army and achieved a lot. But it is clear that this process is not fast.
Before we got there, there were cases when the Syrian army inflicted fire damage on the front edge of enemy defenses and had to go forward and to gain a foothold. But the Syrians have such a thing as Bukra, bukra bada ("tomorrow" "day after tomorrow" — Arab.). Well, that is "wait." And Eastern bukra — "wait" was not at first to break. Experienced all our advisors. It is a feature of the East, the Arab world, so they have to work very subtly.
Before we got in the army was desertion, and other violations. But the commanders are not particularly eager to severely punish for it. Thought that deter people from the service. But now the situation has changed for the better.
How did the Syrian military from an everyday point of view?
— The diet of soldiers on the positions of the very rich. Basically the national dish of hummus. Meat very little. But this is understandable and has always been so: there are no pastures for cattle. This war is not prohibited to combine the service with other businesses. So many fighters come easy. 've been on duty for — and go home. The main form of transport in Syria — it is a moped. Because gasoline consumption is small and not many can afford it. Sometimes whole families of several people moved to this form of transport. Home from service military also ride mopeds. Come, change and go to the next village. They have agriculture, it is understandable. After all, soldiers do not get so much. Also in the Syrian army is not allowed to do business. For example, officers can afford to have a small shop. Not one.
— Could you mention some efficient government Department?
— Excellent fight "the Falcons of the desert". They are well trained and armed, constantly moving forward, and the neighbors on the flanks do not always have time for them. They are really good.
And with the soldiers of "Hezbollah" you had to meet?
— Hizbullah is well trained and equipped, they have good weapons and equipment, they really know how to fight. They have a strong fighting spirit.
— What can you tell us about the Syrian opposition?
— The opposition, especially in recent years, sees a path to dialogue, aware that there is a way to come to a common denominator. Opposition groups differ little from the Syrian army. The war in Syria has signs of a civil war so it happens that one part of the family fighting on the side of the opposition, and the other on the side of government forces. And they phone each other and maintain relationships. Declared armistice day, the opposition can go on the side to their relatives.
In refugee camps, which contain the Syrian authorities, also a lot of relatives opposition, and they can communicate with each other.
— LIH and "al-Nusra"?
Militants LIH and "al-Nusra" (banned in Russia) is much more dangerous than the opposition. They are all much tougher, more radical. For fault — revealing execution. LIH and "al-Nusra" is organized groups, actually army. With the control system, rear, artillery and tanks.
Who's going to LIH and "al-Nusra" who bite their bloody commercials? From all over the world go radical Islamists, and come with a specific goal — to commit violence. Those of the volunteers who came to fight for Islam, in the first months realizes that things are not as they imagined. They were forced to perform the dirty work and thrown into the Inferno, as a consumable item.
As the militants seized villages and towns? They don't give people the choice — if the male population is ready to stand on their side, force to take a gun, and if you disagree — shot. Militants IGIL and "al-Nusra" know how reconciliation will not be, and are willing to fight to the last. We were faced with the fact that the positions of militants very violently resisted. May play a role and it is significant penalty. They do not stand on ceremony and attempted desertion shall be punished very severely.
— They say that on the side of ISIS moved soldiers from the Iraqi and Syrian armies?
— I have no such information, but I admit that ISIL was created by professionals. Of the farmers do not get the army, and they have one.
Is there that "dzhebhat an-Nusra" and the Islamic state have serious support from the outside? Equipment, food they better than the regular Syrian army?
— Well, to visit him did not go. But weapons understand that they have night vision devices and thermal imagers. The militants are well used ATGM. Training for operators of anti-tank fighters is great, and this is not a cheap pleasure. One shot costs a lot of money. But fighters are very good shots.
Well-organized militants and communication. There were occasions when they picked up mobile cell towers and created their own field of cellular communication and Wi-Fi. They actively use various online messengers for communication and control. And so to deal with them is quite difficult. Actively use the quadrocopter and other commercial flying drones.
In General, the war in Syria is an amazing phenomenon. Fight 50-year-old T-55 tanks, AK-47s, mortars and cannons 1940-ies. And then there is the modern aviation, flying drones, fighters system of satellite communication and targeting.
Alexey Ramm, Dmitry Litovkin
Tags: Syria , armed forces