Syria: Tactics of the militants of radio-controlled IEDs in battle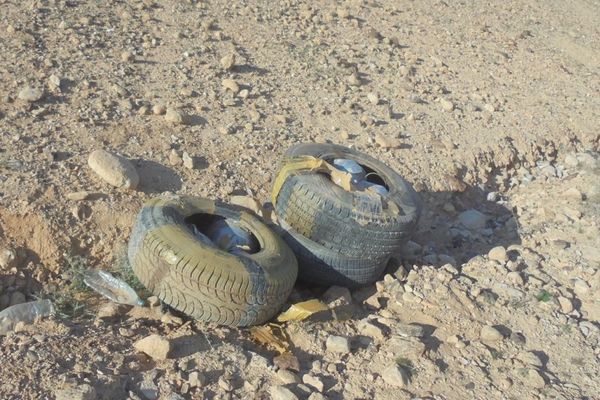 Material posted: Valetskiy OlegPublication date: 02-06-2017
In the fighting in Eastern Syria Islamic state militants show a high level of both individual and group (at the level of the separation-platoon) engineering training. One of the most important components of the tactics of the enemy is the improvised explosive devices (IEDs) that are discussed in the article are applied as the element in the defense of "fortified" enemy. Further considered the practice of terrorists using radio-controlled IED near Palmyra.
Such IEDs as the enemy sets in front and in the rear of their positions, and during the battle, trying to lure such a minefield coming to the heights.

These height after they advancing, the enemy activates a radio-controlled IEDs.
Their design could be different and in particular, the enemy was installed in the tires from the wheels, four aluminum containers with lid with a cumulative dredging
Inside the containers was a charge ammonium nitrate with addition of aluminum powder,

Operated charges with detonating cord blue color(of Turkish origin) and the intermediate detonator from the plastic explosive. The same detonating cord charges connected among themselves so as to ensure their simultaneous actuation.
Operated charges RC receiver attached to the battery for providing the necessary current strength and duration of uptime.
On the receiver there was a switch to "0" and "1" for the purpose of transfer of radio controlled fuses in a combat situation.
The disadvantage in these tactics of the militants of the Islamic state, is the limited action radius of this type of radio controlled fuses using primitive commercial radio.
If coming apply workarounds and want to flank the defending fighters, those not having the right level of skill level, company, battalion retreating. As the terrain in this theater of operations is characterized by a lack of vegetation but militants often just throw the positions on the machines, and thus are not able to operate the radio controlled fuses.
Oleg Valetsky
Tags: Syria , armed forces , AME