Due to climate changes in Europe every year will die, presumably, 150 thousand people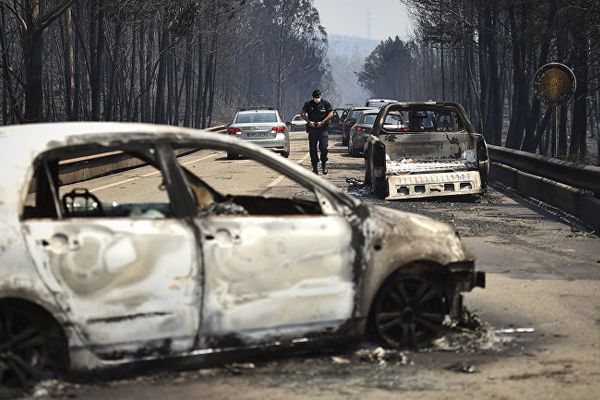 Material posted: Publication date: 15-08-2017
Heat, forest fires, lack of food production: forecasts are scary.
This week was published a shocking study: by the end of this century in Europe as a consequence of climate change each year will die of 150 thousand people. Research centre of the European Commission has sounded the alarm in an article published in the Lancet Planetary Health.
In this study, researchers focused on seven elements: heat, cold, drought, forest fires, river flooding, ocean flooding and storm. They analyzed 2.3 million of weather disasters over the past 30 years.
Scary for US
Study leader Guri Bang (Guri Bang), fellow of the Norwegian Center for climate research, Cicero Senter, told TV 2 that there will be serious consequences, not least for the United States.
The contents of the report completely contradicts what was stated by trump administration on climate issues. The administration said that the climate problem does not exist. The USA is one of the few countries that has no plan and the national policy to limit their emissions.
This summer period of heat waves "Lucifer" was established on a large area of Europe. Researchers at the Center Cicero believe that the combination of global warming and high humidity will lead to heat waves of over 40 degrees will become more common in a large area of the globe.
"Temperature of the earth increased by one degree. This gives us the starting point a higher temperature," says climatologist Center Cicero bjørn hallvard's, Samset (Bjørn Hallvard Samset) in an interview with TV 2.
According to research, global warming of the atmosphere is gradually increasing. And the warmer it becomes, the more it appears moisture.
— Bjørn hallvard's, Samset: When the temperature exceeds 40 degrees, and you have no cool places where you can hide, you can get heat stroke and it will be bad for your health.
— TV 2: And what about Norway?
Here we more cool, besides, here near the sea, with the result that the temperature drops every night. Therefore, we will not suffer as other parts of Europe. However, we note the impact of heat waves, established in other parts of the world. The importance of policy and technology in order to prevent the climate problems of the future. It is also important how we can reduce CO2 emissions by a quick transition to solar panels or the implementation of other measures. While normal economic growth is difficult, but not impossible.
Samet believes that we are faced with a variety of small phenomena such as heat waves, heavy rains. the sea-level rise and reduced food production.
— We will not collapse a big disaster, like in Hollywood. But if all these small events happen at once, then we will have problems. Most of the affected areas with a dense population.
In an article published on Saturday, researcher Ian Sallmann (Jana Sillmann) writes about the danger that a period of abnormal heat is a weakened population groups.
"At 40 degrees the heat becomes dangerous for health. Heatwaves can be dangerous for those who out of their homes with the air conditioners moved into their offices with air conditioning in cars with air conditioning. But it's dangerous for those who must be on the air, that is, for farmers, construction workers, the homeless and the poor, and for people with health problems", — writes Silliman in this article.
---