The weak do what the must. So the world is watching Putin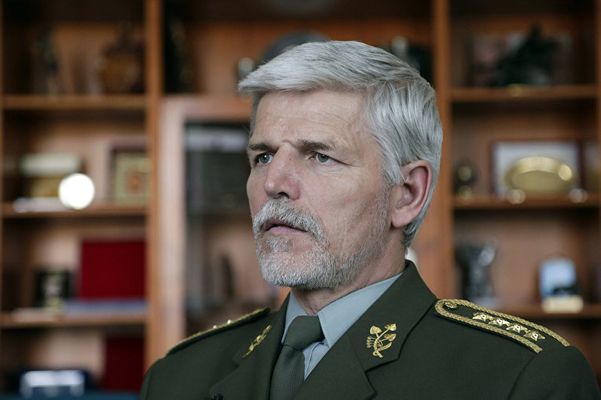 Material posted: Publication date: 01-12-2017
"How serious a threat is Russia to the Alliance, we can assume, judging by the growing number of cyber attacks," — said in an interview with Hospodářské noviny, General Petr Pavel, Chairman of the NATO Military Committee. An interview he gave at the conference "Where are you going, Czech Republic?", organized by the Aspen Institute Central Europe and the newspaper Hospodářské noviny.
Hospodářské noviny: Czech Republic occupies the third place in the list of countries-members of NATO with the lowest expenditure on defence. They make up about one percent of GDP per year. However, we are required to allocate two times more. How seriously our country takes for the defense?
Peter Paul: From the point of view of Alliance obligations can be divided into three categories: defense spending, contribution to NATO operations and the participation in other activities. In operations we participate, fill quotas in the chain of command and is quite good. As for spending, we really were at the tail of NATO. If in the near future we will not significantly increase the costs so that they are on par with the income from Alliance partners, it will gradually start to move away from those who are really serious about defence.
What it will have consequences for the Czech Republic?
— We will lose credibility. But mutual trust is one of the principles that unites the Alliance. As will decrease the credibility of us as a partner in the Alliance, will decline and the willingness of allies to come to our aid if necessary.
But can the Czech Republic at least to confront new threats, such as disinformation, which is part of a hybrid war?
— The ability to confront hybrid threats, especially in information and cyber, is now the responsibility primarily of the member countries. Alliance does not assume centralized responsibility for cyber security. NATO provides member countries with help and tries to measures have been more centralized. However, a major role in the fight play still the States themselves. The Czech Republic has taken a number of measures for exposing the misinformation and the proper response to it.
But we still have a lot of work. For example, in the Czech Republic there is the analytical center "European values", which specializiruetsya exposing misinformation. He offered his services to NATO. The center organizes an international event, which shares its expertise with partners. Shares his experience and analytical methods is very important, because this is one of the important components of the fight against misinformation.
— You hinted that in an information conflict, we're behind Russia. What and how we need to change?
— Russia has an advantage, primarily because it is a very centralized state, which surely controls the Kremlin, President Vladimir Putin. This system does not compare with NATO, in which 29 members, and they need to come to a single point of view. But, on the other hand, since in the framework of the Alliance agree 29 countries, which eventually come to one opinion, their decisions to a much greater extent legitimate.
— Does the recent threat to NATO posed by Russia? Is she growing?
— Quality indicator is the number of Russian cyber attacks, which grows from year to year. Also, an increasing number of other Russian operations, such as impact on elections and other democratic processes in the countries-members of NATO. Also we are dealing with the financing institutions, which are usually just a smokescreen for the promotion of Russian interests in NATO member States. I'm talking about different organizations like "friends of Russia". All this confirms that Russia is prepared to use any means that will help her win the fight. She also tries to find individual approach to each of the members of NATO and the European Union to undermine the unity underlying both associations. We must not allow to divide us.
— Russia attempted to influence the elections in USA and in some European countries. Did it affect the elections in the Czech Republic?
— I have no available data on this, so I can't give you any specific numbers or give an example. But, given how Russia is acting in all other countries, I would be surprised if Russia has not made such attempts in the Czech Republic and wouldn't take advantage of all available means.
— What, exactly, is Russia trying to achieve? And if we understand at all, what Moscow wants?
— No great science to understand what Russia is seeking. She wants to return to a multipolar world. It's not a new system, and how President Putin looks at the world. In it the strong do what they can and the weak what we must. Russia wants to return to the world stage as a significant player with a clearly defined zone of influence.
Of course, somehow, to be in the Russian zone of influence — not in the interests of the Czech Republic. Our fate has turned out differently, and our citizens have expressed their will in favor of another option.
— General Karel Rzhevka in the book on information war writes that we should not underestimate the risk of a military conflict with Russia. You agree with him?
All depends on what the military forces have both sides. They both have a significant number of troops, and, of course, high-precision equipment. The parties are in contact and have nuclear weapons. The fact that our interests are largely different and often in conflict, is potentially a cause of conflict. We should strive to maintain with Russia as transparent as possible context, and thereby reduce the risk of collision.
— If to speak about the information conflict, the West is holding the Fort. Should we, in your opinion, to go on the offensive and, for example, make life difficult for Russia on the eve of its presidential elections?
In the framework of the Alliance we said that not going to respond with the same methods. We have to tell about the true state of Affairs and, rather, to work in a positive way. We should try to explain what is Russia trying to achieve, and how it affects what is happening in our countries. We should make clear to our citizens that this is a dead end road. And to the citizens we have to make clear that NATO is not going to destabilize or seize Russia that the Alliance poses no threat to their country. That is, we must refute the view of the Alliance, which is popularized in Russia.
— You met with General Valery Gerasimov, the head of the General staff of the Russian Federation. If he felt the winner in a hybrid war, as is the author of the doctrine must precede full-scale war?
— General Gerasimov is a professional soldier, and he conducts himself accordingly. At our meeting there was no indication neither victory nor defeat. There was no attempt to impose some kind of political position. To the negotiations, we both came almost acting within political challenges before him and before us. The only way we can move forward in the interaction.
Next year the Czech Republic will send troops to the Baltic States for NATO battalion. Could this force the Russians to seriously think about, to make us goal of hybrid operations?
— I don't think it can play a big role. When we participate in any initiative of NATO, Russia sees us as a whole. So sending our reinforcements for the forces stationed in the Baltic States, will not change Russia's attitude towards us.
— Is there enough serious Czech society belongs to the Russian threat?
— Judging by what I could observe lately, I think that we succumb to Russian influence, because tend to downplay the Russian threat. Many in our country do not see in Russia a potential threat, but on the contrary, I see many opportunities for cooperation. This is because sometimes we tend to ignore the facts, the behavior of Russia in the international arena, not to see her strategy, not to hear what her policy. We tend to underestimate this threat, and Russia will by all means, overt and hidden, to ensure that to ground us in our confusion.
— You mean openly Pro-Russian position of the Czech President Milos Zeman?
— His position is known, NATO, and, of course, all its representatives are familiar with it. The Alliance also understand that the Czech Republic is not only the President Zeman.
Tags: Russia , Europe , NATO