Al Mogaz (Egypt): "The mortar" — the most dangerous weapon of the Russian army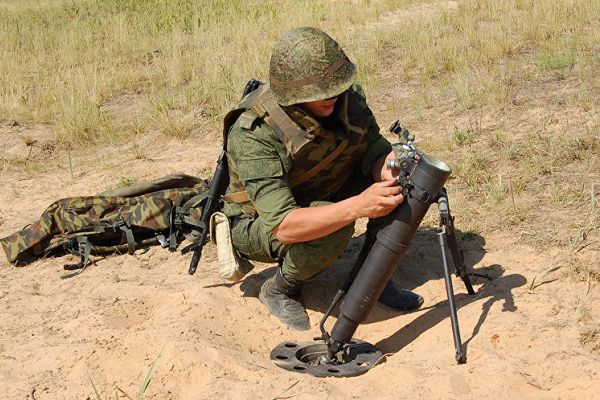 Material posted: Publication date: 13-09-2018
Arab commentators often write laudatory lines about the Russian military technique, and this article in Al Mogaz (Egypt) is no exception. This time they focus on the "Quiet mortar" 2Б25, standing on arms of the Russian special forces. Its main advantage is the quiet operation and ease of use. Volume shooting is not higher than that of the Kalashnikov assault rifle with a silencer, and enough to manage two people.
Major powers supply their special unit highly efficient weapon that allows them to destroy enemies with lightning speed. An example of such weapons is "Quiet mortar", in service with the Russian special forces.
Although 2Б25 not the first stealth weapon, which is at the disposal of the Russian special forces, but the mortar 7.62 mm/30 mm increases the firepower of these units. Volume shooting is not higher than that of the Kalashnikov assault rifle with a silencer.
Russian site of "Rosoboronexport" has published information about the specifications of weapons, noting that the mortar was designed to combat the soldiers of the enemy infantry. He silently shoots deadly projectiles at enemy targets, thus bringing the element of surprise, which is one of the most important factors in the success of operations conducted by special forces units behind enemy lines.
The weight of the mortar is in combat mode does not exceed 13 kilograms. A weapon capable of driving two soldiers. Also the mortar can hit targets at a distance of from 100 to 1200 meters, run 15 rounds per minute and it can be prepared to fire in just 30 seconds.
Russian website "Petrel" reported that the mortar can be used with indirect fire and even openly on the battlefield and can destroy the enemy soldiers, even if they use a variety of means of individual defence.
Use the mortar can two people, one of which carries the mortar, and the second special shells. Shoot weapons from concealed positions, as the mortar will not produce any sound during the shooting, the flash and does not emit smoke. Thus, the enemy forces are unable to detect or track the source of the shot.
---
Source: https://news.rambler.ru/weapon/40765721/?utm_content=rnews&utm_medium=read_more&utm_source=copylink
Tags: Russia , armed forces , AME