Tsunami refugees: how to resist Ankara?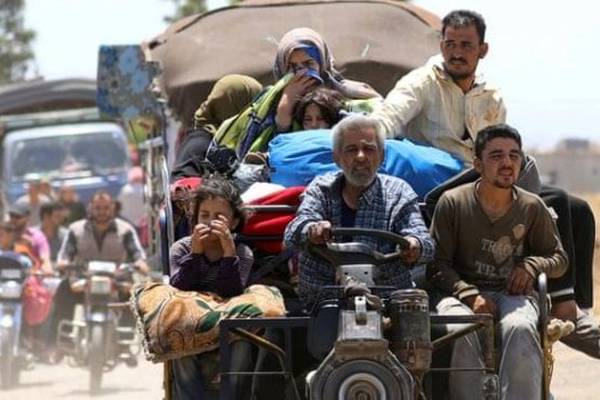 Material posted: Pankratenko Igor N.Publication date: 28-10-2019
Ankara aimed at the gradual repatriation in safety zone in Syria, two million Syrian refugees, but so far it only plans. The Turkish authorities claim that in recent years in Syria, on a voluntary basis already left about 365 000 refugees, whose total number in Turkey is 3 million six hundred thousand people.
Refugees from Syria, and more specifically those who sheltered Ankara - a topic that is not too attracted the attention of the mass media in all eight years of civil war in this country. "Yes, there is something I must tell you experts, but nothing really concrete." Meanwhile, the "tsunami refugees" that struck Turkey is one of the drive belts of the Syrian conflict. In any case, that this factor explains much of the policy of Ankara, which in recent good form was blindly criticize whatever she touched.
And in the case of refugees for several days as a published Amnesty International report, full of tragic detail about the forcible repatriation of Syrians from Turkey, straight to hell, alive and with their families.
About deliberate misinformation contained in the document of this organization, later. In the meantime - a little on the other. Repeatedly had occasion to write that the average person in the West, and he is the consumer of the final product mass-media to sentimentality humane and compassionate to all the "humiliated and oppressed". Under one condition - when it not for his wallet and comfort. No, he's certainly willing to donate a couple of euros for refugees and survivors, indeed, social responsiveness in Europe and the United States is quite high. But not if it becomes a long-term problem.
And Syrian refugees - this is a long-term issue, requiring sustained financial and social costs, but also creates problems of social comfort.

Protest against the deportation of refugees in Istanbul in August
In the European Union like to remind you that refugees have identified Ankara as much as six billion euros. And already whether three and a half, or four, the numbers are floating - listed. Except this amount a few, to put it mildly, does not match the scale of what had to face Turkey after the Syrian conflict. Three million six hundred thousand people. In several waves, and not get caught at the border, not turning back, because to do so is to send people to certain death.
But behind these numbers are not just human lives, not just the people who suddenly lost everything. It is also medical care issues, housing, education for children, drinking water, fuel in winter, sewage, in the end. A huge burden that has not been addressed by the establishment of refugee camps, which comfortable conditions there may be. Because anyone talking here about the refugee situation, there are still plenty of pitfalls. And this is some more detail.
All for approximately the last ten years in Turkey with varying degrees of legality drove approximately seven million people - not only the Syrians, but immigrants from Central Asia, Afghans, Russians, Ukrainians. In each case, not too seems like a lot, but in total it was typed about three million people. But since moving to Turkish territory took place over concurrent stream of negative moments is quite possible to mitigate and stop. Yes, increased police and municipal officials - but not on such a scale, the Turkish authorities have already started to develop the model of work with these streams, and - taking into account national specifics of the arriving contingent.

And then poured the size of the tsunami wave from Syria. The scale of which exceeded all expectations, and most importantly - have identified problems that the authorities and the experts considered only theoretically. Here it should be noted that the selection of refugees from Syria occurred in the first phase of the civil war. People are comparatively wealthy, economically active - able to assess the situation and understand that this is all long haul, so you need to leave now. And because the funds they were allowed - they went thoroughly: with the withdrawal of assets, preparation of resettlement places - homes, work, places to teach children, prospects for citizenship in the same Turkey or one of the European countries.
Those who crossed the Turkish border later on, were people really "different quality", sorry, another definition to find failed. Most of them emphasize, in most cases because there were different - they lost everything, including savings, few of them have the education and profession that allows them to remain competitive in the labour market in another country. Again, most of whom were immigrants from villages and small towns, not much different from the villages. With the appropriate mentality and traditions, which are not too were in harmony with the Turkish.
Without any desire to belittle or to insult someone - a simple statement of fact: the standard of living in Turkey in all spheres has been higher than in Syria. But because only a few of the refugees - according to unofficial data, approximately 8-10% of the total - agreed to settle in designated camps, one will notice quite comfortably furnished, it is close not a camp for Afghan refugees in Pakistan of the 80s and not the Palestinian camps.

A Syrian refugee walks past a poster of President Recep Tayyip Erdogan, which reads as follows: "It is a matter of conscience"
The others, looking around, decided to look for "a better life", the same Istanbul in their view - the "city of bread", as well as Gaziantep, Kahramanmaraş is the same, and many other places in Turkey. A small but steadily-issued or personally coming to the card benefits, free education and medical care - that the Turkish authorities cannot even fully provide for its citizens. But!
You have to be honest - those of the refugees who seek to change their lives for the better and somehow link it, this is the future, with Turkey, with a maximum of efficiency used and taken advantage of the opportunities provided to them by Ankara. But these are a minority. Others prefer to save dissatisfaction in relation to their host countries "could give us more, they're rich". Wish there was some way to move to Europe - the chances of this are minimal, but to live with illusions about it's so nice, and therefore do not need to learn at least Turkish language, send their children to school, better on the streets, begging at the same Istanbul.
And not only to beg. The official authorities say this very reluctantly, but still is not too difficult to conclude that it was the Syrian refugees gave a noticeable increase in street crime and expanded the social basis of criminal businesses. Plus the mounting tension in relations with the local population, closed accommodation closed from prying eyes enclaves, "very strange" - as he admitted to me one of Turkish friends, "the profession of Islam" and many more. In short, for xenophobia and with the other hand fertile soil, nutritious broth for painful social viruses.
But despite this, no mass deportations, which they say in the media, not a speech. Such plans, Ankara has not. No matter how tried to distort said yesterday Erdogan. Which is the question of the future settlement of the "security zone" in Syria, said: "the Most appropriate for that area are Arabs. These areas are not suitable for the life of the Kurds... because it's mainly desert areas".

The statement of the Turkish President plans to repatriate the two million living in Turkey for refugees is irrelevant. And Amnesty International collected "credible evidence of the forced deportation" is about something else. Flies - separately, burgers - separately, if it comes to that.
Your model work with Syrian refugees Ankara is improving. And the basis of any reform is to "control and accounting". Therefore, the Syrian refugees, according to the latest circulars have until October 30 to return to the province in which they were first registered on arrival in the country in order to re-register. Since the decree took place in the early summer of this year, many did and returned there, where he settled in the same Istanbul. But many have to catch the police and send to the place of registration force.
But many among the Syrian refugees and those who have plans of meeting with the police is not included, too unpleasant matters to them is collected. But if you get along with the law they don't know how something that's "ride on the ears", I'm sorry for the slang, all sorts of defenders have learned just brilliantly. Those who believe. And generously divided "the horrors of forced deportation" with journalists. Hit the Turkey tsunami of Syrian refugees brought not only because of warped human fate. But the dirty foam...
Ikram Nur
---
Source: https://haqqin.az/news/161485