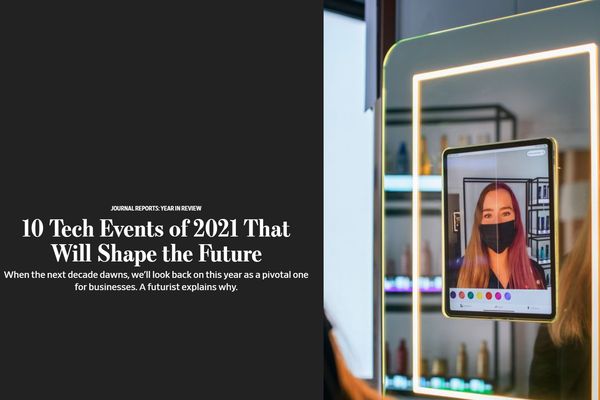 Material posted: Publication date: 15-12-2021
The Wall Street Journal publishes a selection of 10 innovative technological trends that announced themselves in 2021 and which, according to the publication, will become part of everyday life by the end of the decade.
A new type of buyer is Generation Novel. Due to months of self-isolation, buyers were forced to switch to digital technologies in most areas of their lives related to work, study, communication and shopping. The popularity of e-commerce in the pandemic has grown as never before — it is unlikely that it will ever decrease.
Users will trust social networks less. The news about Facebook's internal report on the negative impact on the psyche of teenagers of the platform's product and hushed up by the company, as well as other similar incidents, caused consumers to feel that they turned out to be a kind of "guinea pigs" of corporations. In the past year, digital security issues have become particularly acute — and this trend will continue.
Augmented reality will become commonplace. 61% of users said they would shop online much more often, even if the pandemic ends. Augmented reality technology comes in handy here more than ever, because it allows you to visualize almost any product: see how the furniture in the interior will look, "try on" clothes, etc.
The further path of retail development is immersion in the virtual reality of digital shopping (the direction is developing in parallel with another trend - metaverses): again, choosing furniture, using VR glasses, you can consider a new sofa or bookcase as realistic as possible.
The creation of deepfakes and "digital people" will be of great importance for the development of e-commerce. Digital consultants will "humanize" protocol communication with chatbots of previous modifications, because they will look realistic and will be capable of "communication" similar to natural.
Supply chains will increasingly be run by non-humans. In 2021, companies in the United States faced such a problem: the decisive choice in logistics is mainly made by people who are already obviously losing out to algorithms in this matter, since they are not adapted for processing huge amounts of data. Therefore, more and more companies will entrust algorithms to make decisions to optimize supply chains.
AI will become more ethical. AI "bias" is a well—known systemic problem related to how algorithms, working with data "blindly", can draw strange conclusions about human diversity. In November 2021, 193 countries adopted the primary international agreement on AI ethics. The developments for creating such a platform can also be used for applied areas — for example, for creating an "enterprise philosophy", defining basic values, the company's mission, etc.
Web 3.0. Cryptocurrencies, NFT, blockchain, DAO, metaverses. In the 2020s, more and more firms, developers and users are talking about Web 3.0 — the third "generation" of the Internet, in which blockchain technologies will play a major role. According to the new philosophy, power will no longer be concentrated in the hands of large corporations and institutions. The key concept here is decentralization.
QR codes will be more actively used. Not only as passes to shopping malls or catering establishments. For example, a QR code next to a favorite dish in a restaurant menu can lead to a video podcast of the chef, where he talks about the preparation of this and other dishes, as well as information about the ingredients. Such technologies have been used for a long time, and in the future their degree of applicability will be even wider.
---
Source: 10 Tech Events of 2021 That Will Shape the Future - WSJ