Russian-Indian War, Alaska 1802 - 1805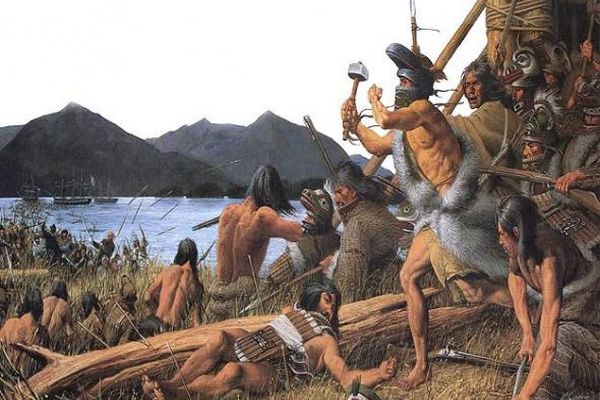 Material posted: Publication date: 22-07-2015
Land development of Alaska Russian colonists began at the end of the XVIII century.
Moving south along the mainland coast of Alaska in search of rich fishing grounds, the Russian party of hunters of sea mammals are gradually approaching the territory, populated Tlingit - one of the most powerful and formidable tribes of the Northwest Coast.
Russian called them Kolosha (Kolyuzhami).
This name comes from the custom of Tlingit women inserted into an incision in the lower lip wooden bar - kaluzhku why lip stretched and hung down.
"Angrier most predatory beasts," "murderous and evil people", "krovozhazhduschie barbarians" - spoke in such terms about the Tlingit Russian explorers.
And the fact they had their reasons.
By the end of XVIII century Tlinkity occupied coast of southeast Alaska from a gulf Portland-channel in the south to a gulf of Jakutat in the north, and also adjoining islands of Alexander archipelago.
The country Tlinkitov shared on territorial subdivisions - kuany (Sitka, Jakutat, Huna, Hutsnuvu, Akoj, Stikin, Chilkat, etc.). In each of them there could be some large winter villages, where representatives of various sorts (clans, sibov), belonging to two big fratrijam a tribe - the Wolf/eagle and the Raven lived. These clans - Kiksadi, Kagvantan, Deshitan, Tluknahadi, Tekuedi, Nanjaaji and etc. - quite often were at enmity among themselves. Patrimonial, clan communications also were the most significant and strong in tlinkitskom a society.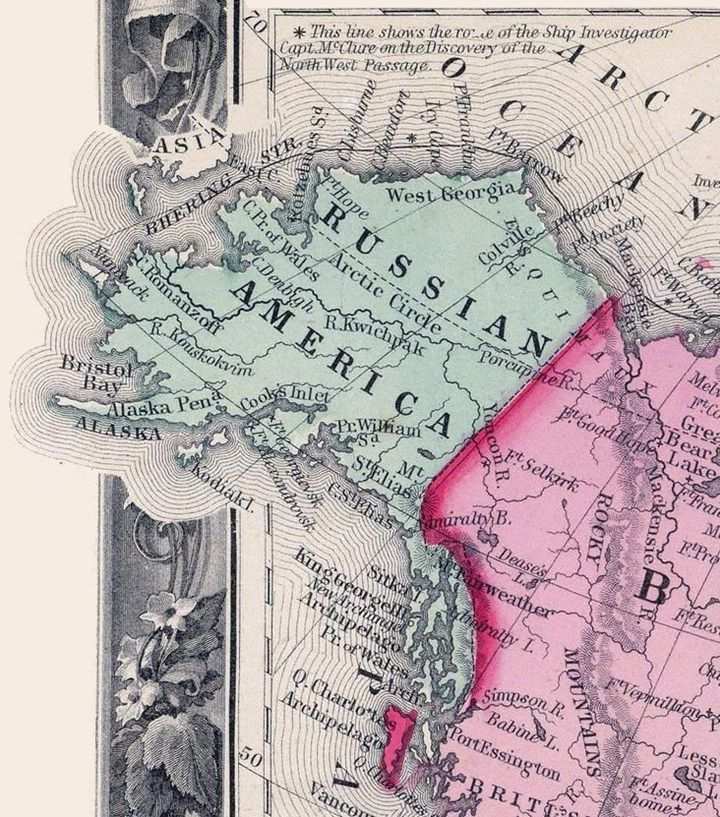 The first collisions of Russian with tlinkitami are dated 1741, after also there were small skirmishes with a use of weapons.
In 1792 on island Hinchinbruk there was a confrontation to uncertain result: the leader of the party of industrialists and the future governor of Alaska Alexander Baranov hardly was not lost, Indians have receded, but Russian have not dared to be consolidated on island and also have sailed on island Kadiak. Tlinkitsky soldiers have been dressed in wattled wooden kujaki, losinye raincoats and zveropodobnye helmets (apparently, from skulls of animals). Indians have been armed by mainly cold and propellant weapon.
If at an attack on A.A.Baranova's party in 1792 Tlinkity yet did not apply fire-arms in 1794 they had a set of guns, and also decent ammunition reserves and gunpowder.
The peace treaty with Indians of island of Sitka
Russian in 1795 appear on island Sitka which the clan tlinkitov kiksadi owned. Closer contacts have begun since 1798.
After several small skirmishes with small groups kiksadi which were headed by young military leader Katlean, Alexander Andreevich Baranov concludes the contract with the leader of a tribe kiksadi, Skautleltom about a land acquisition for trading station building.
Skautlelt it was christened, and his name became Michael. Rams was it kresnym the father. Skautlelt and Rams have agreed about a concession kiksadi Russian of a unit of the earths on coast and building of a small trading station in a mouth of a rivulet of Starrigavan.
The union between Russian and kiksadi was favourable to both parties. Russian patronised Indians and helped them with protection against other conflicting tribes.
On July, 15th, 1799 Russian have begun fort building «Sacred Arhistratiga Michael», now this place is called Old Sitka.
In the meantime tribes kiksadi and deshitanov have concluded an armistice - enmity between American Indian clans has stopped.
Danger for kiksadi has disappeared. Too the close connection with Russian becomes now too burdensome. And kiksadi, and Russian have felt it rather soon.
Tlinkity from other clans, visiting Sitka after the termination there military operations, sneered at its inhabitants and «were praised svobodoju by the». The largest quarrel has occurred for Easter, however, thanks to A.A.Baranova's resolute actions, bloodsheds managed to be avoided. However, on April, 22nd, 1800 A.A.ram has left to Kadiak, having left in a new fortress the commanding V.G.Medvednikova.
In spite of the fact that tlinkity had a wide experience of dialogue with Europeans, relations between Russian settlers and natives more and more became aggravated that has led, finally, to long bloody war. However, such result at all was not only ridiculous accident or a consequence of intrigues of artful foreigners as not there were these events is generated and unique natural bloodthirstiness «furious koloshej». On a war track tlinkitskie kuany have deduced other, deeper reasons.
War preconditions
Russian and Anglo-American dealers had in local waters one purpose, one main source of profit - furs, fur kalanov. But means of achievement of this purpose were various. Russian extracted precious furs, sending behind them parties of Aleuts and basing the constant consolidated settlements in craft regions. Buying up of skins at Indians played a supporting role.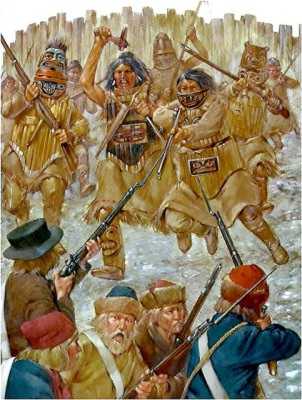 Antithetically arrived, owing to specificity of the position, the British and American (Boston) dealers. They periodically came by the ships to country coast tlinkitov, conducted active trade, bought furs and left, having left Indians instead of a fabric, the weapon, ammunition, alcohol.
The Russian-American company could not offer tlinkitam practically anything from these, so valued them, the goods. The interdiction operating among Russian for trade in fire-arms, pushed tlinkitov to even more close connections with bostontsami. For this trade which volume constantly increased, it was required to Indians more and more furs. However Russian prevented tlinkitam to trade in the activity with Anglo-Saxons.
The active craft kalana which conducted Russian parties, caused impoverishment of natural riches of edge, deprived of Indians of their basic goods in the intercourses with Anglo-Americans. All it should be reflected in relations of Indians to Russian colonizers. Anglo-Saxons actively warmed up their hostility.
Annually about fifteen foreign courts took out from possession the CANCER of 10-15 thousand kalanov that equaled to a four-year Russian craft. Strengthening of Russian presence threatened them with deprivation of profits.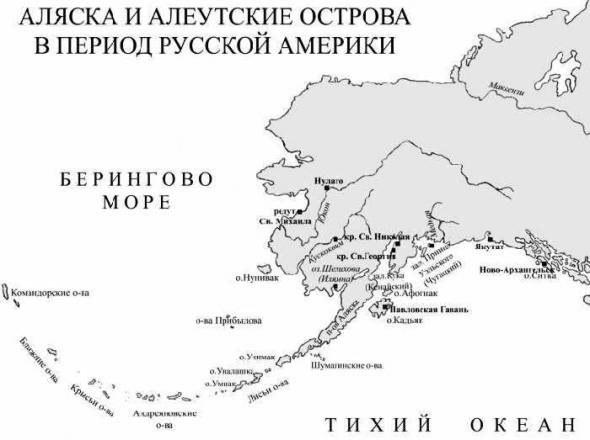 Thus, the injurious craft of a sea animal which was developed by the Russian-American company, undermined a basis of economic well-being tlinkitov, depriving of their main goods in favourable trade with Anglo-American sea dealers, whose seditious actions have served as the original catalyst which has accelerated razvjazyvanie becoming ripe military man of the conflict. Rash and rough acts of Russian industrial were an incitement to association tlinkitov in struggle for exile the CANCER from the territories.
In the winter of 1802 in Hutsnuvu-kuane (an island of Admiralti) great council of leaders on which the decision on a beginning of war against Russian was accepted has taken place. On council the plan of military operations has been developed. It planned to collect with approach of spring soldiers to Hutsnuvu and, having waited for leaving from Sitka trade party, to attack a fort. The party was planned to be trapped in the Lost passage.
Military operations have begun in May, 1802 with an attack in a mouth of the river of Alsek on Jakutatsky trade party I.A. Kuskova. The party totaled 900 native hunters and more than ten Russian industrial. Attack of Indians after several days of firing has been successfully reflected. Tlinkity, seeing a total failure of the aggressive plans, have gone on negotiations and have concluded an armistice.
Revolt tlinkitov - destruction of the Mihajlovsky fort and trade parties of Russian
After the Mihajlovsky fort was left by Ivan Urbanova's trade party (about 190 Aleuts), on Sitka there were 26 Russian, six "Englishmen" (the American sailors on service at Russian), 20-30 kadjaktsev and about 50 women and children. The small artel under Alexey Evglevsky and Alexey Baturin has gone on June, 10th on hunting to «to distant Siuchemu to a stone». Other inhabitants of settlement continued to be engaged in carelessly the daily affairs.
Indians attacked simultaneously from two parties - from wood and from a gulf, having come on battle canoes. This campaign was headed by the military leader kiksadi, nephew Skautlelta, the young leader - Katlian. The armed crowd tlinkitov, 600 persons totaling nearby under command of the leader sitkintsev Skautlelta has encircled barracks and has opened strong rifle fire on windows. On invocatory shout of Skautlelta because of bay cape there was a huge flotilla of battle canoes on which was not less than 1000 American Indian soldiers who have immediately joined to sitkintsam. Soon zapolyhala a barracks roof. Russian tried to be shot, but could not resist to the overwhelming superiority of the attacking: barracks doors have been knocked out and, despite direct fire of the gun standing inside, tlinkitam it was possible to get inside, to interrupt all defenders and to plunder furs stored in barracks
There are various versions of participation of Anglo-Saxons in razvjazyvanii wars.
East Indian captain Barber has landed in 1802 on island Sitka six sailors ostensibly for revolt by the ship. Them took for work in Russian city.
Having bribed American Indian leaders the weapon, rum and knickknacks, during long winter parking in villages tlinkitov, having promised them gifts if they to banish Russian from the island and having threatened not to sell guns and whisky, Barber has played on ambition of young military leader Katleana. Fort gate have opened from within the American sailors. So, naturally, without preventions and explanations Indians have attacked a fortress. All defenders, including women and children, have been killed.
Under other version it is necessary to consider as the real instigator of Indians not Englishman Barbera, and American Kanningema. It, unlike Barbera and sailors has appeared on Sitka obviously not casually. There is a version that it has been devoted in plans tlinkitov, and even participated directly in their working out.
That by originators of Sitkinsky accident foreigners will be declared has been predetermined originally. But the reasons of that the main originator was then Englishman Barber is recognised are covered, possibly, in that uncertainty in what the Russian foreign policy stayed those years.
The fortress has been completely destroyed, and all population is exterminated. There till now build nothing. Losses for Russian America were considerable, two years of Rams collected forces to return to Sitka.
The message about rout of a fortress Baranovu was brought by English captain Barber. At island Kadiak it has exposed 20 guns from an edge of the ship - "Junikorn". But, having been afraid to contact Baranovym, has left on Sandwich Islands - to trade with Hawaiians the good stolen in Sitka.
Every other day Indians have destroyed almost entirely Vasily Kochesova's which were coming back in a fortress from a craft of eared seals the small party.
Tlinkity fed special hatred for Vasily Kochesovu, the well-known hunter known among Indians and Russian as it is unsurpassed a well-aimed marksman. Tlinkity named its Gidak (Gidak) that occurs, possibly, from tlinkitskogo a name of Aleuts, whose blood flew in veins of Kochesova - giyak-kwaan (mother of the hunter came from islands of the Fox ridge). Having caught, at last, hated streltsa in the hands, Indians have tried to make his death, as well as death of its companion, as more as possible painful. According to K.T.Hlebnikova, "barbarians not suddenly, but it is temporary otrezyvali at them a nose, ears and other members of their body, filled them a mouth, and spitefully sneered at torments of sufferers. Kochesov... Could not transfer long a pain and it was happy the life termination, but unfortunate Eglevsky more than days pined in awful tortures"
In the same 1802: Ivan Urbanova's Trade Sithinsky party (90 kayaks) in passage Frederik has been tracked down by Indians and attacked in the night from 19 for June, 20th. Having hidden in ambushes, soldiers kuana gave out Kejk nothing of the presence and as wrote K.T.Hlebnikov, «chiefs of party did not notice neither troubles, nor an occasion to displeasure... But this silence and silence were harbingers of a cruel thunder-storm». Indians attacked partovshchikov on a lodging for the night and «almost on poval have exterminated their bullets and daggers». In slaughter was lost 165 kadjaktsev and it was not less a hard blow on Russian colonisation, than destruction of the Mihajlovsky fortress.
Returning of Russian to Sitka
Then there has come 1804 - year of returning of Russian to Sitka. Rams has learnt that from Kronstadt the first Russian round-the-world expedition has put to sea, and with impatience expected arrival of "Neva" to Russian America, being engaged at the same time in building of the whole flotilla of the ships.
In the summer of 1804 the governor of Russian possession in America A.A.ram has gone to island with 150 industrialists and 500 Aleuts on the kayaks and with the ships "Ermak", "Alexander", "Ekaterina" and "Rostislav".
A.A.ram has commanded to Russian ships to lie opposite to settlement. The whole month he carried on negotiations with leaders for delivery of several captured and contract renewal, but all was unsuccessfully. Indians have passed from the old village in new settlement in a mouth of the American Indian River.
Military operations have begun. In the beginning of October the brig has joined a flotilla of Baranova "Neva" which commanded Lisjansky.
After persistent and long resistance from kolosh truce envoys were. After negotiations all tribe has left.
On October, 8th, 1804 over American Indian settlement Russian flag has been lifted.
Novoarhangelsk - capital of Russian America
Rams has occupied the become empty settlement and has destroyed it. Here the new fortress - the future capital of Russian America has been put - Is new-arhangelsk. On the bank of a gulf, there, where there was an old American Indian village, on an eminence, strengthening, and then and the house of the Governor which and named Indians - Zamok Baranova has been constructed.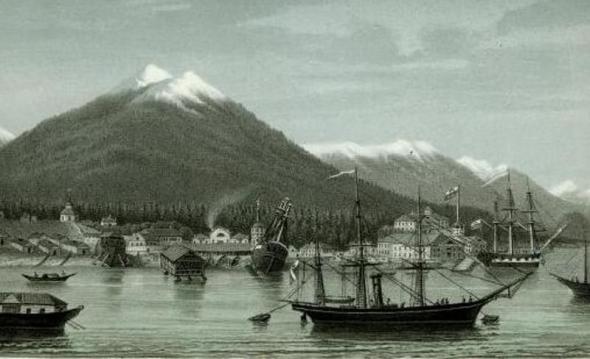 Only the autumn of 1805, had been entered again into the agreement between Baranovym and Skautleltom. As gifts the bronze two-headed eagle, the Cap of the world made Russian on the sample tlinkitskih of ceremonial hats, and a dark blue dressing gown with ermines has been presented. But still for a long time Russian and Aleuts were afraid to go deep into impassable rain woods of Sitka, it could cost it of life.
Novoarhangelsk (most likely the beginning of 1830th)
Novoarhangelsk since August, 1808 became a chief town of the Russian-American company and an administrative centre of Russian possession on Alaska and remained it till 1867 when Alaska has been sold the USA.
In Novoarhangelske there was a wooden fortress, ship-building shipyard, warehouses, barracks, apartment houses. Here lived 222 Russian and over 1 thousand natives.
Falling of Russian fort of Jakutat
On August, 20th, 1805 soldiers-ejaki of a clan tlahaik-tekuedi (tluhedi) led by Tanuhom and Lushvakom and their allies from number tlinkitov a clan kuashkkuan have burnt Jakutat and have interrupted Russian remaining there. From all population of Russian colony in Jakutate in 1805 14 Russian «and with them more many islanders», that is allied Aleuts were lost, according to official figures. The basic unit of party together with Demjanenkovym has been sunk in the sea by the flown storm. Then 250 persons were lost nearby. Falling of Jakutata and destruction of party Demjanenkova became one more hard blow for Russian colonies. The important economic and strategic base at coast of America has been lost.
Thus, armed actions tlinkitov and ejakov in 1802-1805 have considerably weakened potential the CANCER. The direct financial damage reached, probably, not less a half-million of roubles. All it for some years has stopped advancement of Russian in a southern direction along northwest coast of America. American Indian threat and held down further forces the CANCER in region arh. Alexander also did not allow to start regular colonisation of Southeast Alaska.
Opposition relapses
So, on February, 4th, 1851 the American Indian military group from the river of Kojukuk has attacked settlement of the Indians living at the Russian single (trading station) of Nulato on Yukon. The single has undergone to attack also. However attacking with a damage have been beaten off. Losses were and at Russian: the chief of a trading station Vasily Derjabin was lost and the companies (Aleut) and the English lieutenant Bernard who has arrived in Nulato from the British military man shljupa "Enterprise" for searches of gone participants of the third polar expedition of Franklin have been mortally wounded the employee. In the same winter tlinkity (sitkinskie koloshi) have arranged some quarrels and fights with Russian in the market and in wood near Novoarhangelska. In reply to these provocations the main governor N.Ja.Rosenberg declared to Indians that in case of continuation of disorders he will dispose to close in general «koloshensky the market» and will interrupt with them any trade. Reaction sitkintsev on this ultimatum had unprecedented character: in the morning of next day they have made an attempt to grasp Novoarhangelsk. Unit from them, having armed with guns, has sat down at bushes at a fortification; another, having put in advance prepared ladders to a wooden tower with guns, so-called to "the Koloshensky battery», hardly has not seized it. Fortunately for Russian, hour were on the alert and in time have given the alarm. The armed group which has appeared in time to the aid has dumped downwards three Indians who have already got on the battery, and the others has stopped.
In November, 1855 there was one more incident when some natives have grasped the Andreevsky single in the bottom current of Yukon. At this time here were its managing director - the Kharkov petty bourgeois Alexander ShCherbakov and two workers-Finns serving in the CANCER. As a result of surprise attack bajdarshchik Scherbaks and one worker have been killed, and the single is plundered. To the Survived employee the CANCER of Lavrentiju Kerjaninu was possible to run and safely to reach the Mihajlovsky redoubt. Retaliatory expedition which has found for the natives disappearing in tundra which have ruined the Andreevsky single has immediately been equipped. They have sat down in barabore (the Eskimo semidug out) and refused to surrender. Russian have been compelled to open fire. As a result of firing five natives have been killed, and one managed to run.
The literature
"History of Russian America (1732-1867)" - M: the International relations, 1997. Otv. red. akad. N.N.Bolhovitinov.
"American Indian war in Russian America", author A. V.Zorin
Wikipedia
---

Source: http://hiswar.net/wars-and-battles/85-russko-indejskie-vojny-1802-1805-g-g