Home
/
Economy and Finance
/
Causes and nature of the current crisis
/
Analytics
April (2009), the G20 summit in London and its main results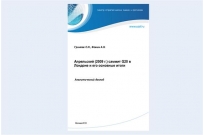 Material posted: -
Publication date: 28-05-2009
April 2, 2009 in London hosted a G20 summit, which was supposed to discuss the problems of reforming the global financial system.
Practically all the experts evaluating the results of the summit, believe that they have fallen far short of expectations: many systemic issues have not been considered, the decisions were largely unspecific and the most specific of them are secondary.
It's hard to disagree. Indeed, in the short to medium term in the global financial system, probably a lot will not significantly change.
But the G20 summit underlined the distrust many countries the us dollar. For the first time in 65 years, since 1944, this topic was very topical a few years ago, few had even considered the possibility of such a broad discussion on this issue. And, most likely, return to the past already. The U.S. will either have to accept the rise of centrifugal processes, which will lead to the rejection of the dollar as world currency, or to agree to serious concessions in measures of international control of emission of the dollar and create high-risk financial instruments.
Therefore, in our opinion, the value of the London G20 summit while still early to assess the full extent it could manifest in the future.