Home
/
Economy and Finance
/
Causes and nature of the current crisis
/
Articles
The argument that the world economy starts to deteriorate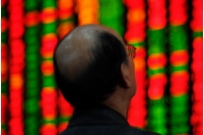 Recent US economic data disappointed, particularly the plane of the housing sector. In Germany, considered to be the Prime mover of Europe, economic sentiment just fell.
China's growth began to slow down. The plan of China to reorient its economic model away from exports to domestic demand also contributed to the slowdown.
Here's a quick overview of the key data emerging from around the world:
USA
The housing market, which constituted a substantial part of the economic recovery, is also showing signs of slowing down. The volume of building permits fell, and exemptions on overdue mortgages began to rise. U.S. manufacturing Renaissance also looks doesn't matter. In March, retail sales suddenly fell 0.4 percent. Nomura indicates that the revision downwards of the original sales forecasts in the last two months indicates that "began the adjustment of the user in accordance with a reduction in their income". The consumer confidence index also missed expectations and fell in April to 72.3 from March's 78.6 points. And of course the reports on the labor market, which showed that in March, it was created only 88 thousand jobs, which is very modest compared to the expected 190 thousand. The unemployment rate fell, but it happened because there were fewer participants in the labour force.
Europe
Germany showed some positive data, but economic sentiment fell down to 42 points. In Britain the number of unemployed between December and February increased by 70 thousand people and amounted to 2.56 million unemployed. The unemployment rate rose to 7.9 percent. In addition, the volume of retail sales, including fuel, in March decreased by 0.7 percent. And data next week on the UK GDP will tell us, entered the country in the third phase of recession in recession.
China
China's GDP in the 1st quarter slowed to 7.7 percent, defying expectations of an 8 per cent growth. Industrial production and exports were worse than expected. The latest data also showed that Chinese housing prices rose in 68 of 70 participated in the survey cities. Of the first level are experiencing a huge increase in housing prices. Politics is likely to continue to implement stricter measures to limit the recovery in property prices and shadow banking.
---