Home
/
Economy and Finance
/
Causes and nature of the current crisis
/
Articles
Sergei Glazyev: "the Financial authorities went on about their foreign colleagues"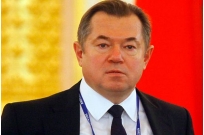 The Russian economy is sinking deeper into financial crisis: rouble continues to dive, and inflation to rise. According to the presidential Advisor, economist and academician Sergei Glazyev, the reason for that is the sluggishness of the financial authorities. He said this, speaking at the discussion platform "Tverskaya — XXI". One of the main mistakes Glazyev calls the transition to a floating exchange rate. The refusal of the Central Bank to control the national currency, in his opinion, did not help and only increased the vulnerability of the Russian financial system.
The ruble take their positions against the dollar and the Euro all last year, fell by more than half. Trend continued and in the 2015th. As explained Advisor to the President Sergey Glazyev, the responsibility for this lies with the Ministry of Finance and the Central Bank. "Our monetary authorities are unable in terms of the threat of sanctions time to develop mechanisms to protect the financial system from external pressures. Moreover, they by their actions have increased its vulnerability, " he said.
According to the economist, instead to build "protection line", the officials went on about foreign colleagues and take advantage of their recommendations. In particular, during the transition to a floating exchange rate.
"These actions has largely been on the recommendation of the monetary Fund and the traditional Fund of Washington. The transition to a floating exchange rate during the sanctions is a senseless action, which reinforced the dependence of our economy from external threats. A consequence was the wave of speculation that are deployed without the involvement of foreign capital", — says Glaziev.
However, the Central Bank has not stopped. The next blow to the economy was a sharp increase in the key rate to 17%. As a result stopped lending to the real sector.
"Actions of financial authorities have been swirling on foreign technology. Instead to create the tools to protect their financial systems from external attacks, monetary authorities have on the contrary lost to the battlefield. As a result, we received a cease lending to the economy and a hard landing," — said the academician.
Indeed, in the tight monetary policy of the Central Bank was not only accused of being lazy. However, at the end of last week there appeared the faint hope of improvement. On Friday the mega-regulator at the meeting of Directors decided to reduce the key rate from 17% to 15%. According to experts, it can be regarded as a signal that the Central Bank is ready in principle and then gradually make concessions.
In addition, we must not forget about such factor as oil prices. For example, on Monday, the "black gold" rose by 3.5%, the cost has reached almost $55 per barrel. And although the national currency on this growth to respond until done (its official Bank rate was reduced by 73 kopecks to 69,66 rubles per dollar), in General this is positive news for the ruble.
 
Irina Badmaev
---
Source: http://www.mk.ru/economics/2015/02/02/sergey-glazev-finansovye-vlasti-poshli-na-povodu-u-inostrannykh-kolleg.html