Home
/
Economy and Finance
/
Causes and nature of the current crisis
/
Articles
Hundreds of tons of dollars, or 176 aircraft with cash. Why the Bank of Russia has amassed 30 billion cache?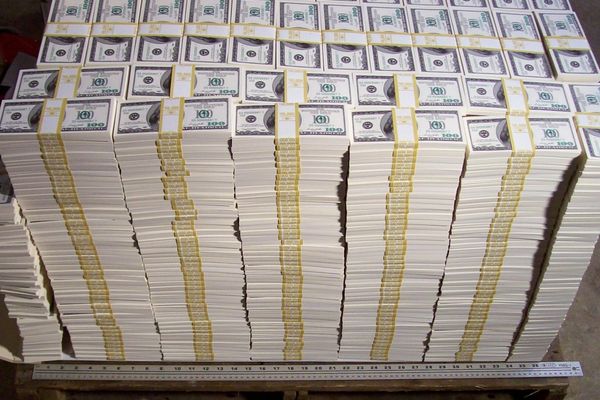 On information of the Central Bank stumbled, managing Director of UK Perm "Agidel" Victor Tunev. And published data in Facebook. Post noticed and distributed by known Moscow financiers. And that's a key number: the last three years, the Central Bank had amassed about $ 30 billion in cash.
Another 14 billion cache accumulated by banks. That is a total of 44 billion On the charts, which amounted to economists, it is seen how the curve of the cash reserves for all three years is hard up without deviation. And, in General, about the reasons easy to guess. All this time the regulator and his team were preparing for the tightening of sanctions.

And was probably right though, because there is already a bill that can separate the banks from operations in dollars. And indeed, the Central Bank reported that in July, demand for cash currency increased by 20%. Everything is logical, says Perm financier Viktor Tunev.
"Only now it's climbed out. Just yesterday, I was looking at these tables, I stumbled upon this figure and was surprised. Don't know why had no one noticed. The following table lays out the Bank every month for many years. In principle, this reserve is a normal reaction to what sanctions are reinforced and ultimately can result in the blocking of payments in dollars. CB needs to do something, so he does, as you can".
These data coincide with the fact that not once told Business FM, the head of VTB Andrey Kostin: cash dollars will be enough, in the event of force majeure to pay with currency investors. After that, Elvira Nabiullina stated that the deposits of Russian banks 87 billion. And resources in the case of what is enough. 44 billion, indeed, quite relevant amount, not all will run to the Bank to withdraw money. And someone quietly translate foreign currency and in rubles. But it was worth of the Central Bank to significant losses.
Paper dollars in the store does not bring interest income. Let's say 30 billion reserves of the Bank of Russia would be stored in us government bonds — "Treasury" — with a rate of return of 2% a year, it lost $ 600 million. Russia from the American papers came out. And in parallel increased the deposits in foreign banks. This is also a loss. But, apparently, the regulator chose their main risk, says head of foreign exchange and money markets "Metallinvestbank" Sergey Romanchuk. He also told Facebook about the cash savings of the Central Bank.
Sergey Romanchuk, head of operations "Metallinvestbank" in the money and foreign exchange market
""Treasuries" will likely yield would be higher than what would be received on deposits. Well, plus the risks too, the deposits indicate that the Central Bank bears the risk of commercial banks foreign and not the American government. In General, all of this, of course, from the point of view of the risk-return ratio like a movement towards efficiency. So the only reason you can explain, it is preparing sanctions."
Have all this and a domestic side. To amass the dollars they need to buy and bring. So, all these three years for us flew planes filled with currency. Like four years ago wrote for Forbes, one ship can carry a maximum of 250 million dollars, because a large amount no one will undertake to insure. So, to save 44 billion, it took at least 176 flights. And every two and a half tons of cache.
Carry and cargo, both regular and Charter flights. Impressive key figures: 44 billion in cash in hundred dollar bills is 440 tons. For clarity, you can imagine how on the ring road one by one going 40 Trucks loaded with American bills. And carry them, probably, outside of the Truth, a Central repository of the Central Bank. Scrooge McDuck would clearly have approved of this picture.
---
Source: https://finance.rambler.ru/economics/40846122/?utm_content=rfinance&utm_medium=read_more&utm_source=copylink