Home
/
Economy and Finance
/
Causes and nature of the current crisis
/
Articles
The decline in gold is an alarming sign for global economy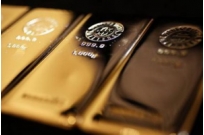 Some top investors say that the sale of gold and vast decline in oil prices and metals represent a failure of the fed and other Central banks to create robust demand, although they have pumped into the global financial system huge amounts of money.
That slide, which brought the gold to the biggest one day loss in transfer into dollars, made investors nervous, in addition, it may Herald lower prices and other assets.
Some believe that the movements in the gold market represent a kind of early warning of wider economic and market shock comparable to the collapse of hedge Fund Long-Term Capital in 1998, and even with the financial crisis ten years later. Both events were preceded by sharp drops in the gold price.
Gold and commodity weakness in General "indicate a concern with respect to global growth," said Mohamed El-Ariane — which is one of the main figures in the company PIMCO, which manages assets of $2 trillion.
Postriziny the rise in gold prices is partly due to the speculation of a huge mass of cash generated during aggressive monetary policy. For a long time it was thought that the massive creation of credit would be able to support "reinflate" the world economy, however, the recent pullback in gold, oil and copper (the two latter are closely linked to global industrial growth) suggest that reinflate we can't wait for.
Some even speak of the possibility that the U.S. will fall back into recession, although this is a minority view.
"It's not just noise. There are fundamental consequences," says the President of Sri-Kumar Global Strategies and a portfolio Manager of the Fund a comprehensive strategy asset allocation TCW Komal Sri-Kumar.
For a significant slowdown in US growth in the second half of the year "folding stars" and in 2014, even possible second recessionary downturn, he says.
All this casts doubt on the effectiveness of the huge cash stimulus pumped into the world economy by the Fed, the BOJ and other major Central banks.
Meanwhile, three-month copper futures this year fell 12 percent, the first time since October 2011 falling to the level of less than 7 thousand dollars per ton. The importance of copper for use in industry and housing makes it a key indicator of demand.
A stampede of gold abates, which leads some to believe that the decline was the result of a much-needed correction of the yellow metal.
However, investors are very wary of another downturn.
"If we see another such sale, for the gold will follow and the securities market. Here then we will have real problems", says a senior commodity broker at Chicago R. J. O'brien and Associates Frank Colli.
---