Home
/
Economy and Finance
/
Causes and nature of the current crisis
/
Articles
In China are beginning to take action in case of default of the USA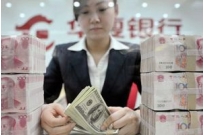 The first sign from Asia that the region creates additional financial mechanisms to mitigate the impact of a possible default in the USA, came from Hong Kong. China expressed the view that the possession of as security for certain short-term U.S. Treasury bonds involves greater risks than previously thought.
For the United States is the report time for action on the draft law on the budget and the enormous debt in the amount of 16.7 trillion dollars. According to the Financial Times, the main foreign creditor country, China, has moved from words to actions and said he had taken two steps to reflect the increased complexity of valuation of certain categories of short-term bonds of the US Treasury.
One of the steps includes a so-called "haircut" or discount on the value of US Treasury accepted as collateral for futures trading.
Discount on bonds with a maturity of less than one year will be increased from 1 to 3 percent.
"Parties should put in place financial arrangements necessary to cover any outstanding requirements concerning the Deposit of margin, the resulting increase of the discount bond with the U.S. Treasury, said HKEx (Hong Kong stock exchange; approx.).
One of the reasons for concern is uncertainty on the question of whether Treasury bonds can be easily replaced by or supplemented, if an event of default will drop their price.
Experts, however, say that Treasuries form a relatively small part of the software used in Hong Kong and, more broadly, in Asia
The specified event occurs after the Association of the securities industry and financial markets Asia (Asifma) warned of a possible "chaos" that can be triggered by the Declaration of default made by the U.S. Treasury Department prior to the opening of the Asian market on October 17.
"Potentially it can cause havoc, and people can start to get rid of bonds because they will not know whether those papers will even exist the next day. It [the Ministry] need to make this statement sooner, rather than later," said the CEO Asifma, mark Austen.
Japanese clearing Corporation under securities (JSCC), the clearing house in Japan, reported that it is preparing for "everything can happen".
The adoption by some members of clearing houses ensure the discount is part of the established practice of work organizations which enables them to take into account price fluctuations and the fact that some bonds are less reliable than others.
Source translation for MixedNews - molten
---